I got my Harbor Freight catalog for February the other day and spotted the new Atlas OPE lineup featuring a dual voltage 40V / 80V battery and several outdoor tools. This is interesting as Harbor Freight has had their Lynxx line of 40v tools for a couple years, and has recently released a few OPE tools as part of the Bauer 20v system. It's a bit odd that they're also introducing another brand that features a dual voltage battery that overlaps the 40v category.

My thoughts: This looks to be another good, better, best scenario from Harbor Freight like we've seen with many of their other new brands, as it caters to users of all price ranges and applications. These new OPE options from Atlas look to be in the Best category as they're running the highest voltage and assumably the most power of any Harbor Freight offerings.
In the catalog they show an 80 brushless blower, 80v brushless 18" chainsaw, 80v brushless self propelled 21" mower, and an 80v 16" string trimmer (motor type unknown, the catalog image isn't clear enough to see if it says brushless).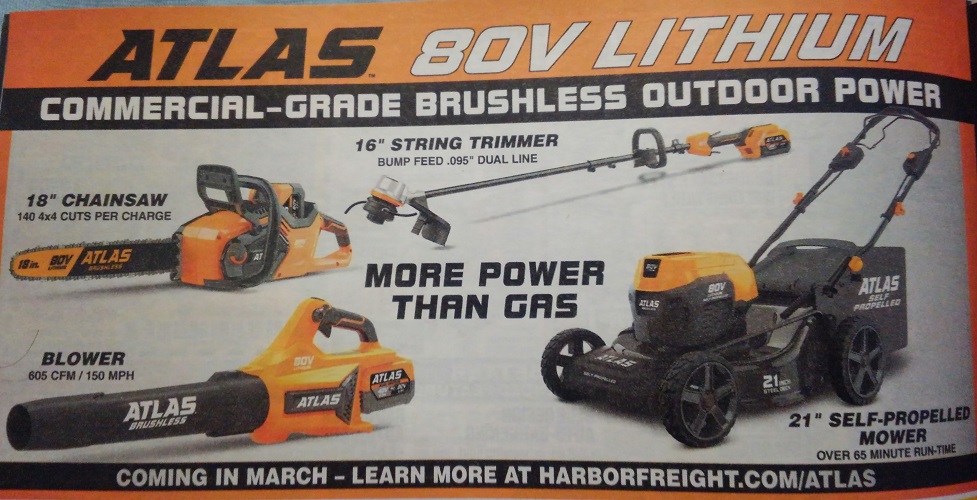 In addition Harbor Freight has a separate landing page on their website for the Atlas OPE tools and shows 2 other tools which appear to be 40v, including a hedge trimmer and a pole saw, although it's not listed if they're brushless or not and there's no other info at this time. The 80v tools have a couple specs for each one and they're quite good and should do well in competition with other major brands.

The 21" self propelled Brushless more features a steel deck, brushless motor, and claims to get 65 minutes of runtime which is pretty good and should be enough to mow most residential yards on a single charge.
For the 80v brushless blower it features an impressive 605 CFM at 105 MPH as well as a brushless motor and a cruise control lever.
On the 80 brushless 18" chainsaw, it features an 18" bar and chain, brushless motor, and claims to get 140 cuts through 4×4 on a single charge. It also looks like it has metal bucking spikes as well as a kickback break, which aren't that common yet on cordless saws so hopefully that's the case here.
For the 80v string trimmer it features a 16" cut width, bump feed head, and accepts up to .095 line which is better for heavier trimming. In terms of batteries, they only highlight the dual voltage 40/80v model, but on the 40v hedge trimmer we can see another, smaller 40v only battery.
This leads me to believe they'll be rolling out a dedicated line of 40v tools that can use the dual voltage battery much like the DeWalt FlexVolt or the Hitachi/Metabo HPT/Hikoki Multivolt, except these are the first OPE tools I've seen to use this technology.
Whether or not they continue to carry the Lynxx 40v tools remains to be seen, but it should be interesting. Overall this is very interesting and should compete well with major brands if the performance is as good as they indicate.
According to the catalog, these Atlas tools should be hitting the market sometime in March of this year (2020).


Free 2 day shipping – Try Amazon Prime 30-Day Free Trial

DISCLOSURE:
Tool Craze does not sell this product or any product on the Tool Craze website. Tool Craze does not handle the sale of any item in any way. If you purchase something through a post on the Tool Craze site, Tool Craze may get a small share of the sale. Please refer to the About section for more info.