When I first learned about the new Hercules 20V cordless power tools from Harbor Freight, I was impressed that they made tools that seemed on par with todays pro brands but at the same time I was unimpressed that they only have 3 tools available for purchase. Joshua B. found a flyer that shows that new more Hercules 20V tools are coming!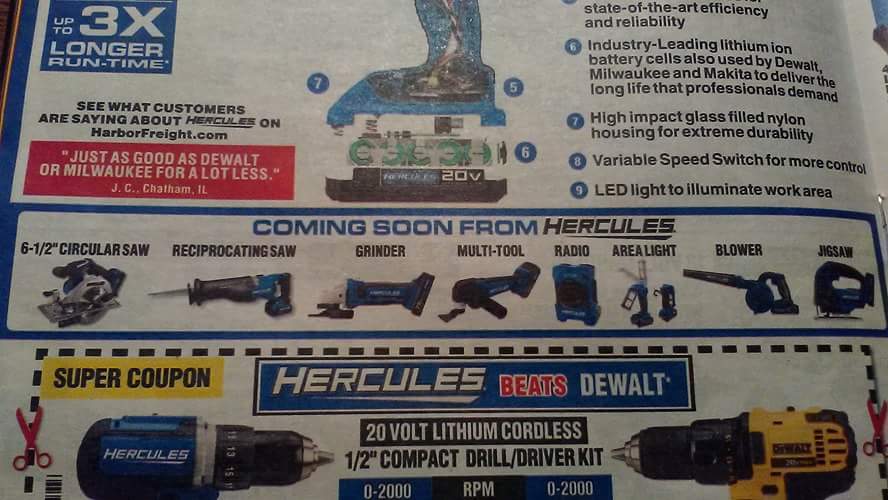 A total of 8 new Hercules 20V tools are coming out soon which include a 6-1/2″ circular saw, reciprocating saw, angle grinder, multitool, radio, area light, jobsite blower, and a jigsaw.
The flyer doesn't list specs so well have to wait for more info. My guess is that all will most likely be brushed motor tools (except for the light and radio as those don't use motors) because all the new Harbor Freight 20V tools (including Earthquake XT and Bauer brands) are brushed motor tools. One thing I find a bit weird and might be a picture mistake, is that the multitool has a side handle. They probably meant to put that side handle on the angle grinder picture.
With the new added line up of tools makes the Hercules brand more appealing and gives users a definite upgrade path to build their collection. What I still don't get is why they came out with 3 separate 20V lines (Hercules, Bauer, and Earthquake XT) when they could have made one cordless line. That and why didn't they make them all compatible with each other?
DISCLOSURE:
Tool Craze does not sell this product or any product on the Tool Craze website. Tool Craze does not handle the sale of any item in any way. If you purchase something through a post on the Tool Craze site, Tool Craze may get a small share of the sale. Please refer to the About section for more info.