April 19, 2017
Comments Off

on Hitachi G12VE 4-1/2-Inch 12-Amp AC Brushless Variable Speed Angle Grinder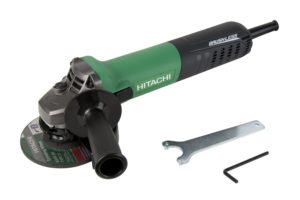 Hitachi recently came out with a new corded 12 amp angle grinder model G12VE featuring a brushless motor.
The standout feature is that it's featuring a brushless motor and it's a corded model. Usually when we hear about new power tools coming out with brushless motors, it's usually on a cordless battery powered tool but that's not the case with this model as it's AC powered.
Cordless power tools probably benefit the most from a brushless motor since the more effecient motor helps out greatly with runtime on battery power but even though corded tools don't have to worry about running out of juice, they still benefit greatly from a brushless motor since brushless motors don't require the user to replace carbon brushess, brushless motors just last much longer than regular brushed motors.
Also because brushless motors are more efficient, it permits the use of extra long extension cords without power loss. Brushless tech also allows for smaller motors which make for smaller and lighter tools and that's exactly the case with this grinder as it has a very slim handle all the way through. It almost makes me wonder if it even has a motor in there somewhere.
Another great feature is that it can run on generator power as it has an internal inverter circuit that regulates uneven power supply.
And of course being a variable speed grinder gives you the possibility to change to speed to better suit your application.

Try Amazon Prime 30-Day Free Trial
Features:
Ultra efficient AC Brushless motor that permits the use of extra long extension cords without power loss

Superior performance when using a generator due to an internal inverter circuit that regulates uneven power supply

Powerful 12-Amp motor produces a powerful 1,300 watts input power for tough grinding applications

Ultra slim grip circumference (due to the Brushless motor) that reduces fatigue and improves control, especially during continuous use applications

Variable speed switch allows the user to determine the best speed for the application

Electronic overload protection is an electronic feature that stops the motor when too much pressure is applied

Slide switch with trigger lock-on for comfortable and continuous operation