The Klein Tools 40′ glow in the dark fish tape 50660 has recently been announced. Let's check it out below.
Disclosure: This is tool news. Tool Craze cannot guarantee the accuracy of the information of any tool listed in this article. Manufacturer marketing claims may not always meet expectations. Tool Craze is not responsible if products do not live up to claimed expectations. Please do your full research before buying any products. Tool Craze is an Amazon Associate. Also an affiliate with the Home Depot, Acme Tools, Ohio Power Tool, Tool Nut. As well as an affiliate with Lowe's, Ebay, and Walmart and places affiliate links to these retailers. If you purchase through a link on this site, we may get a share of the sale.
Klein Tools 40′ Glow in the Dark Fish Tape 50660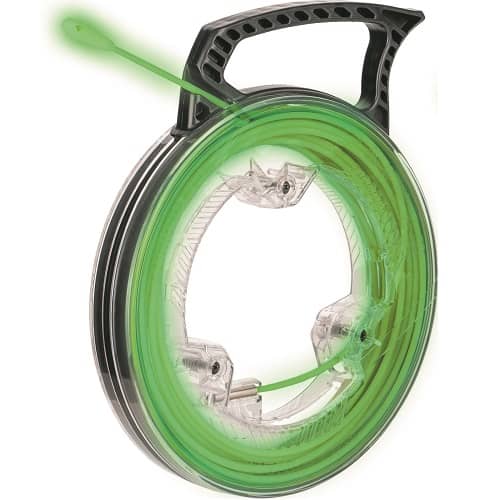 Running electrical wiring is often done in low light situations. That's why making the fish tape glow in the dark makes so much sense. This would greatly help visibility in poor lighting. Klein did just that with their 40 foot fish tape that glows in the dark.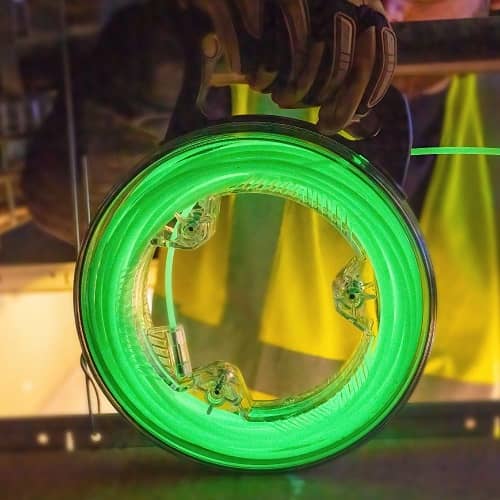 As you can see above, the entire fish tape rod itself glows in the dark.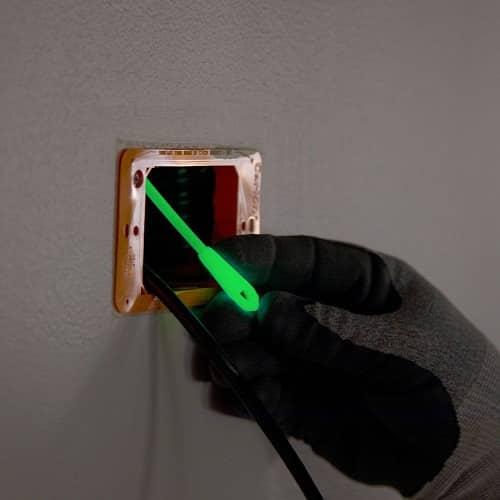 Even the tip end glows in the dark as well as shown above.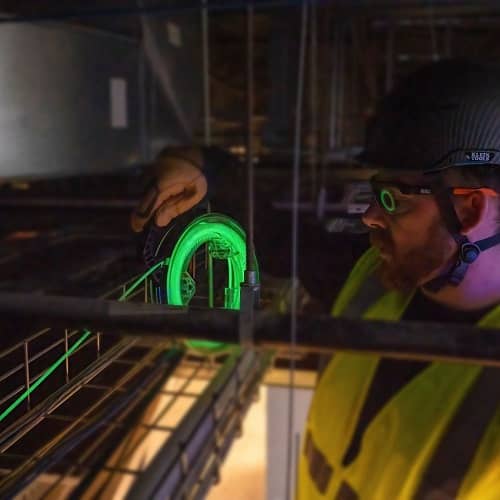 The case is clear so you can see the internal fish tape cabling. This not only looks cool but having the case clear has is beneficial for the glow in the dark feature. This is because anything that glows in the dark, doesn't automatically glow in the dark. It has to first be exposed to light so that it "soaks" up light to be able to glow. Once it absorbs enough light, it will then glow for a while as it little by little loses its light until it eventually stops glowing. The clear case will allow the fish tape to absorb light so that it can start glowing by the time it needs to be used. Very clever.
The fish tape is fiberglass and can be fully removed from its case and reinstalled. The other end features a stainless steel fish rod connector that can be used with their other fish rod accessories. This allows it to be used as a super flex glow rod as well.
Its small overall size of the fish tape makes it portable and easy to store. Even fits in a small'ish tool bag.
It is priced at $59.97 at the time of writing.
Klein Tools 40′ Glow in the Dark Fish Tape 50660 MFR Features
The unique clear case permits ambient light to easily charge the glow tape and tip, providing a bright glow for use in low light
The fiberglass tape is fully removable from case for wall cavity, drop ceiling and conduit pass through feeding
The anchor end features a stainless-steel fish rod connector for use with our fish rod accessories, allowing this fish tape to also function as a super-flex glow rod
An optimal fish tape for installing wire or cable behind walls and ceilings, in short box-to-box runs and branch circuits or in flexible tubing
Compact size makes it a great addition to your everyday tool bag


DISCLOSURE:
Tool Craze does not sell this product or any product on the Tool Craze website. Also Tool Craze does not handle the sale of any item in any way. Please refer to the About section for more info.