In this article, I will be reviewing the Klein Tools Forged Crimper with Stripper / Cutter 2005N and the Klein Tools Ratcheting Crimper 3005CR.  As a full disclosure, Klein Tools was kind enough to send me a product sample of each at no cost to me and as always I will provide my honest unbiased feedback. I am not paid or swayed in any way to give a positive review.
I am no stranger to electrical work as I've installed outlets, switches, 3 way switches, lights and entire room wiring before however I've never needed to or have used crimpers and crimp connections before so the review for both of these tools is coming from someone with experience in electrical however having never used a crimper tool prior to this review.
Klein Tools Forged Crimper with Stripper / Cutter 2005N Review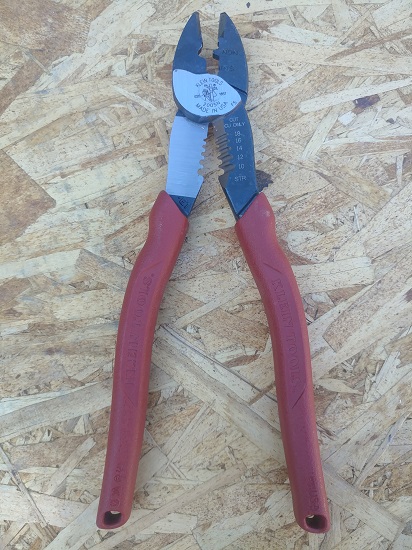 The Klein Tools forged crimper is a very practical crimper as it also doubles as a wire stripper for added functionality and 2 tools in 1 means having to carry less tools to the job. It features a set of crimper teeth above the pivot point and also features a pinch wire cutter. I'm not a big fan of pinch wire cutters since they are not as easy to use as shears but at least the the handles provide enough leverage to make cuts easy and offer plenty of grip material to make it comfortable to use when pressing hard and made easy crimps.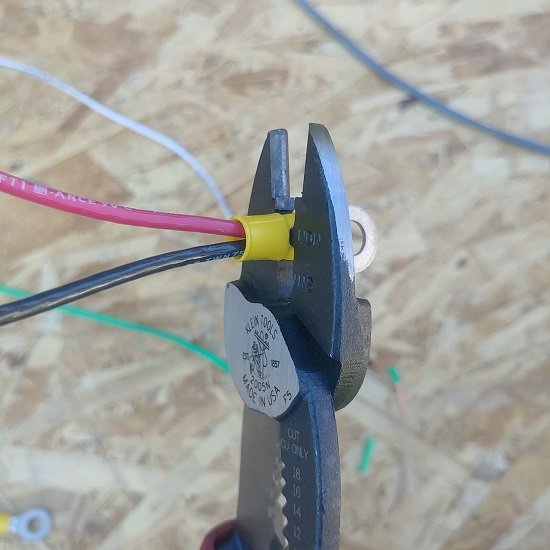 Below the pivot point is where I'm more familiar as it has built in wire stripper holes for 10-18 gauge stranded wire with markings on the front. I turned the crimper over to look for solid wire markings however these markings aren't here. I suppose someone that works with wire crimps probably doesn't work with solid wire and that's probably why these Kleins don't have solid wire markings. Just below the pivot point you'll find shear cutters. They're not big enough to cut a whole romex cable as I'm used to but then again, probably the wrong product for that but these shears work great and make cutting a single wire a breeze.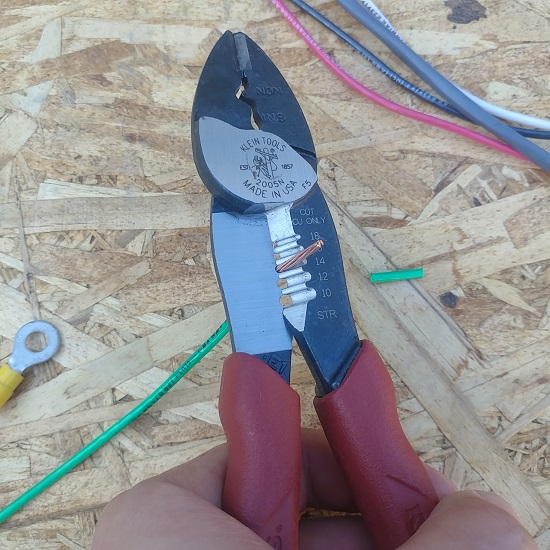 If I worked with wire crimps and lots of stranded wire, these forged crimpers would be great for the stripping, cutting and crimping of stranded wire. The only thing I would add to make it better would be some sort of spring mechanism to open the handles automatically for less fatigue when using and a lock to keep them closed when not in use. Other than that, good job Klein.
Multipurpose tool for added functionality on the job:

Includes a dedicated crimper with a wire stripper and two cutters
Strips 10-18 AWG stranded wire
Crimps 10-22 AWG insulated and non-insulated terminals and connectors

Specially hardened wire cutter in the nose
Shear cutter below the rivet cuts copper wire
Manufactured from forged steel for increased durability
Textured grips for enhanced dexterity and integrated hang holes

Ratcheting Crimper 3005CR Review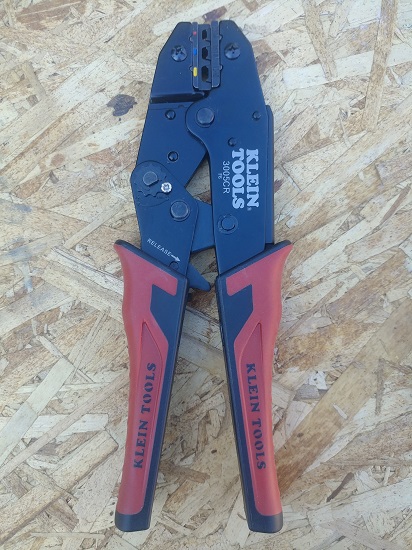 The Klein Tools Ratcheting Crimper 3005CR is only a crimper but it's an interesting one at that as it ratchets. I noticed this unit features two crimping contact points which require extra force to make a crimp connection and that's where the ratcheting action comes into play and makes things a whole lot easier. It doesn't add extra help by means of leverage but allows you to squeeze the handles several times to add extra pressure to complete the crimp. The grips are large and the molded material make it comfortable to put some huevos into each crimp. The crimping end of the tool has 3 slots for three different size crimps and are all color coded to match the color and size of your crimp connectors for 22–16 AWG (Red), 16–14 AWG (Blue) and 12–10 AWG (Yellow). The ratcheting action prevents the handles from opening midway until the crimp is completed however they added a release lever in the center to open up the handles in case you need to halfway through a crimp.
I've never used a ratcheting crimper before so I have nothing to compare this specific tool to but it looks well made and did the job just fine.
Crimps insulated terminals onto 10-22 AWG stranded copper wire
Adjustable compound action design puts more crimping power into each squeeze, reducing the force needed to complete successful crimps
Three crimping cavities in one tool: 22–16 AWG (Red), 16–14 AWG (Blue) and 12–10 AWG (Yellow)
Built-in ratchet ensures full-cycle crimping for a uniform crimp every time
Unique cavity design provides consistent crimp from either side of the tool
Dial adjusts the amount of force applied to the crimp
Dual-material molded grips provide added comfort to help reduce hand fatigue


Free 2 day shipping – Try Amazon Prime 30-Day Free Trial

DISCLOSURE:
Tool Craze does not sell this product or any product on the Tool Craze website. Tool Craze does not handle the sale of any item in any way. If you purchase something through a post on the Tool Craze site, Tool Craze may get a small share of the sale. Please refer to the About section for more info.