In this article we will be reviewing the Klein Tools Non Contact Voltage Tester with Laser Distance Meter NCVT-6. As a full disclosure, Klein was kind enough to send me a product sample of the non contact voltage meter with laser at no cost to me and as always I will provide my honest unbiased feedback. I am not paid or swayed in any way to give a positive review.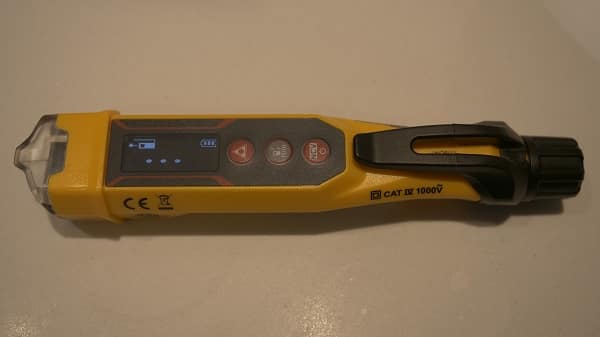 Non contact voltage meters are a staple item for electricians and has been indispensable for for my electrical wiring needs. Usually they are very basic tools that simply work and devoid of any slick bells and whistles, but then again they don't need to have any extras… or do they? Recently I stumbled across one of Klein Tools non contact voltage detectors with added features. The one I'm reviewing is the NCVT-6 model with an integrated laser measure.
Besides the fact that it's a non contact voltage meter and a laser measure all in one, I like the fact that it's very compact for a laser measure. It's not bulky at all and slightly thicker than your everyday NCV.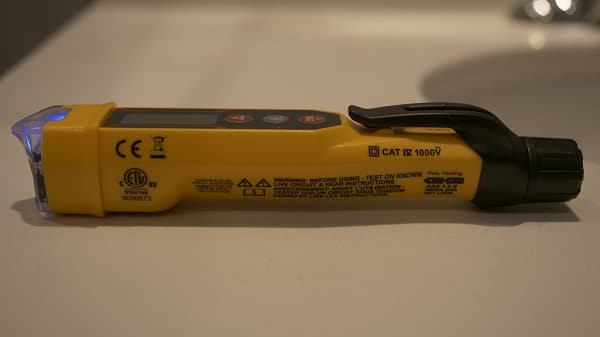 Sure there are very compact laser measures out there nowadays from just about every brand however none of them are pen shaped, or at least any I know about. The NCVT-6 carries the same pen shape as other NCV's and even has a pocket clip to stow away on your shirt pocket for easy access.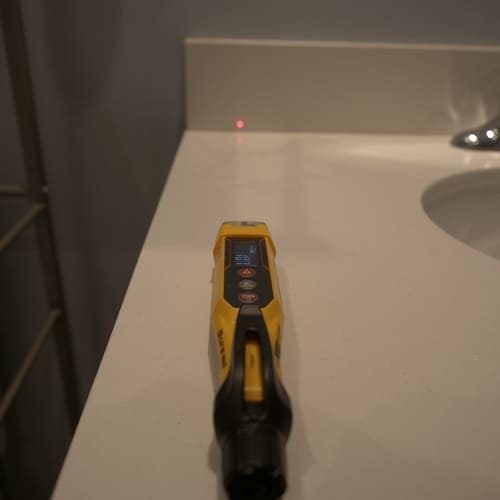 As far as functionality goes, on the laser measure side it has the basics covered. It can point and measure for readings on the spot. You can have measurement readings in Meters, inches with decimals and inches with fractions, feet with decimals and feet with inches and fractions. I choose the last one, feet with inches and fractions. The integrated backlit LCD offers easy to view readings. You can also select at with reference point to measure from, either the tip of the meter or the back.
It can measure from 2 inches to 65.5 ft. I know there are laser measures that can go much further than that but for me and for interior use, 65.5 ft is more than plenty. Accuracy is also pretty good and found it to be between spot on down to -1/8 off. There are no advanced features like saving measurements or calculating the height of an object by taking multiple readings, or things like square feet or cubic feet formulas. You just point and get a distance reading.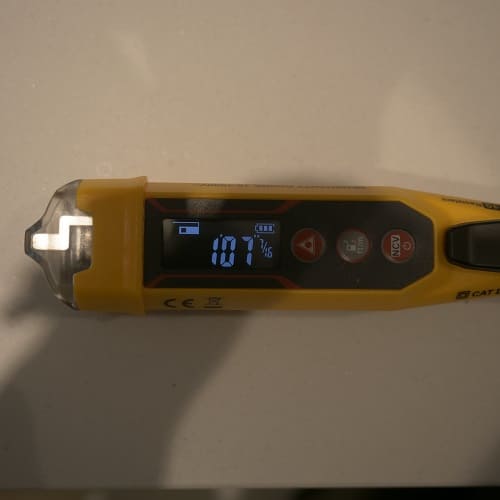 There's only three buttons with the top button near the front to choose and take measurement readings and I found out that if you hold this button it will continually take live readings as long as it's held otherwise it will take single point readings, the middle button to toggle between all the measurement formats by holding to toggle, and single presses toggle between the front and rear reference points. The bottom button is used to select the non contact voltage detector mode.
I always thought it would be hard to improve upon existing non contact voltage testers as they all beep and flash when near a live current. Klein made this experience more advanced as the voltage detector signals you how strong it detects voltage. Basically it beeps and flashes faster the closer it gets to the live current and the display shows a series of dots with more of them meaning you are getting closer with 5 dots as being the highest and letting you know you've found your live wire.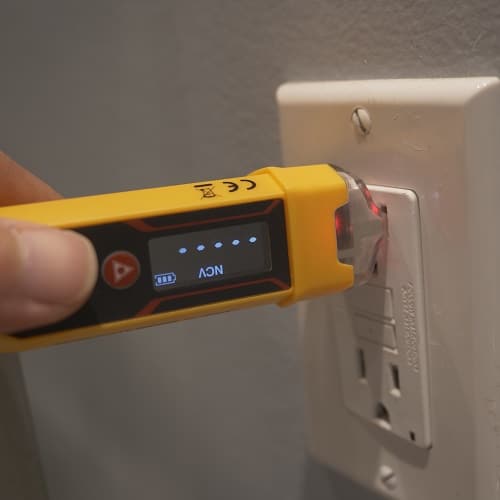 I also found out that if you're in the laser measure mode and the unit gets near live current, it will automatically detect voltage and switch over to non contact voltage tester mode. This may come in handy when using the laser measure and then placing the tool near an electrical connection to test voltage without having to do anything extra. However this can also be a quirk as I thought my unit was going nuts as I was writing this review. I kept trying to use the laser measure mode but it kept switching over to the NCV mode for no reason or at least I thought. While I thought it was bugging out, it was in fact detecting the voltage near my laptop, this thing is very sensitive and can even pick up phantom voltage through my body while one hand was on the laptop. Luckily my unit is not defective, just a very sensitive precision device. However I would like to know if there was a way to deactivate the auto switching to NCVT mode when in the laser measure mode so I won't have a repeat of that. I skimmed through the manual but didn't see any reference to this.
Overall it's a great tool and priced at $49.99 I find it to be a good deal as it's basically two tools in one, non contact voltage detector and laser measure. Both features work great with the NCVT mode having advanced voltage detection. I can easily recommend this if you frequently use a non contact voltage tester and laser measure, as a laser measure it's rather basic in features as it can point and read, that's it. So if you need a laser measure with more advanced features, there are other options on the market.
Provides non-contact determination of AC voltage in cables, cords, circuit breakers, switches, outlets and wires
Detects AC voltage from 12 to 1000V with simultaneous visual and audible indicators when AC voltage is detected
66-foot (20 m) laser distance meter provides measurements in meters, inches with decimals or fractions or feet with decimals or fractions
High-visibility reverse contrast display for easy viewing in low-lit areas
Easy-to-use interface with a single-button toggle between the voltage tester and laser distance meter
Audible indicator beeps at a greater frequency when sensing higher voltages or closer proximity to source
Auto power-off conserves and extends battery life
Screw-thread battery cap for added durability
Laser Class II, 630 to 670nm, Max. Power <1mW
6.6-Foot (2 m) drop protection
Ingress Protection IP40 Dust Resistant
CAT IV 1000V
Lightweight tool with pocket clip for easy everyday carrying and storage


Free 2 day shipping – Try Amazon Prime 30-Day Free Trial

DISCLOSURE:
Tool Craze does not sell this product or any product on the Tool Craze website. Tool Craze does not handle the sale of any item in any way. If you purchase something through a post on the Tool Craze site, Tool Craze may get a small share of the sale. Please refer to the About section for more info.