In this article, I will be reviewing the Klein Tools Portable Jobsite Power Source KTB2 and the Klein Tools Rechargeable Personal Worklight 56403.  As a full disclosure, Klein Tools was kind enough to send me a product sample of each at no cost to me and as always I will provide my honest unbiased feedback. I am not paid or swayed in any way to give a positive review.
Klein Tools Portable Jobsite Power Source KTB2 Review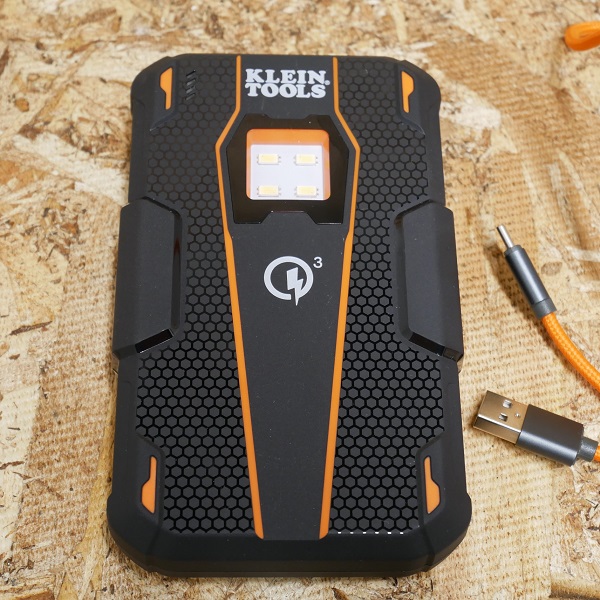 Starting off the review with the Klein Tools Portable Jobsite Power Source KTB2. This is a portable power source with USB ports to charge mobile devices like cell phones and tablets on the go. Klein announced two models of these with the KTB1 and the KTB2. The main differences between the two are that the KTB2 is the more feature rich of the two with a larger internal battery of 13400 mAh, a built in LED light and 3 USB ports (one USB C and two rectangle style). The KTB1 has a smaller internal battery of 10050 mAh, only two USB ports (one USB C and one rectangle style) and no light.
Both units have rugged bodies that can withstand some jobsite abuse, fast charging thanks to Qualcomm Quick Charge 3.0 technology and a 4 bar fuel gauge to check remaining battery status. Both power source's USB C cable acts both as an input and output to charge and be charged and both units include a USB cable with USB C connection on one end and a regular USB rectangle connection on the other end.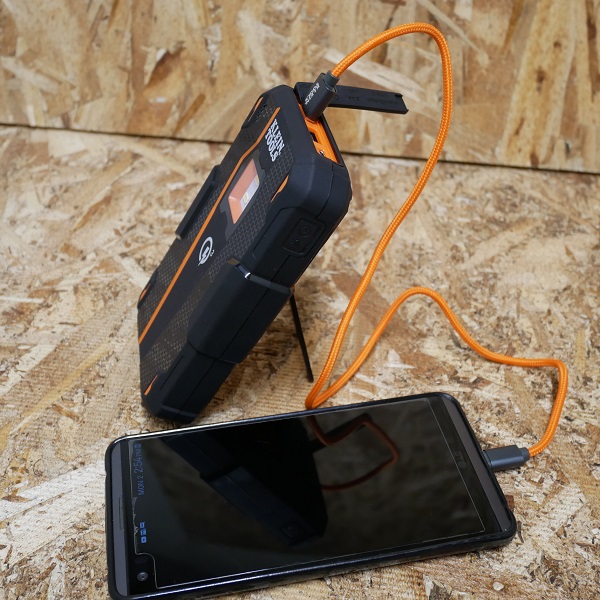 As far as usage goes, I really enjoyed using the KTB2 model. I'm not a big fan of power sources as of lately. I used to be however most of the power sources I've tried in the past, many of which being the M12 power sources that came from the Milwaukee M12 heated jackets, were pretty slow at charging my cell phones. However the Klein KTB2 power source has a fast charge USB port that charges my phone extremely fast. It can charge my LG V2 from near empty to near full in less than an hour and that right there has changed my thoughts on portable power sources for the better. Also the built in light is extremely convenient. It's similar to the experience of having a flashlight on your cell phone but super charged since the KTB2's LED light is much more powerful at 170 lumens. According to the box, it states that the runtime for the light can be up to 36 hours on it's lower 100 lumen setting which is extremely good. The KTB2 is has roughly the same shape of a cell phone just much thicker.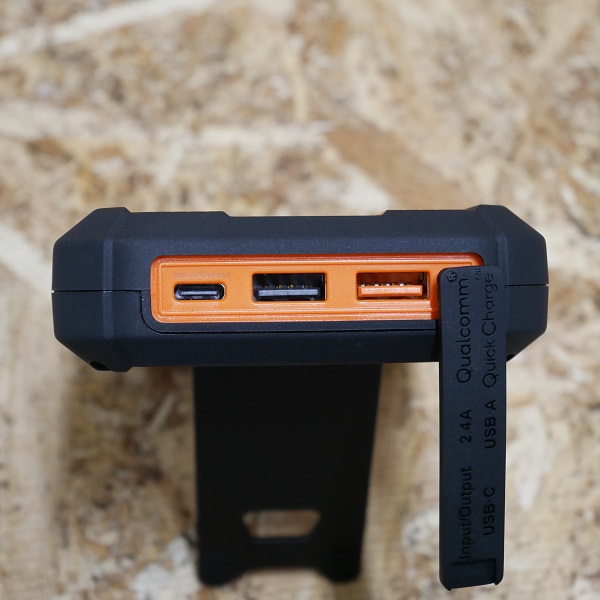 There isn't much to fault the Klein KTB2 power source other than maybe the price at $54.86 price at time of writing per Amazon which is higher priced than other cell phone power banks for the amount of capacity rating. However I will counter that you are paying extra for the quality you'd come to expect from Klein and this power source is ready for jobsite abuse and can withstand drops of 2 meters with IP65 dust and water resistance and has a built in 170 lumen light which you won't typically find on other portable power sources. The next fault is that I would have liked if the Klein KTB2 had built in cables that tucked away when not in use. Some power banks on the market have built in cables that store inside or tuck away on the sides of the unit and I think that would be a great idea if Klein implemented this into future power source designs to streamline the whole thing. I'm also not crazy that the light button requires a double press to activate and another double press to lower the brightness and another double press to turn off. At first I thought the unit was busted as the button didn't respond to single presses or long presses and wasn't until I figured out it worked on double taps. Once you realize this you get used to it but I would still prefer single press or long presses to activate but not too big of a deal. Otherwise it's a great unit and not just to bring along with you on the jobsite but great for around the house and camping. I love the quick charge feature!
13400 mAh capacity battery; up to 28W of total power
USB Type-A with 12.5W maximum output
Tough LED worklight: 170 lumens on high; 100 lumens on low
Multi-positional built-in stand for added support
IP65 dust- and water-resistance

Klein Tools Rechargeable Personal Worklight 56403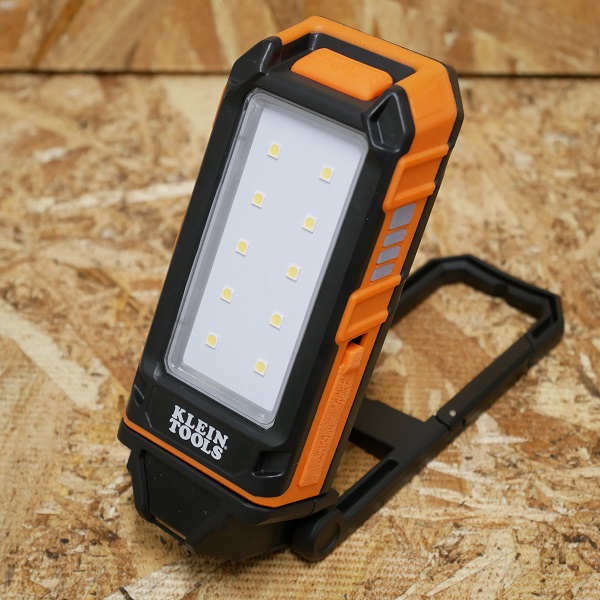 Next on the review list is the Klein Tools Rechargeable Personal Worklight 56403. In essence it's very similar to their KTB2 portable power source however the priorities are swapped. The KTB2 power source is a power source first with a built in light while the rechargeable worklight is the opposite. It's an LED light first with the ability to charge mobile devices with it's single USB output charge port. Technically it has two USB ports but one is an input to charge the light while the other is the output to charge other devices so technically only one usable USB port. The input charge port is the previous gen USB micro and I would have preferred if Klein had used the newer USB type C cable as I not only prefer the newer style cable but I have more of them around the house.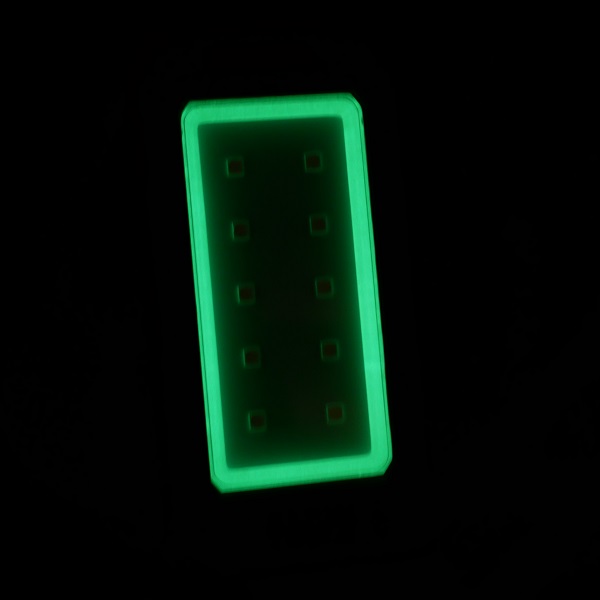 As far as the light is concerned, it's very bright at 460 lumens on high with up to 9 hours of runtime and 175 lumens on low with up to 16 hours of runtime. The light is bright enough to light up a good portion of a room nicely and plenty of light for small rooms. Light quality is smooth and even with no hot spots and has a very good white balance. The light comes out white which means it doesn't push towards yellow or blue. This is great since it won't mess with colors, especially when working with different colored wires. There's also a very cool glow in the dark outer strip ring surrounding the LED chip panel that glows after the light's been used which makes the unit easy to spot in the dark when it's light is off.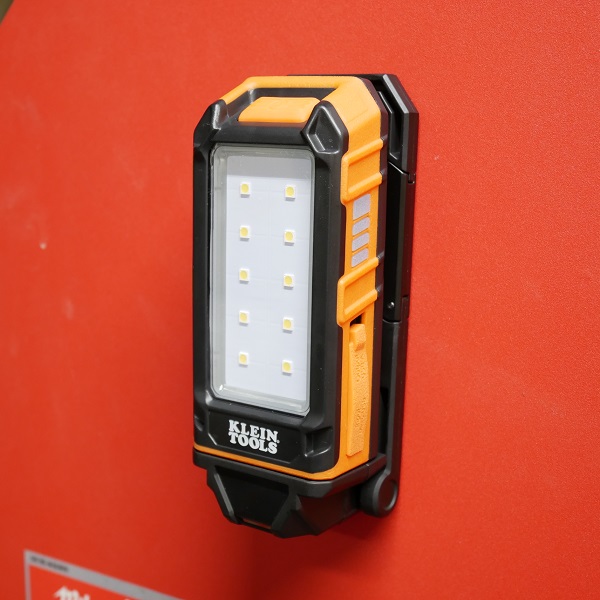 The light is very convenient to use with a built in stand that can pivot the light in any direction and the light can also rotate on the stand 360 degrees. The stand itself is a carabiner to clip on your tool bag or backpack or to hang while working. It has a 3 notches in the center of the stand so it can hang perfectly centered on a wire or nail. And if that weren't enough, they also added a magnet on the stand so you can hang on a metal surface like the side of a tool box or electrical panel or metal stud and it's actually a very strong magnet to boot! Other features include a 4 bar fuel gauge to monitor remaining battery charge and a large easy to use button on top that's easy to use thanks to it's single press nature. No awkward double presses needed like the KTB2.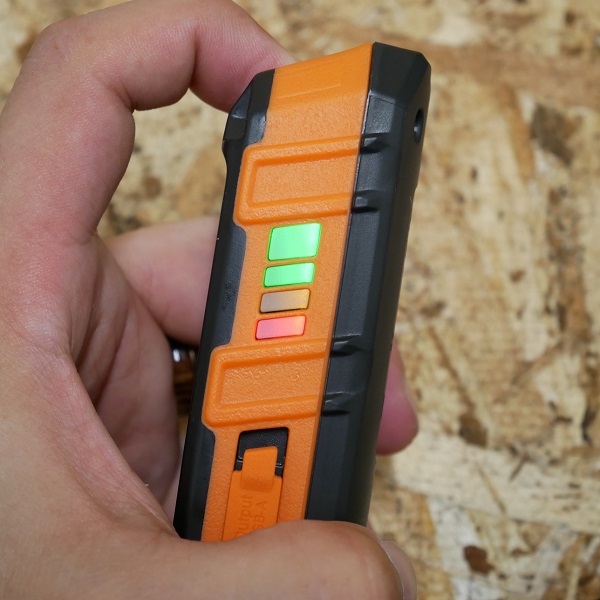 As far as negatives are concerned are no fast charging and a minor one already mentioned above such as no USB type C input charge port which might not even matter to most people since the charge cable is included
Overall it's a great light that's very powerful for it's small size with plenty of placement and mounting options and can even charge your phone on the go. It's priced at $42.8 at the time of writing per Amazon.
Versatile Rechargeable Personal Worklight stands, hooks, hangs and mounts magnetically
Two illumination intensities:

High: 460 lumens and 9-hour runtime
Low: 175 lumens and 16-hour runtime

Infinite light direction to shine exactly where needed:

Head rotates 360 degrees
Kickstand rotates 270 degrees

Kickstand features strong magnets for mounting, three nail notches and a built-in carabiner for easy hanging on conduit
Integrated USB-A charging port provides the capability to charge small electronics including mobile devices (DC 5V, 0.5A)
Battery gauge indicates remaining battery life in 25 percent increments; rechargeable via included micro-USB cord (DC 5V, 1.3A)
Easy-to-find glow locator recharges when lit
Durable light has a 6-foot drop test rating and IP54 water- and dust-resistance


Free 2 day shipping – Try Amazon Prime 30-Day Free Trial

DISCLOSURE:
Tool Craze does not sell this product or any product on the Tool Craze website. Tool Craze does not handle the sale of any item in any way. If you purchase something through a post on the Tool Craze site, Tool Craze may get a small share of the sale. Please refer to the About section for more info.