In this article we will be reviewing the Klein Tools Tradesman Pro Tool Station Backpack 55482 . As a full disclosure, Klein Tools was kind enough to send me a product sample of the tool backpack at no cost to me and as always I will provide my honest unbiased feedback. I am not paid or swayed in any way to give a positive review.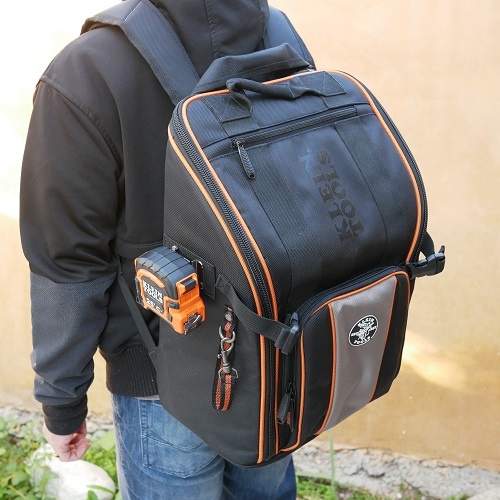 The Klein Tools Tradesman Pro Tool Station Backpack 55482 is the tool backpack for the working professional that works mostly with hand tools and wants to get in and out of a job easily without having to carry one or more tool bags or tool boxes with their arms.
The Klein tradesman pro tool backpack offers plenty of storage space for plenty of hand tools you'll be using on the job with a total of 21 pockets with 18 interior pockets to hold hand tools and larger hand tools like large multimeters. There's also open floor space on the inside for something like an impact driver or fishtape. There are 3 pockets on the exterior with a zippered midsize general pocket in the front bottom and a smaller zippered flat pocket on the front top. There's also an open expanding side pocket good for a large water bottle or two 16oz bottles that is reachable by your right hand when wearing.
The backpack has a large opening to expose the interior compartment and can open all the way if needed to gain full access and has buckle clips that can be locked to prevent to large opening from opening all the way if that's your style.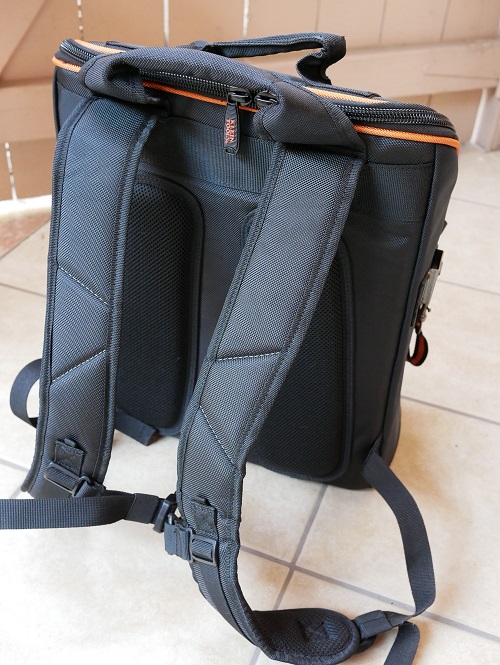 Overall, the Klein tool backpack is on the large side which is good if your main goal is lots of storage space but it also means that if loaded up, will be rather heavy to carry. I did like that the backside of the backpack has a built in sturdy panel inside the fabric to keep the backpacks shape, especially under load. Although stiff and sturdy, Klein made sure to keep it comfortable to wear with two tall padded strips on the back where the pack rests on your back and the straps are amply padded as well. The top carry strap is thick and padded as well so it won't cut off your hand circulation when it's full and also features another smaller one next to it for a total of two top carry straps. Klein also made the pack very sturdy with water-resistant 1680d ballistic weave materials for durability.
Klein also added extra features to the backpack such as a bright orange interior for easy visibility and they include a flashlight strap (flashlight not included with the 55482 model I received) so you can fasten a small flashlight to light the interior. You can get the same exact backpack with a flashlight included on the 55655 model. And on the left side they also include a nice metal tape measure clip to stash a tape measure for easy access (tape measure not included) and they also add a lanyard as well for holding your keys or small clip on tools.
Overall the Klein Tools Tradesman Pro Tool Station Backpack 55482 is a large heavy duty tool backpack packed with interior pockets to hold a small army of hand tools. It's priced at $99 for the model shown in the review and $127.37 for the same model with included interior flashlight (price at time of writing).


Free 2 day shipping – Try Amazon Prime 30-Day Free Trial

DISCLOSURE:
Tool Craze does not sell this product or any product on the Tool Craze website. Tool Craze does not handle the sale of any item in any way. If you purchase something through a post on the Tool Craze site, Tool Craze may get a small share of the sale. Please refer to the About section for more info.