Bosch recently created a new wheel mount for angle grinders called the X-Lock mount for wheel changes so fast and easy, they literally snap in and pop off. It was unknown whether other manufacturers would jump on board with the new X-Lock mount and now we've learned that Makita is the first to join the new mount with a new X-Lock angle grinder DGA519ZX1 (baretool) DGA519RTJ1 (kit).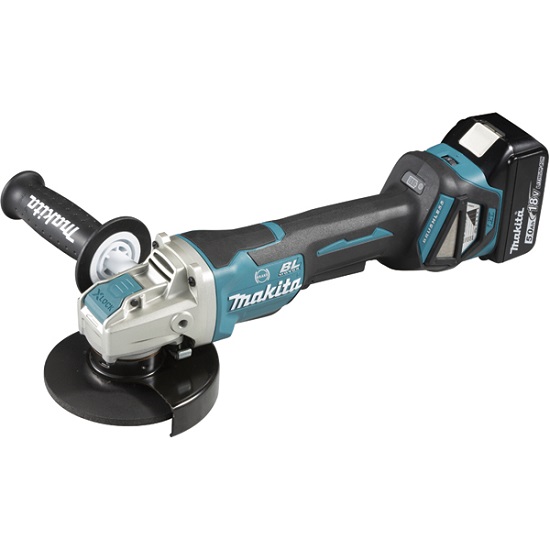 It shares the same X-Lock mount and release lever on top for easy wheel changes. As far as the rest of the angle grinder is concerned, it looks like any of their other brushless 4.5-5″ grinders and this particular model features a paddle trigger, electric brake and variable speed with dial near the battery holder, battery fuel gauge and automatic speed change light. It basically has all the bells and whistles you could ask for in a grinder without going larger.
As of right now this grinder was spotted in France and Italy websites. No word on if or when it will be available in the USA however I'm pretty sure it will come to the USA some time soon.
What's also great about Makita having an X-Lock is that they will most likely bring their own set of X-Lock accessories to the market so we'll have more X-Lock options to choose from besides Bosch branded grinders and accessories. It also means that there's a good chance that other brands will jump on board and bring their own X-Lock grinders and accessories.
A big thanks to Cody Robertson for spotting!
18V brushless motor
X-Lock mount
no load 3,000 to 8,500 rpm
variable speed
electric brake
paddle trigger
Dimensions (L x W x H) 396 x 140 x 147 mm
EPTA Net Weight 2.8 kg


Free 2 day shipping – Try Amazon Prime 30-Day Free Trial

DISCLOSURE:
Tool Craze does not sell this product or any product on the Tool Craze website. Tool Craze does not handle the sale of any item in any way. If you purchase something through a post on the Tool Craze site, Tool Craze may get a small share of the sale. Please refer to the About section for more info.