Makita's been pretty busy bringing us 36 volt tools to 18V users through their constant new tool releases of X2 tools that use two 18V batteries to pump out 36 volts. One of those newest X2 tools is an all new Makita X2 18V 36V DDA460 Right Angle Drill but it's not an ordinary right angle drill, this is a monster stud & joist drill similar to what a Milwaukee Hole Hawg is.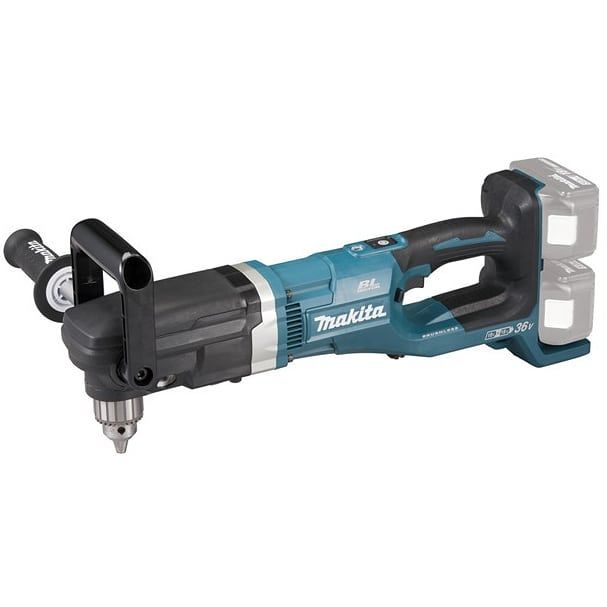 It's packing a brushless motor so you know this thing will bring the power along with runtime efficiency. It's rated to drill into wood up to 118mm sized holes which is 4.6 inch when translated and up to 13mm holes in steel which is a half inch. This tells us this thing has huevos. Talking about it's runtime efficiency, it's rated to be able to drill up to 88 holes with a 65mm self feed bit (2-9/16″) and running on a pair of 5.0ah batteries.
Onboard features include dual LED lights with afterglow, 2 speed transmission, and electric brake. Pretty much standard on any stud and joist drill is a beefy 1/2″ keyed chuck for superior grip and nice to see a large D-style handle on the head of the tool and they also offer a sturdy side handle and it appears to be able to use in left and right hand positions. It's hard to see from the pictures but it appears they are using their annoying power button, ugh!
A big thanks to Cody Robertson for spotting this and it appears it was spotted outside of the USA since all specs are in metric. No word on when or if we'll receive this new tool in the USA but Makita is pretty good at bringing overseas tools here in the USA although it might get a new model number for USA only.
Features:
model name DDA460
baretool model DDA460Z
Kit model DDA460PT2
88 holes using 2x 5.0Ah batteries using a 65mm self-feed bit
33% quicker than closest competitor
ADT (Automatic torque Drive Technology) adjusts speed and torque during operation for optimum performance
BL motor delivers 1,400 RPM and up to 50% longer run time per charge
Variable 2-Speed (0-350 & 0-1,400 RPM) for increased drilling versatility
Compact design for use when working between framing studs and other close quarter applications
eXtreme Protection Technology (XPT) is engineered for improved dust and water resistance for operation in harsh conditions
Dual LED lights with afterglow feature illuminate the work area
Electric brake for increased productivity
Specifications:
Drilling capacities – Steel13mm
Wood118mm
No load speed – Hi 0-1,400 rpm – Lo 0-350 rpm
Overall dimensions 538mm x 116mm x 193mm
Net weight 6.3kg
Voltage 18V



Free 2 day shipping – Try Amazon Prime 30-Day Free Trial
DISCLOSURE:
Tool Craze does not sell this product or any product on the Tool Craze website. Tool Craze does not handle the sale of any item in any way. If you purchase something through a post on the Tool Craze site, Tool Craze may get a small share of the sale. Please refer to the About section for more info.