I was at my local Walmart the other day and spotted an "as seen on TV" item called the Measure King which is a interesting looking 3 in 1 tape measure that makes the claim as the "World's best tape measure". However is it really the best tape measure in the world? Keep reading and find out.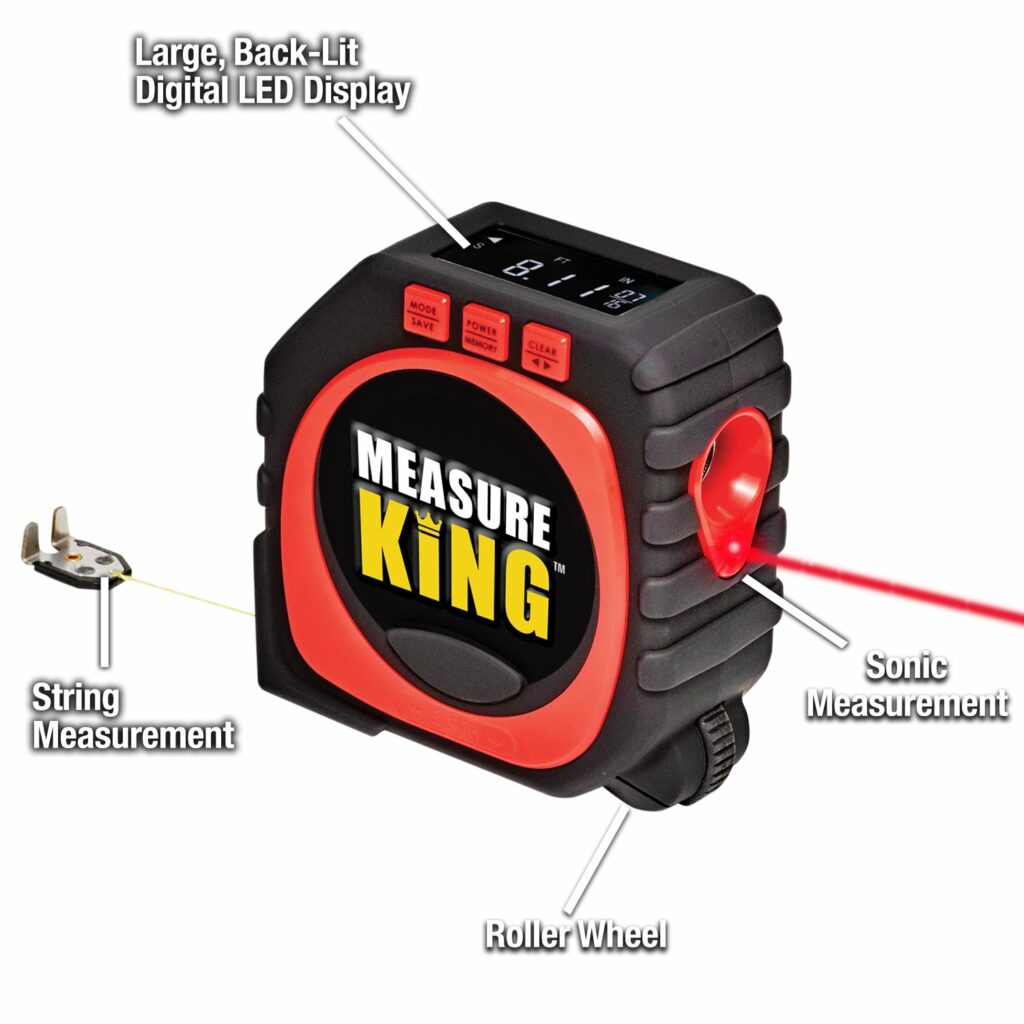 Looking over it's features list, this Measure King tape measure can measure in three different ways using a physical tape (or a string depending on model) with actual measurements shown on a built in LCD display or distant objects via a laser (more on that in a moment) with measurement also on LCD display or measure using a built in roller wheel which is useful for measuring curved objects such as curved hand rails with measurements also displayed on the LCD. It's measurements are accurate down to 1/100th of an inch and it's built to "contractor" standards with a rugged and durable design. And did I mention it's only about $20 which makes it cheaper than most laser measures on the market so how could this NOT be the best tape measure in the world?
The above video shows off all of the Measure King's capabilities and I will admit it packs a lot in a small and inexpensive package. One thing that doesn't make sense though is that the video mentions the Measure King as using a flexible nylon tape however all the listings I could find online show it as having a basic fabric string. The video of the Measure King with actual tape shows a flexible nylon tape which is similar to those used by tailors which is perfect for clothing measurements since the tape can flex around peoples waist's however unlike a traditional tape measure, it has no standout meaning you can not extend the tape and have the tape stand straight out without it falling straight to the ground. This comes in handy when you want a quick measurement of an area you can't hook onto. For the other model which only comes with a string, c'mon guys, it's a string for God's sake! Need I say more? The video of the Measure King that uses actual tape doesn't mention how long the tape is however the string model mentions only 10 foot string making it only limited to measuring up to 10 feet with the string. You wouldn't even be able to measure a small bedroom's footprint with only 10 feet of a physical means to measure. I'm not sure how useful this would be to a handyman and much less with a contractor.
The roller mode does seem very practical for measuring curved objects as when shown in the video measuring a curved hand rail. I'm sure this feature will come in handy for moments like these, but still is this the killer feature? I think not.
Lastly, taking a look at the "laser" mode, while it is true that it has a built in laser to spot distant objects, it doesn't use the laser to do the actual measuring. If you look above the laser you'll notice an opening that's used for sonic measuring. What is sonic measuring you ask? In layman's terms, it uses sound (ultrasonic) to measure distance much in the same way as sonar and calculates distance by how long it takes for the sound emitted to return or bounce back to the device. When I was an appraiser in the mid 2000's, real laser measures were crazy expensive with the cheapest being around $300 and up so I carried a sonic measure with me because they were affordable along with long tapes and measuring wheels. Anyways back to the point, sonic measures were good to give you a very close idea of distance however their accuracy was dependent on smooth flat surfaces otherwise you'd get inaccurate readings. In other words the sonic measure feature on this Measure King might be useful, It's accuracy will never be as solid as a real laser measure and it's accuracy will heavily depend on how flat and smooth the surface you are measuring is.
While it has 3 ways to measure and a low $20 price point it has some serious cons (10 foot string, no standout, sonic measure instead of actual laser measure) that would definitely keep this out of a handyman's and contractors toolbox. It would make a perfect fit for a homeowner and DIY'er and someone that's into crafts and tailoring clothes.
So is this the worlds best tape measure? By no means. But as mentioned above it could prove handy to a homeowner, DIY'er and someone that's into crafts and tailoring clothes.
3-in-1 tape measure

3 different measurement modes: roll mode, cord mode, & Sonic mode

Accurate to 1/100TH of an inch

Sonic measurement guide gives precise measurements

Large, back-lit LED digital display


Free 2 day shipping – Try Amazon Prime 30-Day Free Trial

DISCLOSURE:
Tool Craze does not sell this product or any product on the Tool Craze website. Tool Craze does not handle the sale of any item in any way. If you purchase something through a post on the Tool Craze site, Tool Craze may get a small share of the sale. Please refer to the About section for more info.