Metabo HPT (the tool company formerly known as Hitachi) has just come out with a new cordless table saw part of their Multivolt 36V platform with the METABO HPT Cordless 36V MultiVolt Brushless 10″ Table Saw C3610DRJQ4M.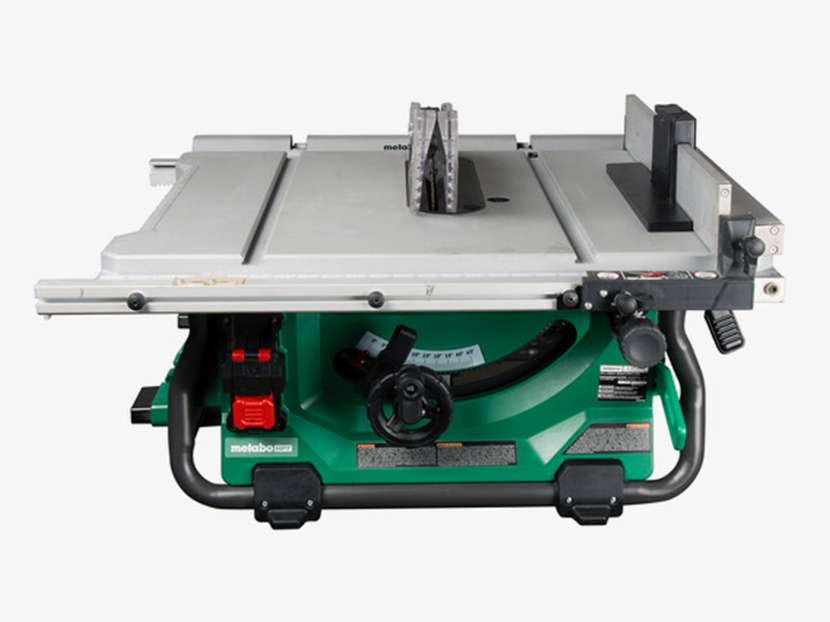 This makes Metabo HPT one of the few power tool brands to offer a cordless table saw and join the ranks with Dewalt, Metabo, Milwaukee and soon to be Bosch. Unlike Dewalt's and Milwaukee's cordless table saws who use a smaller 8-1/2″ blade, Metabo HPT's model uses a regular size 10″ blade just like a regular corded table saw (just like Metabo's cordless table saws). However unlike Metabo's cordless table saw models, Metabo HPT's cordless table saw model is available in the USA and it's available now. Wow, that last sentence might confuse some but keep in mind Metabo and Metabo HPT are two separate brands working under the same parent company. Metabo is still the "real" Metabo while Metabo HPT is a rebranding of Hitachi. In fact HPT stands for Hitachi Power Tools.
The Metabo HPT multivolt cordless table saw takes full advantage of their Multivolt batteries making this a 36V saw. There are a few of standout features, primarily due to it using a regular size 10 inch blade which gives it the full size cutting capacity of a corded table saw at 3-1/4 inches at 90 degrees and 2-1/4 inches at 45 degrees. It also gets dado support for up to a 13/16″ 8″ dado stack and just like their corded table saw model, this cordless bad boy can has a rip capacity of 35 inches to the right and 22 inches to the left making it the largest rip capacities of not just cordless table saws but corded models as well. Also like any of their Multivolt cordless power tools, this table saw accepts their AC adapter to give it corded capability for unlimited runtime.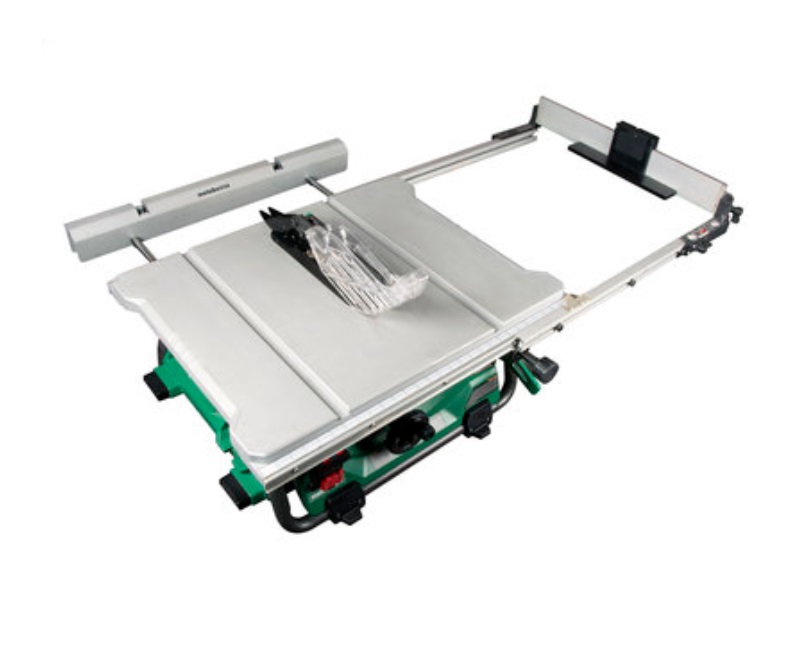 It has a rack and pinion fence system for easy and precise fence movement and also includes an outfeed extension to help support longer boards. And other features include a brushless motor with soft start, riving knife, anti-kickback pawls, blade guard, rear 2-1/2″ vac dust port, miter gauge, push stick and on board storage.
The saw is available now for $699 as a baretool. Much like the rest of their Metabo HPT cordless power tools, it's expensive and more so than competing pro brands. Normally I'd complain about the considerably higher price point however this cordless table saw offers one main feature that I think I'd be willing to pay extra for, which is the fact that can run full size 10″ blades with full size 3-1/8″ cut capacity which is something that Dewalt's and Milwaukee's model don't offer, though considerably less expensive. I also want to mention that Acme Tools is currently offering a deal at time of writing where you can get your choice of either a Multivolt AC adaptor or a Multivolt battery and charger starter kit for no additional charge when you purchase the Table Saw baretool which should make the $699 price point a bit easier to swallow.
A big thanks to Cody Robertson for spotting!
Features brushless motor technology for more run time, increased power and extended durability with essentially no maintenance.
 Accepts a MultiVolt battery that delivers 4.0Ah of runtime at 36V in MultiVolt tools (sold separately). Battery can also power Hitachi or Metabo HPT 18V slide type tools, including cordless nailers generating an impressive 8.0Ah of run time for increased flexibility and multipurpose use (sold separately). MultiVolt battery charges in 52 minutes using the UC18YSL3M charger (sold separately). Compatible with 36V MultiVolt AC Adapter (sold separately).
 36V DC Brushless motor produces 5.000 RPM to power through the toughest ripping applications.
 Soft start function reduces noise and recoil at start-up. Electric brake halts the rotation of the blade within seconds for added safety.
 10″ 40-Tooth carbide tipped blade included for high cutting capacity. Bevel range of 0 degree to 45 degrees for cuts ranging from 3-1/8″ (at 0 degree) to 2-1/4″ (at 45 degrees). Easy adjustments for blade height or angle, as well as simple fence adjustments to adhere to the cutting material.
 Both the bevel scale and bevel height adjustment knobs for the blade are situated on the front of the cabinet for easy access and viewing. Telescoping table extension supports 35″ of ripping capacity to the right and 22″ to the left.
 Equipped with a 3/4″ T-slot miter gauge that features a large scale with adjustable positive stops at 0, 15, 30, 45 and 60 degrees to the left and right to help guide material accurately for a truer cut.
 On-tool accessory storage allows for easy access to needed items and convenient storage while not in use. 8 x 13/16″ Dado capacity allows for simple dado cuts. Riving knife ensures cutting material does not bind and/or kick-back during operation.
 Oversize power switch with emergency off safety cover is designed at knee level for immediate shut down as an added safety feature. Overload protection automatically shuts off the motor in a possible current overload situation to help prevent damage to the saw.
 Dust port located at the rear of the base measures 2-1/2″ and can connect to a shop vac or dust collection system for a cleaner work environment. Standard accessories include: 10″ 40-T Carbide Tipped Blade, blade guard assembly, anti-kickback pawl assembly, miter gauge assembly, push stick, rip fence assembly, VIC rip fence assembly, out feed support assembly, (2) blade wrenches, 4mm hex bar wrench and 2.5mm hex key.


Free 2 day shipping – Try Amazon Prime 30-Day Free Trial

DISCLOSURE:
Tool Craze does not sell this product or any product on the Tool Craze website. Tool Craze does not handle the sale of any item in any way. If you purchase something through a link on the Tool Craze site, Tool Craze may get a small share of the sale. Please refer to the About section for more info. Tool Craze cannot guarantee the accuracy of the information/specifications/features of any tool listed in this article. Please do your full research before buying any products.