Ever wish you could plug in your cordless battery powered tools with some sort of adapter? The technology has always been available and easily implementable however greedy corporations and lowsy boardroom politics prevent us from benefiting from such adapters for the most part. Dewalt did make one available for their cordless Flexvolt 12″ miter saws but unfortunately this ac/dc adapter is only good for two cordless tools, bummer. However we have some good news as Metabo HPT (formerly known as Hitachi) now has an ac / dc adapter ET36AM and is fully compatible with all of the Multivolt 36V cordless power tools.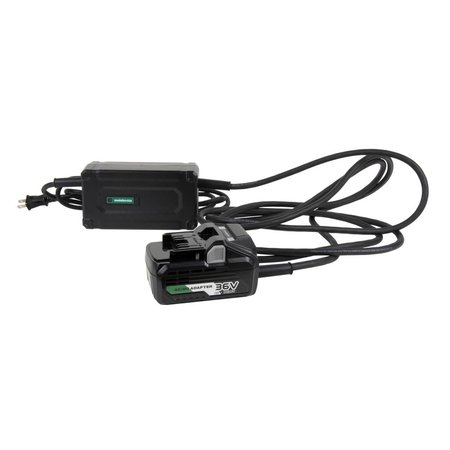 The ac / dc adapter is coming out later this month of October 2018 and will be priced at $149.97. At this price it's very expensive, especially when you consider that the Dewalt Flexvolt AC/DC adapter is only $50. But at least the Metabo HPT AC/DC Multivolt adapter is has a long 20 foot power cord so you won't need your extension cords most of the time.
Since many will believe that Metabo HPT are actual Metabo power tools, keep in mind that they are not the same as actual Metabo power tools. Hitachi did some weird stuff this year by changing their name to Hikoki for those of you outside the USA and they changed their name to Metabo HPT here in the USA. So Metabo HPT is a rebranding of Hitachi. In fact the HPT abreviation stands for Hitachi Power Tools. Learn more about the Metabo HPT name change by clicking here.
A big thanks to Cody Robertson for spotting the AC/DC adapter!




Free 2 day shipping – Try Amazon Prime 30-Day Free Trial

DISCLOSURE:
Tool Craze does not sell this product or any product on the Tool Craze website. Tool Craze does not handle the sale of any item in any way. If you purchase something through a post on the Tool Craze site, Tool Craze may get a small share of the sale. Please refer to the About section for more info.