Back in 2016, Fein and Bosch co introduced the best thing known to oscillating multitools with the latest and greatest Starlock mount that offered blade changes so fast and easy they literally snap in place and snap off! Since then many brands have joined the Starlock mount and now Metabo joins the Starlock mount as well with their latest cordless 18V multitool, the Metabo MT 18 LTX BL QSL 613088840.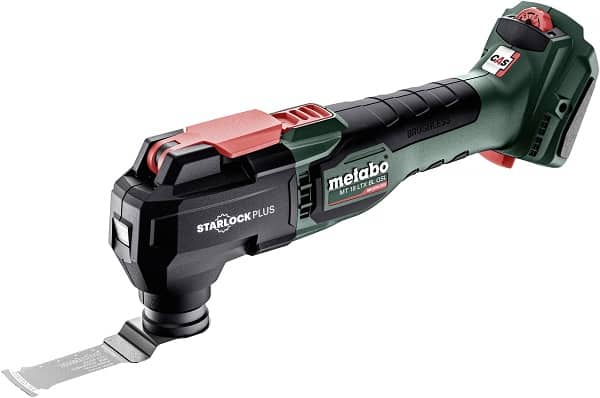 The Metabo MT 18 LTX BL QSL 613088840 is part of their 18V system and is powered by a strong brushless motor that Metabo claims is comparable to a corded model. The combined oscillating angle is 3.2 degrees. It also has variable speed operation with a variable speed dial for 8000-20000 OPM and slide power switch. There's also an LED light on the tool to make it easier to work in low light.
It's standout feature is the Starlock mount, specifically for Starlock Plus blades. For those that have never seen the Starlock mount in action, it's leaps and bounds better than tool free latch and pin systems and doesn't require a pin that can be lost. There is no pin and instead blades snap into place. Yes it's that easy, and with the flip of the lever, the blade drops out. It doesn't get easier and faster than this folks. I noticed that Metabo also added a magnetic interface to the mount so which is said to be a magnetic holder to pre-fix the accessory. I don't see this as necessary for installing blades since you can lay the blades out on the counter and press the tool over them to snap into place. Maybe the magnet is good for holding blades when ejecting them so they don't go all over the place but then again, I'd rather they get dropped immediately.
A big thanks to Dave Jones for spotting!
Oscillating cordless multi-tool with high performance comparable to that of a mains powered version
For intensive applications in interior development with custom-fit 3D holder StarlockPlus
Indispensable for interior development such as cutting, sanding and scraping of different materials
Metabo Quick tool change: quick and comfortable thanks to magnetic holder to pre-fix the accessory
Unique Metabo brushless motor highest efficiency when working, also in continuous mode
Extra bright LED lights for good visibility of the working area




Free 2 day shipping – Try Amazon Prime 30-Day Free Trial

DISCLOSURE:
Tool Craze does not sell this product or any product on the Tool Craze website. Tool Craze does not handle the sale of any item in any way. If you purchase something through a link on the Tool Craze site, Tool Craze may get a small share of the sale. Please refer to the About section for more info.