Spotted last year over in Europe was a set of cordless Bosch multitools with the starlock mount (12V and 18V) and now we have news that one of those is available here in the USA as a North American model with the 12V version Bosch GOP12V-28N 12V EC Brushless Starlock Multitool.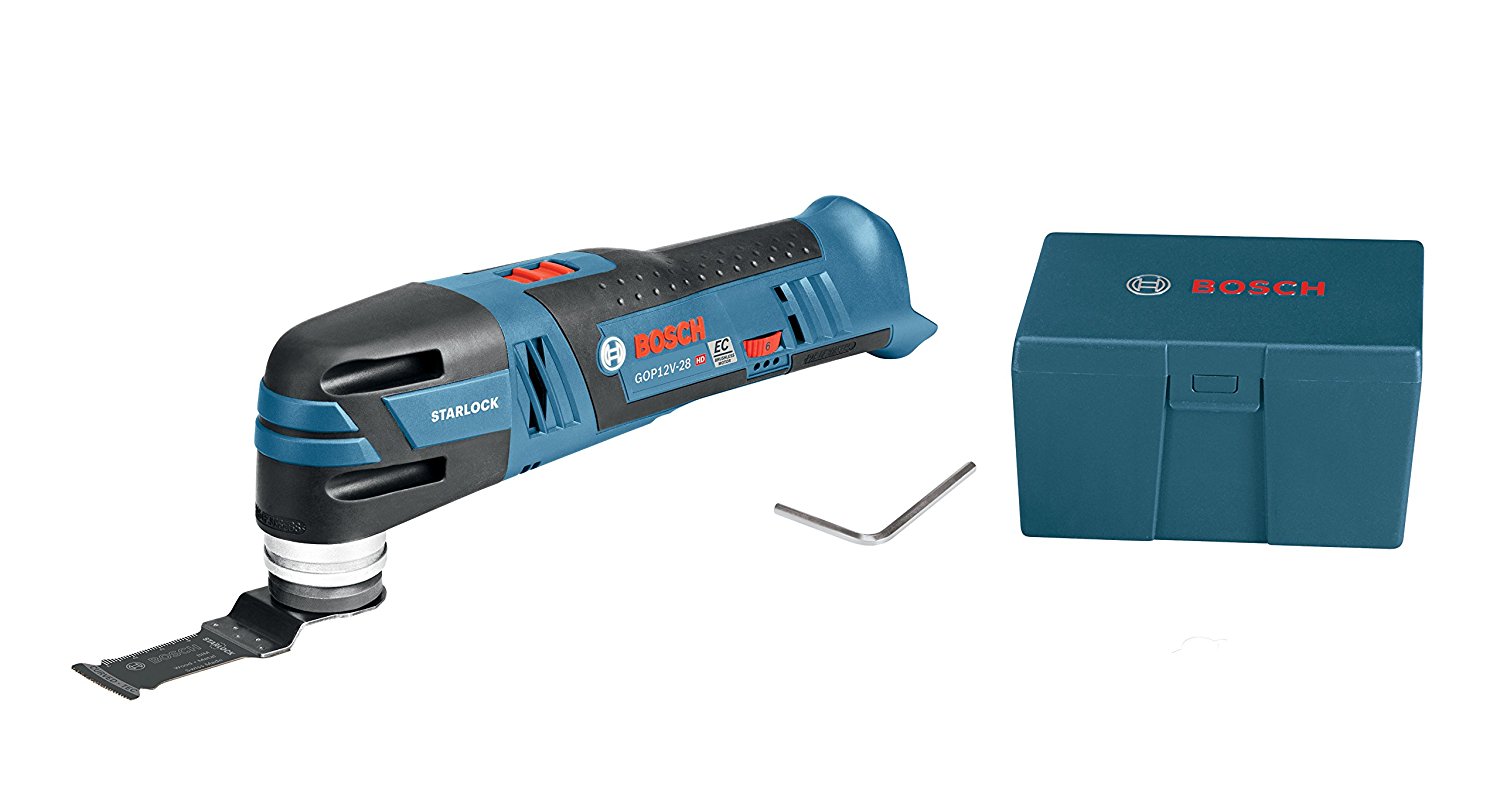 It's basically the same unit as the European model except with a slightly different model number and an extra dash of blue in the front ribbing. Other than that, same model with the same body, brushless motor, variable speed dial, Starlock mount, yadda yadda.
A closer inspection reveals a very important feature or lack of, it includes a hex key and does not have a release lever on the tool. What?!!!! This means that even though it has a Starlock mount, it does not have keyless or tool-less blade changes. This doesn't make any sense to me because the Starlock mount's biggest selling point is that the blade changes are incredibly fast and easy, so much so that I would have a hard time switching back to anything else after trying Starlock.
Starlock Mount but requires ancient hex key and bolt
But here we are in 2017 and it's sad to say that new oscillating multitool models are coming out with the old and ancient hex key and bolt system. After all the progress that's been made in the tool less and keyless blade change department by so many brands including Bosch themselves and so many different ways and methods of doing so I still can not believe we are going back to the old hex key and bolt system. We should be moving forward not backwards, I don't see any reason or excuse to use any blade change system that requires a hex key and bolt in 2017, aside from old models that continue today, but my point has to do with new models coming out.
It also doesn't make sense that they'd call it a Starlock mount if it's not a tool less blade change system. Why? Because consider this, Starlock blades believe it or not are backwards compatible with non Starlock blade mounts. Yes I've tried this and they work on non starlock multitools. For example, I've tried starlock blades on the Fein FMM 350 Q original non starlock model and on the Rockwell F80.
I guess they claim this new Bosch GOP12V-28N model is technically a starlock mount multitool because it has the special 3D recessed mount that is said to transfer more torque. Personally I haven't found any difference in torque or cutting performance when I compared the Fein FMM 350 Q models original vs starlock model and found no difference in cutting speed or torque transfer. Another downside of the starlock mount is that the mount itself is not backwards compatible at the moment. No one has adapters to make it accept regular blades and accessories yet.
I'm sorry about the long rant but it's frustrating to see a new model multitool in nearly the end of 2017 with a hex key and bolt blade change system and then add to injury the name Starlock which is known for it's tool-less blade change system. I know that most 12V multitools have hex key and bolt blade change systems even new models (Makita for example) but Fein broke the mold and added a tool-free blade change mount to a 12V multitool in 2015 and soon after added a fully functional tool free blade mount starlock 12v multitool.
Where Bosch did it right in the new model is they packed in a brushless motor something I've yet to see on a 12V multitool and the price is right at $99 as a bare tool. It's slightly more than Milwaukee's and Makita's 12V multitools as baretools but by very little, but is worth the slight bump in price due to the brushless motor itself. The brushless motor might add more performance but if it does not, one thing is for sure – better runtime.
DISCLOSURE:
Tool Craze does not sell this product or any product on the Tool Craze website. Tool Craze does not handle the sale of any item in any way. If you purchase something through a post on the Tool Craze site, Tool Craze may get a small share of the sale. Please refer to the About section for more info.



Free 2 day shipping – Try Amazon Prime 30-Day Free Trial
Star lock 3-D tool-accessory interface – best-in-class grip means more torque transfer

Oscillating multi-tool versatility – accomplish flush-cutting, plunge-cutting, sanding, grinding and many other tasks

Dynamic accessory range – compatible with all star lock Accessories

Unsurpassed performance-to-weight ratio – powered by an efficient EC Brushless 12V max motor

Wide 2.8° Oscillating arc – better accessory utilization and increased productivity