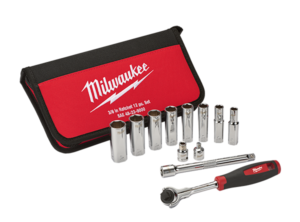 Milwaukee Tool recently announced a new 12 piece Ratchet & Socket Set for mechanical, electrical and plumbing professionals!
Here's what you need to know about the new Milwaukee Ratchet and Socket set. The ratchet is a slim profile ratchet and has a swivel head so you can use it as a ratchet or nut driver. The sockets are deep well sockets and have a squared base so you can operated them with a wrench. The sockets have easy to view markings that are hard stamped.
They'll be available in April 2017 for about &69.99 and will be available in SAE and Metric Socket sizes.
Swivel ratcheting head – functions as ratchet or nut-driver
Slim profile design
Wrench-compatible socket design
Hard-stamped size labels
Soft-sided case for organized portability
Available: April 2017
MSRP: $69.99 (SAE & Metric kits)
Contractor's Ratchet & Socket Set Offerings
12pc Ratchet & Socket Set (SAE): 3/8″ Drive Roto Ratchet, 5/8″ Deep Well Socket, 3/8″ Deep Well Socket, 7/16″ Deep Well Socket, 1/2″ Deep Well Socket, 9/16″ Deep Well Socket, 5/8″ Deep Well Socket, 11/16″ Deep Well Socket, 3/4″ Deep Well Socket, 6″ Extension, 3/8″ to 1/4″ Drive Adaptor, 3/8″ to Hex Adaptor, and Carrying Case (48-22-9000)
12pc Ratchet & Socket Set (Metric): 3/8″ Drive Roto Ratchet, 10mm Deep Well Socket,12mm Deep Well Socket, 13mm Deep Well Socket, 14mm Deep Well Socket, 15mm Deep Well Socket, 17mm Deep Well Socket, 18mm Deep Well Socket, 19mm Deep Well Socket, 6″ Extension, 3/8″ to 1/4″ Drive Adaptor, 3/8″ to Hex Adaptor, and Carrying Case (48-22-9001)