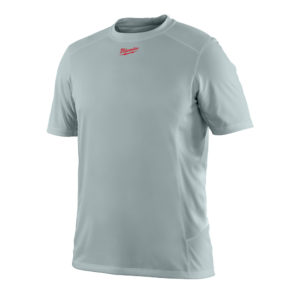 Last year in June, Milwaukee introduced new non heated work gear with a new hoodie and long sleeve Workskin T-Shirt. Those were great for the upcoming colder months but with summer right around the corner this year, Milwaukee has just announced new lightweight Workskin short sleeve performance T-shirts.
The new Milwaukee lightweight Workskin performance shirts put the emphasis on keeping you cooler. They resemble the types of performance t-shirts with moisture wicking technology that many of us use while working out but with the Milwaukee logo!
You'll be able to stay cool while you work while also sporting your favorite brand out on the job. The new Milwaukee Lightweight WORKSKIN Performance Shirts will be available in sizes S-3XL and come in two colors – gray and high visibility bright yellow. They also have long sleeve versions of the new Milwaukee Lightweight WORKSKIN Performance Shirts. Same sizes and colors.
COOLCORE Fabric Technology reduces surface temp of shirt by up to 30%
Extended Fast Dry Sweat Zones
Durable body fabric extends product life and protects against UV rays
Available: April 2017
MSRP: Short Sleeve ($29.99); Long Sleeve ($39.99)
They'll be available soon in April 2017 and will be priced at $29.99 for the short sleeve and $39.99 for the long sleeve shirts.


WORKSKIN™ Light Weight Performance Shirt Model Options
410G-S             Short Sleeve- Gray
410G-M             Short Sleeve – Gray
410G-L              Short Sleeve – Gray
410G-XL           Short Sleeve – Gray
410G-2X           Short Sleeve – Gray
410G-3X           Short Sleeve – Gray
410HV-S           Short Sleeve – High Visibility
410HV-M           Short Sleeve – High Visibility
410HV-L            Short Sleeve – High Visibility
410HV-XL         Short Sleeve – High Visibility
410HV-2X         Short Sleeve – High Visibility
410HV-3X         Short Sleeve – High Visibility
411G-S             Long Sleeve – Gray
411G-M            Long Sleeve – Gray
411G-L              Long Sleeve – Gray
411G-XL           Long Sleeve – Gray
411G-2X           Long Sleeve – Gray
411G-3X           Long Sleeve – Gray
411HV-S           Long Sleeve – High Visibility
411HV-M           Long Sleeve – High Visibility
411HV-L            Long Sleeve – High Visibility
411HV-XL         Long Sleeve – High Visibility
411HV-2X         Long Sleeve – High Visibility
411HV-3X         Long Sleeve – High Visibility