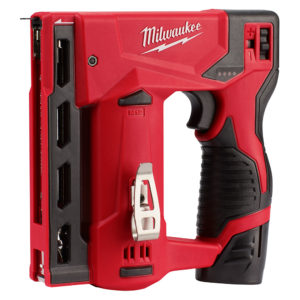 Here's another Milwaukee tool that was previewed at this years new tool symposium, the Milwaukee M12 3/8″ Crown Stapler 2447-21.
Basically takes a mechanical hand tool and makes it fully electric with the use of a small M12 battery. By letting the tool do the work for you, it tires your forearms much less than having to squeeze on a mechanical stapler all day.
Requires 80% less muscle effort than hand tools
35% lighter than competitors' cordless staplers
Ability to fire 1500 staples on one battery
Available: October 2017
MSRP: Kit ($149); Bare Tool ($99)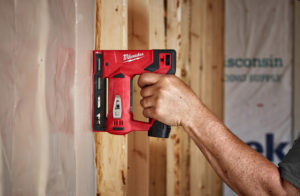 Full Press Release:
Milwaukee® Delivers the Lightest, Most Compact Cordless 3/8" Crown Stapler
MILWAUKEE, WI- Milwaukee Tool expands the largest sub-compact system in the industry, the M12™ platform, with the introduction of the new M12™ 3/8" Crown Stapler. Designed to be the most ergonomic and compact cordless 3/8" crown (T50® Style) stapler, the M12™ Stapler requires 80% less muscle effort than hand tools and is up to 35% lighter than competitors' cordless staplers. With the ability to fire 1500 staples on one battery, the new stapler provides the superior performance of a power tool, with the all of the benefits of hand tool portability.
"Manual staplers are used for a variety of applications across a number of different trades, from the installation of insulation and polyethylene vapor barrier to the installation of Thermo-Pan® sheeting for return air ducts. The repetitive motion and excessive force required to operate these staplers translates to considerable fatigue and can even cause injury to a user after years of use. Unfortunately, the powered solutions currently available are either too bulky, underpowered, or require the user to wrestle with cords," said Tyson Apfelbeck, Senior Product Manager for Milwaukee Tool. "The M12™ 3/8" Crown Stapler provides performance and run-time that rivals the leading cordless solution, at a fraction of the size and weight, and requires much less muscle effort to operate."
At only 3.5 lbs. with battery, 7-1/4" in length, and just over 1-1/2" wide at the nose, the M12™ 3/8" Crown Stapler allows easy access into corners and tight spaces. For added utility, because of its compact size, the Stapler can be comfortably worn on a tool belt – something unheard of with other cordless and corded staplers.
Able to operate in either bump fire or sequential fire, and capable of firing up to 1500 3/8" crown (T50® Style) staples on a single 1.5Ah battery pack, the stapler will greatly reduce downtime and maximize productivity. Staple leg locating arrows allow the user to see exactly where the staple legs are leaving the tool, providing increased accuracy. These features, coupled with the stapler's balanced and ergonomic design, means the user will experience a better feel and overall performance than competitive tools on the market today.
Available in October of 2017, the new M12™ 3/8" Crown Stapler is compatible with the entire M12™ System, now offering more than 70 professional cordless solutions focused on power, productivity, and portability.
Specifications
M12™ 3/8" Crown Stapler (2447-21)
Staple Range (1/4" – 9/16")
Sequential and Contact Actuation
Dry Fire Lockout
Staple Leg Locating Arrows
Power Adjustment Dial
Length: 7.25"
Weight: 3.5 lbs.
5 year warranty
Includes M12™ 3/8" Crown Stapler, 1.5ah Battery (48-11-2401), M12™ Charger (48-59-2401), Contractor Bag.
*Also available as bare tool (2447-20)
About Milwaukee Tool
Since the company began in 1924, Milwaukee Tool has led the industry in both durability and performance by providing the best in professional, heavy-duty tools and accessories. With an unwavering commitment to the trades, Milwaukee continues to lead with a focus on providing innovative, trade-specific solutions.  Whether it is through their leadership in LITHIUM-ION technology, as seen in the M12™, M18™ & M28™ Systems, time-saving accessories or innovative hand tool products,  Milwaukee is dedicated to delivering a steady stream of advanced solutions for the trades that offer increased productivity and unmatched durability. Milwaukee Tool is a Brookfield, Wisconsin-based subsidiary of Techtronic Industries Co. Ltd. (TTI) (HKEx stock code: 669, ADR symbol: TTNDY). For more information on the full line of Milwaukee® products, please call 1-800-SAWDUST or visit www.milwaukeetool.com.
DISCLOSURE:
Tool Craze does not sell this product or any product on the Tool Craze website. Tool Craze does not handle the sale of any item in any way. If you purchase something through a post on the Tool Craze site, Tool Craze may get a small share of the sale. Please refer to the About section for more info.