I've been asking manufacturers to make a quiet hydraulic impact driver and 2019 is the year they come out thanks to Milwaukee and their newest quiet 12V impact, the M12 Fuel Surge Hydraulic Driver 2551-20 (baretool) 2551-22 (kit).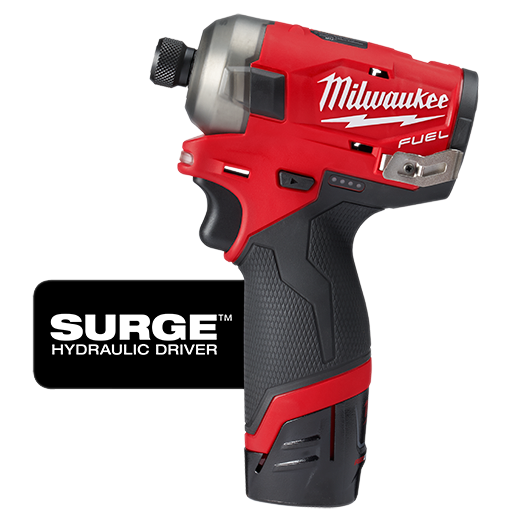 Quiet impact drivers aren't anything new as there are plenty to choose from in the 18V segment from various brands. Milwaukee themselves had a successful 18V version called the Surge which was a high performance impact driver utilizing hydraulic oil pulse technology for less noise. That same tech goes into their latest 12 volt impact as the M12 Fuel Surge is also a hydraulic driver. Expect up to 2x quieter than regular impact drivers.
With up to 2X less vibration, the smoother performance of SURGE™ provides more control and creates less fatigue and strain on the user. The exclusive FLUID-DRIVE™ Hydraulic Powertrain design essentially replaces the traditional hammer and anvil mechanism found in standard impacts with a hydraulic mechanism that generates the power necessary to create torque. Because there's no metal-on-metal contact, the net result is smoother performance, with a decrease in noise and vibration, as well as longer sustained torque.
Instead of relying on very high torque peak bursts that come and go in fractions of seconds, hydraulic drivers provide less torque however this torque is sustained longer which means you don't lose much in real world performance. In fact, the M18 Surge was just as good as regular high performance impacts when it came out, so expect the same or similar with the newest M12 Fuel Surge.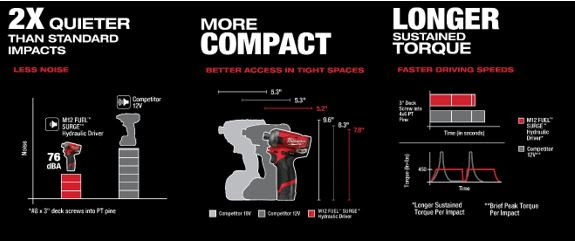 Looking at it's performance stats, the M12 Surge has the same exact 450 in-lbs of torque as it's larger M18 Surge brother so I would expect very similar torque performance. The M12 Surge has a few less hundred RPM's and IPM's than it's larger brother so I'd expect slightly slower performance but shouldn't be too noticeable, especially unless you put both side by side in comparison tests.
The M12 Fuel Surge is extremely compact at only 5.2″ in length meaning it will fit in spaces larger impacts would only dream of. As puny in length as it is, it's still 0.2″ longer than it's M18 brother however only a smidge longer. Otherwise it's still a more compact tool overall since the M12 Fuel Surge has a shorter handle and uses puny 12V batteries that slide into the handle for an incredibly small tool overall.
It also comes with 4 mode drive control which essentially gives you 3 speeds (high, medium, low) plus a fourth self tapping screw mode which is also found on their other M18/M12 Fuel impact drivers for added control options. The three speeds are good for when you need to choose full speed and torque (high) or you need the delicate touch for precision (low) or something in between (medium). The self tapping screw mode is designed specifically installing self tapping screws by assisting the user by controlling the RPM throughout the installation.
The Milwaukee M12 Fuel Surge will be available August 2019 for $149 as a bare tool and $199 as a kit with two 2.0 ah batteries, charger and carry case.
M12 FUEL™ SURGE™ ¼" Hex Hydraulic Driver (2551-20)
5.2" Long
450 in-lbs of longer sustained torque
3,200 RPM
3,400 IPM
4-Mode Drive Control with dedicated Self-Tapping Screw mode



DISCLOSURE:
Tool Craze does not sell this product or any product on the Tool Craze website. Tool Craze does not handle the sale of any item in any way. If you purchase something through a post on the Tool Craze site, Tool Craze may get a small share of the sale. Please refer to the About section for more info.