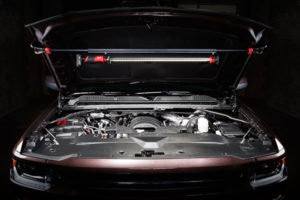 Milwaukee announced a new M12 LED Underhood light a few days ago. This very wide light has extendable hooks that grab onto your hood and using it's long LED strip puts down a wide even beam of light under the hood so you can see what you're working on.
The super long light puts out up to 1350 lumens on high brightness and thanks to it's dual brightness setting can also put out 600 lumens to extend battery runtime. You can expect up to 8 hours on low brightness and up to 4 hours on the brightest setting. Like the rest of Milwaukee's lights, this one also features Trueview tech which has whitebalance that renders colors as truly as possible, so reds will be reds, blues will be blue and so on.
The hooks extend from 47-78 inches to grab onto a variety of cars, trucks, and even fleet vehicles. Thanks to it's "Finishguard" hooks, the hooks have a protective shield that protects the vehicles finish from scratches.
The light also has a single hook on the end of the light at top to hang the light in the vertical position if needed for other applications.
The Milwaukee M12 LED Underhood Light will be available in June 2017 and will retail for $249.99 as a kit 2125-21XC with a 4ah battery and charger, or $199.99 as a baretool 2125-20 .


1350 lumens of TRUEVIEW High Definition light
FINISHGUARD hooks for lasting protection against scratches to vehicle's finish
Rotate, slide, remove and hang light bar for added flexibility and versatility
Up to 8 hours of run-time
Extends 47″ – 78″ to cover a wide range of trucks, cars, and fleet vehicles
Available: June 2017
MSRP: $249.99 (kit); $199.99 (bare)