September 10, 2018
Comments Off

on Milwaukee M18 12.0 ah & 6.0 ah Battery Uses 21700 Cells
Milwaukee's latest ultra high capacity battery was unveiled at this years NPS18 event with their 12.0 M18 HD High Output battery. Not only does it have a considerably larger runtime capacity over the still impressive 9.0 ah battery, but the new 12.0 ah battery is a bit larger as well. That's because it's housing more advanced 21700 cells which are a bit larger than current 18650 cells.
Full disclosure:  This is not a review this is tool news. Tool Craze cannot guarantee the accuracy of the information/specifications/features of any tool listed in this article. Please do your full research before buying any products. Tool Craze is an Amazon Associate and places paid links including those from other retailers Tool Craze is an affiliate partner with. If you purchase something through a link on the Tool Craze site, Tool Craze may get a small share of the sale.
Because the cells are slightly larger, they allow for better performance as well as larger runtime capacity over smaller 18650 and 21700 cells. Milwaukee claims that the new 12.0 ah battery using larger 21700 is capable of generating the equivalent of 15amp corded power. Milwaukee claims the new HD12.0 Battery is also said to deliver 50% more power, to run 50% cooler, and to provide 33% more run-time than their HD 9.0 battery. Keep in mind that these are manufacturer marketing claims and real world results may differ greatly and may not measure up to what they claim and may lead to no discernable difference.
Milwaukee is also stuffing their latest M18 XC 6.0 ah battery with the same physical size 21700 cells used as well. The cells in the 6.0 ah battery although similar in size are not the same exact ones used because if they were the same exact cells used in the 12.0 ah battery then the XC 6.0 battery wouldn't be a 6.0 but instead would be an 8.0 ah battery. The cells inside the 6.0 ah battery are 3.0ah 21700 cells while the ones used in the 12.0ah are 4.0ah 21700 cells. It's the same family of cells however different capacity in each. If you're wondering how the above numbers are determined, it is by using simple math as the 12.0ah battery is using 15 cells total with 3 rows of 5 cells each running in parallel and the 6.0ah has a total of 10 cells in 2 rows of 5 cells also running in parallel. The 5 cells in each row are connected in series while the rows themselves are connected in parallel.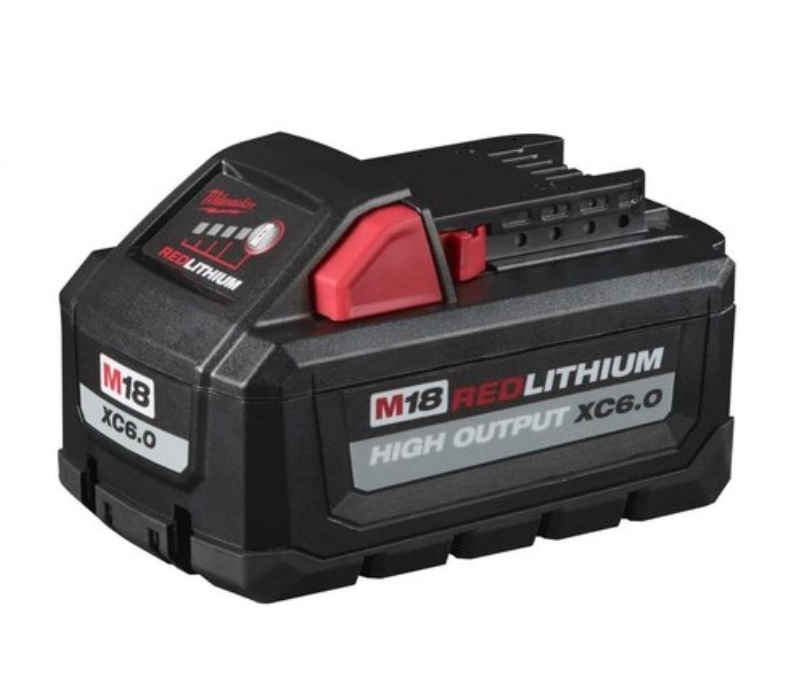 What's interesting is that if Milwaukee wanted to, they could make an 8.0 ah battery the size of fatpack 10 cell battery and a 4.0 ah compact 5 cell battery if they used the same exact individual 4.0ah 21700 cells found inside their 12.0ah battery. It's totally possible as it's simple math and Bosch did the same thing as they've had an 8.0ah fatpack 10 cell battery for a while now.
Going back to the size of the new 12.0 ah battery, I mentioned at the first paragraph that it's slightly larger than the current 9.0 ah battery. Because of the larger size, the 12.0 ah will not fit into some existing tools such as the 2787-20, 2788-20, 2771-20, 2122-20, 2130-20, 2135-20, 2361-20, 2145-20, 2146-20 and 2360-20 but only if they have a manufacturing date before 6-1-2018. If they are manufactured after June 1st, 2018 then you're fine if you have those tools. However if you are affected by this, don't worry as Milwaukee has your back and they will offer free service upgrades if you have any of the above affected units and own a 12.0 ah battery. Full details below.
**Due to the physical size increase of the M18™ REDLITHIUM™ HIGH OUTPUT™ HD12.0, it does not fit the following tools prior to a 6/1/2018 manufacturing date without applicable service parts: 2787-20, 2788-20, 2771-20, 2122-20, 2130-20, 2135-20, 2361-20, 2145-20, 2146-20, 2360-20. Milwaukee is committed to protecting users' investments, offering free service upgrades for the listed products to any customer that purchases an HD12.0 battery pack. Users may visit eService at https://www.milwaukeetool.com/eService for available service upgrades.
Because the new Milwaukee M18 XC 6.0 ah battery is also using larger 21700 cells, it too will be slightly larger than current M18 XC batteries such as the 5.0 for example, however the size increase does not affect compatibility like the 12.0 ah battery.
The Milwaukee M18 HD 12.0 ah battery will be available July 2018 and will retail for $199. The new XC 6.0 will arrive in September 2018 and will retail for $149 for a single battery or $199 for a 2-pack.



DISCLOSURE:
Tool Craze does not sell this product or any product on the Tool Craze website. Tool Craze does not handle the sale of any item in any way. If you purchase something through a post on the Tool Craze site, Tool Craze may get a small share of the sale. Please refer to the About section for more info.