With only three types of cordless outdoor power tools on the Milwaukee M18 platform, they had many gaps in this line regarding outdoor tools however Milwaukee recently introduced a brand new cordless battery powered M18 Fuel 16″ Chainsaw 2727-21HD and we will review it in this article.
Disclosure:  This a review. I am not paid to give a positive review. These are my opinions. Tool Craze cannot guarantee the accuracy of the information/specifications/features of any tool listed in this article. Manufacturer marketing claims may not always meet expectations. Tool Craze is not responsible if products do not live up to claimed expectations. Please do your full research before buying any products. Tool Craze is an Amazon Associate, and also an affiliate with the Home Depot, Acme Tools, Ohio Power Tool, Tool Nut, Lowe's, Ebay, and Walmart and places affiliate links to these retailers. If you purchase something through a link on the Tool Craze site, Tool Craze may get a share of the sale.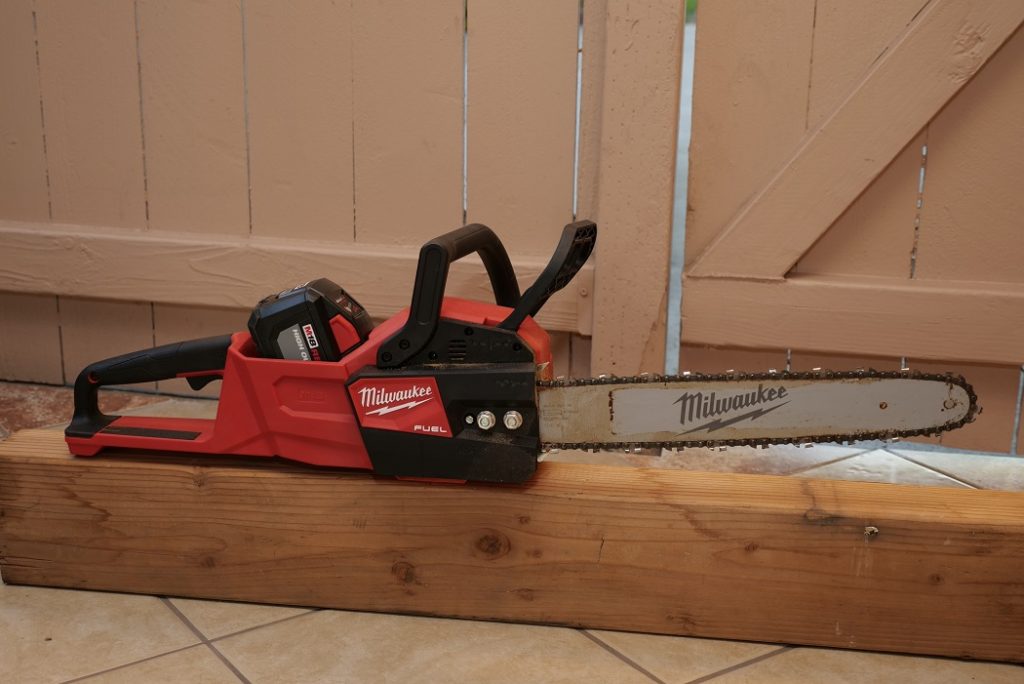 Ethic's Disclosure:
Milwaukee was kind enough to provide the Milwaukee M18 Fuel 16″ Chainsaw 2727-21HD at no cost for review. However as with all my reviews, I am not paid, sponsored, or obligated to give a positive review. This review is my opinion of the product based on my usage and knowledge and my review will reflect what I like and dislike about the product. I will do my best to provide you with an unbiased review.
Manufacturer Features and Specs:
RPM 6,600
bar length 16″
weight 13.9 lbs (from manufacturer) 14.6 lbs tested with 12.0 battery and oil tank full
total length 33″
trigger variable speed
chain gauge .043″
chain pitch 3/8″ low profile
POWERSTATE™ Brushless motor: purposely built for the M18 FUEL™ 16 in. chainsaw to generate the power and performance of a gas engine up to 40CC
REDLINK Plus™ intelligence: ensures optimal performance and provides overload protection to prevent damage to the tool and battery during heavy applications while still maintaining compatibility across the entire M18™ system
REDLITHIUM™ HIGH OUTPUT™ HD12.0 battery pack: provides 50% more power and runs 50% cooler versus standard REDLITHIUM™ HD packs; superior pack construction provides the industry's best protection against jobsite conditions
16 in. Oregon bar and chain
Dual-stud for improved bar and chain retention (manufacturer claim)
Automatic oiler for proper chain lubrication and increased productivity
Onboard storage for scrench
Price $399 as kit 2727-21HD
Package Contents (1) M18 FUEL 16″ Chainsaw, (1) REDLITHIUM High Output HD12.0 Battery Pack, (1) M18 & M12 Rapid Charger, (1) 16″ Oregon Bar and Chain, (1) Scrench
available now

Milwaukee M18 Fuel 16″ Chainsaw 2727-21HD Honest Review
BATTERY POWERED OPE PROS AND CONS
What's great about battery powered OPE (from any brand) is that unlike gasoline engine equipment you don't need to buy and refill gasoline, you don't have to mix oil, no tune ups, no fumes, no priming and no pulling strings. Battery powered tools are ready to go at all times with a freshly charged battery, they have push button starting and are generally quieter than their gasoline engine counterparts.
The downsides of battery powered tools are that they are generally more expensive than gas powered tools however their prices have come down a lot over the years and are more affordable than ever. Replacement batteries can be expensive but they have long lifespans. When a battery runs out of juice it means the work is over even if the job is not done until the battery charges fully again however you can continue working if you have extra batteries on hand.
Milwaukee M18 Fuel 16″ Chainsaw 2727-21HD Honest Review
My Thoughts on features and build quality:
OPE Selection:
As I was saying in the opening sentence, Milwaukee needs additional outdoor power tools in their cordless 18V line up as before this chainsaw, they only had a blower (2 models), string trimmer and hedge trimmer. Not a bad start but with such few options, it left loyal customers to look elsewhere or keep waiting if they needed a mower, pole saw, edger and others but luckily for Milwaukee M18 users, they now have an M18 chainsaw as an option. It's still not a complete solution but they are one more tool better than they were before.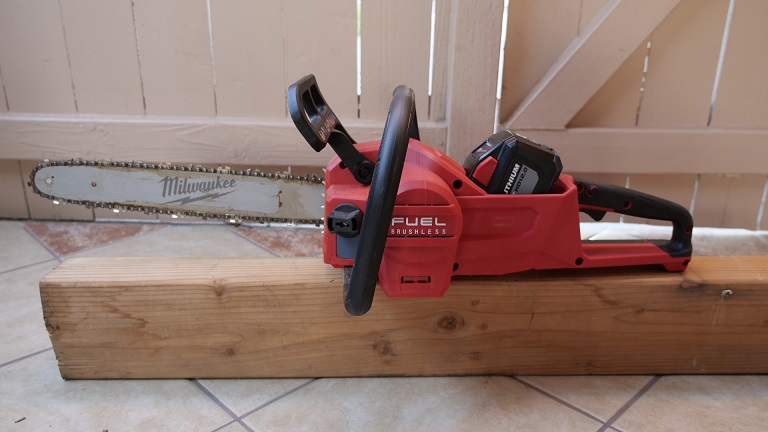 Size for 18V Model
Surprisingly, or should I say not-surprisingly, Milwaukee's attempt at a cordless chainsaw goes big with large 16 inch bar and chain! I say it's surprising that they went with such a large bar because a 16 inch chainsaw is unheard of on 18 volt. I also say not-surprisingly because Milwaukee has year after year been known to push the envelope with tools otherwise impossible on any 18 volt platform. Yet they did the impossible many times before such as by offering an SDS-MAX rotary hammer, a 10″ sliding miter saw and recently a cordless table saw among several others and all on the 18 volt platform.
So it's not surprising that they would go big on their first attempt at an 18 volt chainsaw. For a size/voltage comparison, the next largest chainsaw on 18 volt is a 12 inch chainsaw from Dewalt with their 18V/20V brushless chainsaw. 16 inch battery powered chainsaws are usually found on higher voltage platforms such as 36 volts and up so it's rather strange to find such a large chainsaw on 18V but this is a good thing if you are on the Milwaukee M18 platform as you wouldn't need to step up to a higher voltage platform to enjoy a 16 inch chainsaw.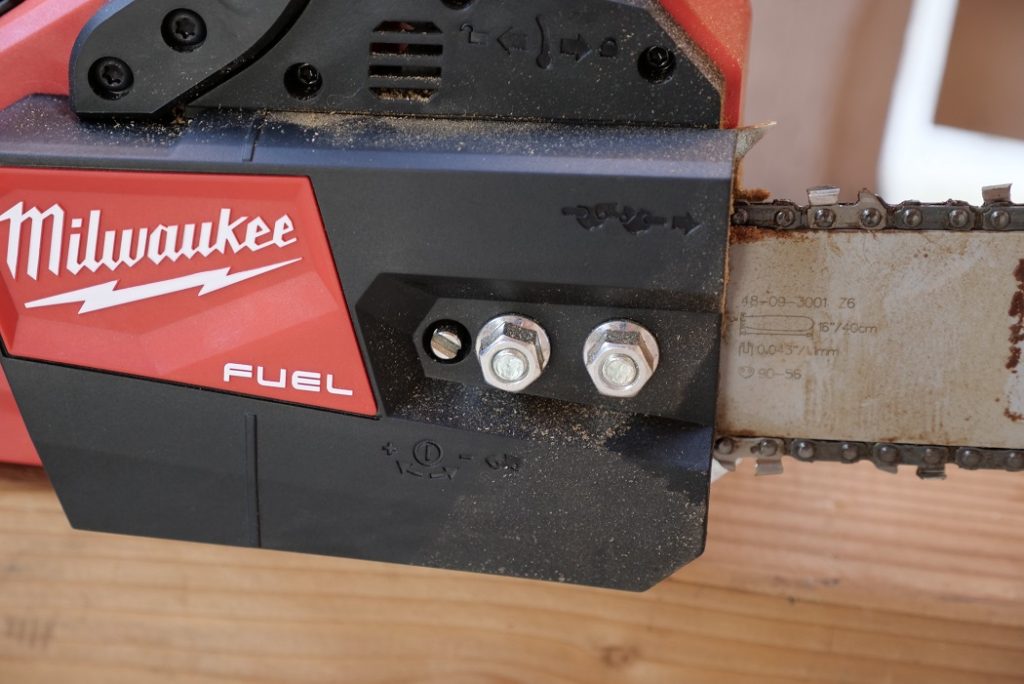 Saw Features:
Milwaukee's chainsaw includes the standard fare such as the chain brake/guard, main handle with trigger and safety, second handle, spiked bumper, oil tank & cap and includes scabbard. One of the features that I much loved on the Makita X2 14″ brushless chainsaw was it's completely tool-less ability to tension the chain and change out the chain. Unfortunately, Milwaukee's chainsaw does not offer tool-less chain tensioning or to change chains. Instead they went with a dual stud design for chain tensioning which is said to offer better chain retention however at the cost of needing to use tools to adjust tension.
My opinion is that I'd prefer a tool-less saw not only for ease of use but for the convenience of not having to fiddle with tools and or lose tools needed to service the machine's chain. But if the chain tension stays in place much longer then I suppose it's a good trade off as it will require tensioning a lot less if true. I have not used this chainsaw long enough to determine if the chain stays tight for long periods of time so I can't comment on that just yet. At the time of writing, I had only used this chainsaw for 5 large cuts and the saw did not need tensioning after those cuts.
Unfortunately I won't need to use any chainsaw until the end of the year when I plan on limbing many of my trees. Many of them need to be limbed now but it's too early for that and I will have to wait for the wintertime when they are dormant. That will give me a better opportunity to assess how good the dual stud set up is. Even though the Milwaukee chainsaw needs tools to adjust chain tensioning, luckily for us, they include what they call a scrench. The scrench is a screwdriver and wrench two in one tool needed to adjust the onboard nuts and a single screw that are used for chain tensioning and chain changing. The chainsaw also features on-board storage for the scrench underneath the saw so you always have the scrench on you at all times ready for when needed.
Oil Tank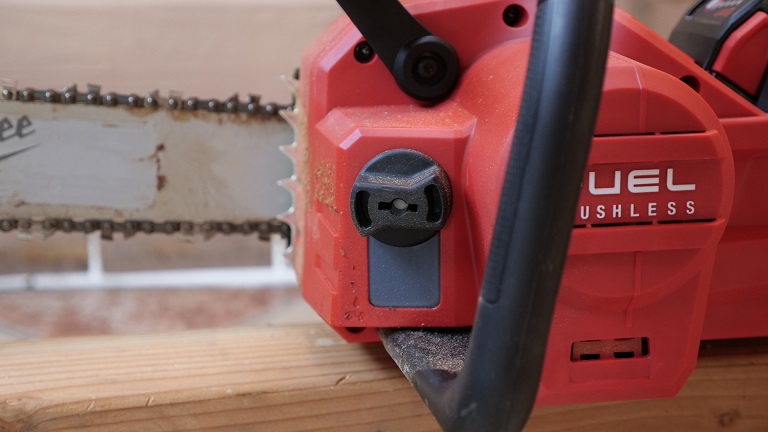 The oil tank has a clear'ish side window to see how full or empty it is and the cap has an insert string that prevents it from getting lost and ensure's it remains with the tool even when uncapped. I noticed that the Milwaukee chainsaw is very good at not leaking when stored with oil in the tank. After filling the tank and using the saw, I stored it for 2 weeks on a level surface and it did not leak at all which is very good, just like the Makita X2 chainsaw I tried earlier.
I also have a Ryobi 18V pole saw that leaks so bad, I swear it needs diapers so it's good to see the Milwaukee handles very well in this regard. Also noticed that the Milwaukee chainsaw has a keyhole slot underneath the handle so you can store it hanging on the wall which makes me think that Milwaukee feels confident enough that users can store this hanging with the front end facing down without leaking. I will attempt that later and update this review to see if it leaks or not when hanging, but at least for now it does not leak when laying flat on the ground.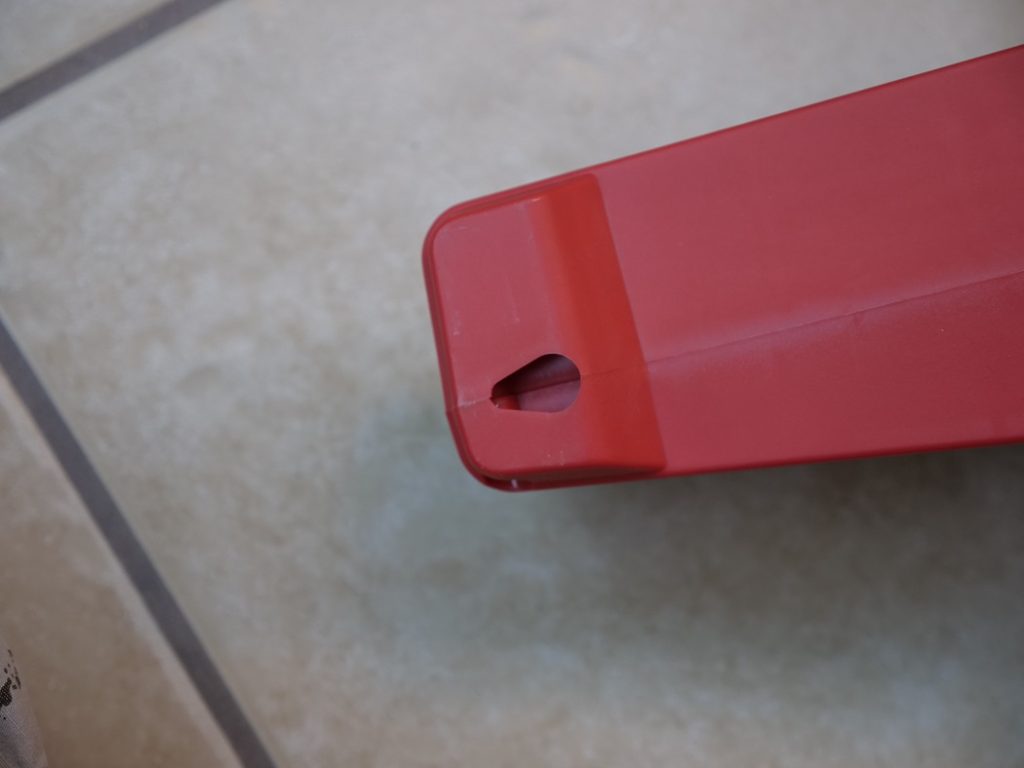 The motor is a brushless motor which not only is good for better runtime since they are very efficient compared to brushed motors but they can also provide better performance if the manufacturer decides to. That is the case with this saw since you need all the performance you can squeeze out of the electric motor to be able to run such a large 16 inch blade. The handle features a variable speed trigger so you can vary the cutting speed to your liking. The trigger doesn't react until pressed about two fifths down and then starts the motor. After that the trigger is very responsive to your touch and can easily make it run very slowly for a precise start of cut and crank the trigger to full speed for fastest cutting or throttle it anywhere in between.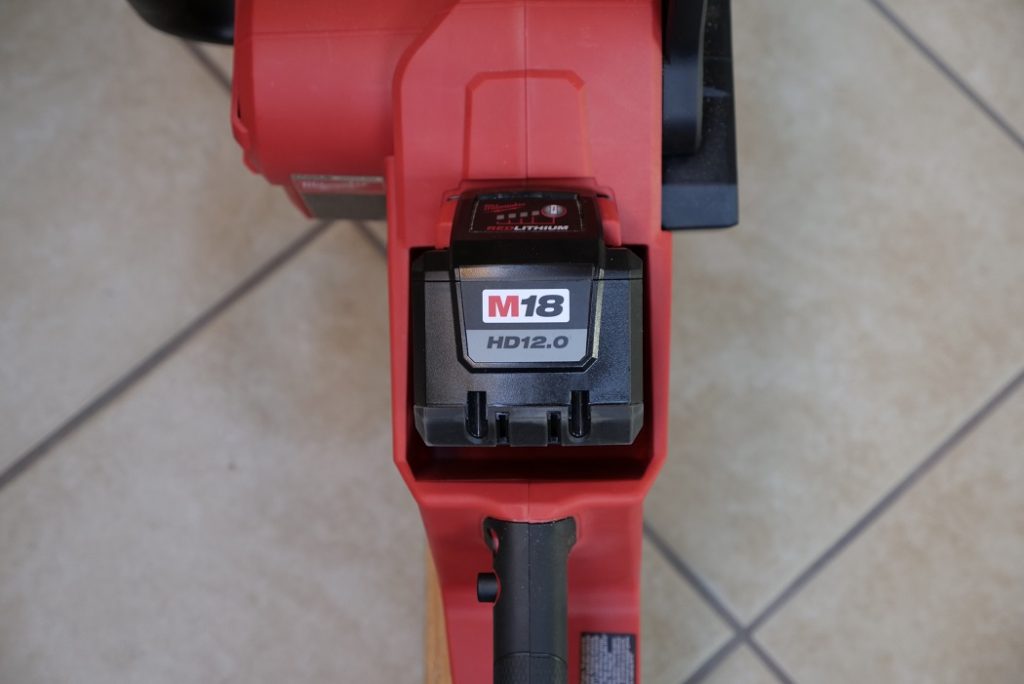 The Milwaukee M18 Fuel 16″ Chainsaw 2727-21HD is also one of the newer power tools that take advantage of the new 12.0 ah battery and as such one is included with the kit. Now doubt such a large battery is needed to feed this powerful tool. I noticed that the battery has a compartment that surrounds the battery when inserted into the tool instead of being fully exposed.
The reason I wanted to bring this up is because while the new 12.0 battery is Milwaukee's largest 12.0 battery not just in capacity but also in physical size, even larger than the already huge 9.0 battery pack, the chainsaw battery compartment still has room available to the sides and underneath the battery. This makes me wonder if they made it more spacious on purpose to future proof the chainsaw so that the battery compartment would be able to fit an even larger battery pack later in the future. This got me thinking and makes me think they might plan on making an even larger battery at some point, maybe a 4 row battery? It looks like it would be able to fit a new larger battery with 4 rows of battery cells.
And just to compare, the current 9.0 and 12.0 are 3 row batteries. But keep in mind that my thoughts on Milwaukee bringing an even larger 4 row battery in the future is just my own personal speculation so take this info with a grain of salt. If I hear any confirmed info on this topic of an even larger battery, I'll make sure to keep you guys informed on the Tool Craze website in a separate article.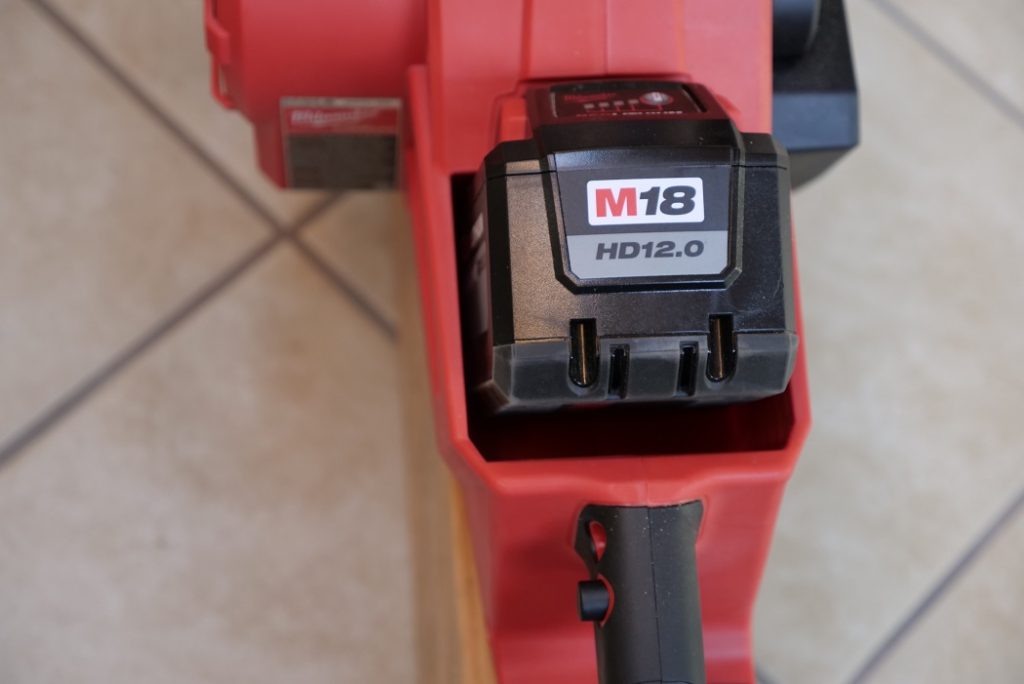 Milwaukee M18 Fuel 16″ Chainsaw 2727-21HD Honest Review
Pricing VS the Competition
Milwaukee's M18 Fuel 16″ Chainsaw 2727-21HD retails for $399 as a kit and compared to it's direct competition from the likes of other fellow power tool manufacturers, it's pricing is very similar to Dewalt's 60V Flexvolt 16″ chainsaw kit with 3ah battery at $349 and Makita's X2 36V 16″ chainsaw kit with double 5.0 batteries at $409. Though more expensive than Dewalt's offering, Milwaukee's chainsaw kit comes with a larger capacity battery that offers 216 watt hours of capacity while Dewalt's battery is rated at 162 watt hours (54V x 3ah = 162 watt hours)(Dewalt's 60v saw is actually a 54V power tool) so though more expensive than Dewalt's chainsaw kit, Milwaukee's kit offers a battery with 54 more watt hours of capacity, so the value is about the same as you pay more but get more.
Milwaukee's chainsaw kit compared to Makita's chainsaw kit while priced almost the same, Milwaukee's kit offers a better value as it's 12.0 ah battery with 216 watt hours is still more than a pair of 5.0 ah batteries combined as they offer 180 watt hours total combined. So in this comparison the Milwaukee kit is a better value than the Makita kit but only slightly better in terms of battery capacity in watt hours. Another thing to look at is that the Makita X2 chainsaw has a serious advantage over the Milwaukee as it includes a double charger that can charge both batteries at the same time of only 55 minutes which is pretty darn fast! I haven't timed the charge times of the new 12.0 batteries from Milwaukee but I know it will be closer to 2 hours to charge, and that's with the included rapid charger.
Expect closer to 4 hours on a standard older stock charger. I make this assumption because Milwaukee's 9.0 ah batteries took 1 hour 38 minutes to charge with the rapid charger so it makes sense the 12.0 will be closer to 2 full hours to charge on a rapid charger. The 9.0 battery took 2 hours 55 minutes on a standard stock charger so it makes sense to believe the 12.0 will take longer than 3 hours to charge on the older slower stock charger. Anyways, either way it's still a much longer charge time than Makita's 55 charge time on their setup so after all is said and done, the value proposition between Milwaukee's and Makita's chainsaw kits is about the same or very similar.
However, when you compare Milwaukee's $399 kit price to Ego's and Echo's 16 inch battery powered chainsaw kits that are both priced at $299 you can see that Milwaukee's chainsaw is rather overpriced and so are Makita's and Dewalt's. Not only are Milwaukee's, Dewalt's and Makita's chainsaw kits overpriced when compared to Ego's and Echo's battery powered chainsaw kits, Ego's and Echo's included batteries offer higher capacities in watt hours.
For example Ego's kit comes with a 56v 5.0 ah battery and is 280 watt hours which is considerably larger than Milwaukee's 12.0. Ego's included 58V 4.0 ah battery is 232 watt hours so it's slightly larger than Milwaukee's and still $100 bucks cheaper as a kit. Not only that but Ego's and Echo's batteries charge way faster than Milwaukee's 12.0 at 80 minutes and 60 minutes respectively.
So either way you look at it, not only are Ego's and Echo's chainsaw kits lower priced and offer better value for your money, they also offer larger capacity batteries and faster charge times than Milwaukee's. Not only that but Ego and Echo have much more tools in their respective cordless tool lineups than just a string trimmer, hedge trimmer, blower and chainsaw as they have much more than that and offer more well rounded assortment of available outdoor tools to choose from should you ever want to expand now or later.
The high price point for Milwaukee's chainsaw and only 4 outdoor power tool types means I can't recommend this chainsaw to anyone looking for a new battery powered 16 inch chainsaw when better priced options with more selection are available from competing brands such as Ego and Echo. I would say that with the higher price point of Milwaukee's chainsaw means that only Milwaukee diehards, those that do not worry about price and those that already have Milwaukee M18 tools who do not want to run two separate battery platforms at the same time are the ones that will buy into Milwaukee's M18 chainsaw.
Milwaukee M18 Fuel 16″ Chainsaw 2727-21HD Honest Review
Runtime
As far as runtime is concerned, I was not able to fully test for runtime as I do not have a large supply of tree logs available to me to cut for runtime testing and I won't be able to limb my trees until later in the year. However after 5 large cuts with 3 of them into a 10 inch log and 2 cuts into a log that was about 13-14 inch at it's widest, the battery fuel gauge still read 4 out of 4 so even with these cuts, it didn't even trouble the battery – not one bit. What I can say is that according to Milwaukee, they claim that this chainsaw with the 12.0 battery can get up to 150 cuts into 6×6 cedar lumber which sounds very impressive if you ask me, so the claimed runtime sounds very good for a battery powered chainsaw.
Milwaukee M18 Fuel 16″ Chainsaw 2727-21HD Honest Review
Performance
I used it to cut a log that was about 13-14 inches at it's widest it it handled it very well. As it powered through the cut, it kept it's pace steady and even at the largest width which was at the center because the log was oval shaped. This means that this saw regulates the motor to increase power under high demand cuts so as to not bog down the bar and chain. All cuts were handled smoothly and in a quick manner with both the 13-14 inch log and the 10 inch log.
Unfortunately these logs were soft wood so I cannot comment on this saws ability to cut through hardwoods but according to Milwaukee, they claim that this saw has the performance to cut into demanding hardwoods. Seeing how this saw handled even the larger log so well, I'd say it should also handle hardwoods rather well but slower since they would be harder to cut, literally.
It is impressive that they are able to make such a large 16 inch chainsaw out of only 18 volts. Had they made it a 14 inch saw I think we'd all still be impressed for only 18 volts, but 16 inches on 18 volt is an impressive feat and as seen in my testing video above, it has the power to back up such a large 16 inch bar.
Milwaukee M18 Fuel 16″ Chainsaw 2727-21HD Honest Review
Conclusion and final thoughts
Milwaukee has done it again and produced a rather impressive 18 volt specimen that can keep up with higher voltage chainsaws. It's surprising that they can produce cordless tools that can compete with higher voltage tools when they are made to run on an 18V battery. I don't know how they do it but Milwaukee is up to their technically wizardry again and again and made a 16 inch chainsaw that runs only on 18 volts.
Overall it's a great saw with great features such as a powerful brushless motor to power it's large 16 inch bar, it has a variable speed trigger to start your cuts slow and rev up the motor to full speed at will. The saw doesn't leak when laying flat on a level surface which is something I can't say about my leaky Ryobi 18V pole saw. Personally I'd prefer a tool-less system like Makita did with their brushless X2 chainsaws for tool free chain tensioning and chain swapping so I'm not exactly crazy about Milwaukee's decision to go with a dual stud system which requires tools to tension and swap chains. However the upside is that they say that the chain will stay tensioned longer and at least they provide a scrench tool and built in storage for the scrench that's always ready when needed.
Overall the Milwaukee M18 Fuel 16 inch chainsaw is a great tool and performs great however it's high $399 price point keeps me from making a recommendation when you can buy a 16 inch brushless motor chainsaw from Ego and Echo with larger capacity batteries (in watt hours) and faster chargers all for $299 so it makes more sense to go with the competition, at least in my opinion.
Also while the Milwaukee Fuel chainsaw is great overall, there are only 4 different types of outdoor power tools in the M18 lineup at the time of writing. This leaves huge gaps and leaves the user having to look elsewhere if they need something like a mower and other outdoor power tools. But if you're ok with the higher price tag, and only 4 outdoor power tools on the M18 system and a higher than average battery charge time, this saw will be a blast to use.
Pros
power to charge through large cuts smoothly and quickly without bogging down
strong brushless motor
large 16 inch bar and chain
performance similar to higher voltage power tools
battery power is always ready to go
push start
no gasoline problems such as refueling, mixing, tune ups, pulling strings to start, fumes
built in storage for included scrench tool
variable speed trigger
runtime up to 150 cuts into 6×6 cedar lumber (according to Milwaukee)
doesn't leak oil
Cons
high price point at $399 compared to the Ego and Echo competition
slow battery charge time compared to the competition
requires tool to adjust chain tension and swap chain (not tool-less)
Milwaukee M18 system needs more outdoor power tool variety to compete with other brands (so far only 4 OPE tools and no mower at time of writing)


DISCLOSURE:
Tool Craze does not sell this product or any product on the Tool Craze website. Also Tool Craze does not handle the sale of any item in any way. Tool Craze is an OhioPowerTool affiliate and an Amazon Associate. And places affiliate links including those from other retailers Tool Craze is an affiliate partner with. If you purchase through a link on the Tool Craze site; Tool Craze may get a share of the sale. Please refer to the About section for more info. Tool Craze cannot guarantee the accuracy of the information/specifications/features of any tool listed in this article. Please do your full research before buying any products.