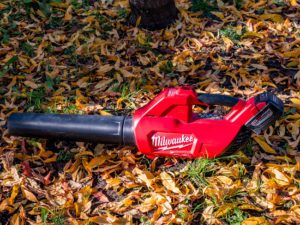 Milwaukee introduced all new cordless 18V outdoor power equipment late in 2016 with a new string trimmer, leaf blower, and hedge trimmer and they released all three in early 2017. This marked the first time Milwaukee created outdoor power equipment and it went straight to their cordless 18V M18 line. All three new power equipment also came bundled with their yet new M18 HD 9.0 ah batteries that were the highest known capacity at the time. I've had a chance to test out all three of the new Milwaukee outdoor power tools for almost a year now and this is the second review in a 3 part review where I test out all three outdoor power tools. In the first review I started off by reviewing the Milwaukee M18 Fuel String trimmer (click here to read the review), and in this article I go over the M18 Fuel Blower review.  Make sure to also check out my review on the M18 Fuel Hedge trimmer review (read the review by clicking here) next to complete the set.
Ethic's Disclosure:
Milwaukee was kind enough to provide the M18 Fuel String Trimmer, Blower, and Hedge Trimmer at no cost for review. However as with all my reviews, I am not paid, sponsored, or obligated to give a positive review. This review is my opinion of the product based on my usage and knowledge and my review will reflect what I like and dislike about the said product. I will do my best to provide you with an unbiased review.
Features and Specs:
Before we get into the hands on review, lets first take a look at the Milwaukee M18 Fuel Blower's features and specifications list.
18V
Brushless Motor
Kit bundled with M18 REDLITHIUM HIGH DEMAND 9.0 battery
Maximum air volume: 450 CFM
Maximum air speed: 100 mph
Noise rating (dB): 63 (ANSI B175)
Cruise control: yes
38.5″ length
8.1 lbs weight
Pricing: $149 baretool ; $279 Kit with HD 9.0 battery and Rapid Charger
model #: 2728-21HD Kit ; 2728-20 baretool


DISCLOSURE:
Tool Craze does not sell this product or any product on the Tool Craze website. Tool Craze does not handle the sale of any item in any way. If you purchase something through a post on the Tool Craze site, Tool Craze may get a small share of the sale. Please refer to the About section for more info.
Looking at the Milwaukee M18 Fuel blower features and specs, we're looking at some strong numbers for an 18V blower with 450 CFM of air volume and 100 MPH air speed. This makes it the strongest performing 18V at the moment at least on paper, I'll go over it's actual performance next in the review. I also want to mention that this review is based on the original Milwaukee M18 Fuel Blower and the reason I say this is because not even a year after this model was released, Milwaukee released a new updated M18 Fuel Blower model and we will call that model the second gen model (read more about the 2nd Gen M18 Fuel Blower by clicking here). Milwaukee every so often updates their tools to better match or beat the competition but what's strange is that they normally update tools years later not within months after the initial model release. So the bad news is that most likely by the time you read this review, it will be outdated because the new model is out. The new model is very similar to this one but the main differences are 20 more MPH for a total of 120 MPH air speed, almost a full pound lighter in weight, and a 2 speed selector like the one found on the M18 Fuel string trimmer. There are other minor differences throughout but those are the main differences and other than that is very similar to this model. I'd say the only other 18V leaf blower that beats the one in this review in terms of paper stats is Milwaukee's second gen model I just mentioned. The next biggest contender in the same weight class (18 volt / 20V ) would be Dewalt's 20V brushless blower with 400 CFM and 90 MPH. On paper the Milwaukee M18 Fuel has a modest upgrade in performance stats compared to the Dewalt, however I will mention that the Dewalt model is a full pound lighter than Milwaukee's original model and lower weight will always be better in a yard tool as a blower as you hold it for long periods of time in one arm. Dewalt has a leg up in this regard with their 20V model versus the Milwaukee first gen Fuel blower.
If you read the first review of the Milwaukee M18 Fuel string trimmer, you'll know I mentioned that based on it's specs, that string trimmer pushed above and beyond it's 18V category in terms of specs and performance stats however the Milwaukee M18 Fuel blower does not follow the example left by the string trimmer as it does not match the stats of higher voltage blowers such as Ego's 56V blower or Echo's latest 58V blower which pack 575 CFM and 550 CFM respectively and 142 MPH and 145 MPH respectively. I will say that Milwaukee's blower does get very close to previous gen 58V blowers such as Echo's first 58V blower which had the same 450 CFM but at a higher 120 MPH air speed and Ego's original 56V blower that had 480 CFM and 92 MPH. It's good to see Milwaukee nearly match those models but then again those models are several years old and 56V-58V models have far surpassed that with newer models.
Pricing on Milwaukee's M18 Fuel blower is $149 as a baretool and $279 as a kit with 9.0 ah battery and rapid charger. Milwaukee's pricing puts it higher than competing brand Dewalt with their 20V brushless blower which originally was priced at $199 as a complete kit but now seems to hover around $170-180 as a complete kit with 5ah battery and charger. This puts the Milwaukee at a serious disadvantage when shopping based on price alone but consider that Milwaukee packs a large 9.0 ah battery which is almost double the capacity of the pack in Dewalt battery, and Milwaukee includes a rapid charger which charges their large battery almost half the time versus the stock charger. Dewalt includes a stock charger that's not as fast as Milwaukee's rapid charger.
However looking at the pricing of higher voltage blowers such as Ego's 56V and Echo's 58V models, they come in complete kit form with blower, battery and charger for much less than Milwaukee's M18 Fuel Blower. Ego's 2nd gen blower (530 CFM 110 MPH) as a kit comes in at $179 with a 2.5ah battery and faster charger and Echo's latest 58V blower is priced at $199 as a complete kit with 2ah battery and even faster charger. Looking at price alone you would think that the Milwaukee is overpriced at $279 as a kit. My guess is that the price is higher due to the large 9ah battery however a battery as large as 9ah in 18V can actually be similar in terms of capacity to larger voltage batteries. How so, you ask? The answer is WH or watt hours. This is a universal way to compare battery sizes across different voltages. To get watt hours, you simply multiply the amp hour rating by the battery voltage. For example the Echo 2ah battery is 116 watt hours in capacity (2ah x 58V = 116 wh). Ego's 2.5ah 56v battery using the same math is 140 wh. Compare that to Milwaukee's 9ah battery at 162 wh (9×18=162). So even though Milwaukee packs a large 162wh battery with their blower, it's not much larger than Ego's 2.5ah battery and Echo's 2ah battery in terms of capacity when you compare watt hour capacities. Also charge speeds for each brands respective charger is much different when compared to Milwaukee's charge speed for their included 9ah battery. While Milwaukee's bundled rapid charger charges each battery much faster than their stock charger, it still takes a whopping 1 hour and 38 minutes to charge! Compare that to Ego's 50 minute charge time for their 2.5ah (140wh) battery with the stock charger that's included with the string trimmer or Echo's 2ah (116wh) battery which charges in 30 minutes!. Some of you guys may be thinking, why stress out about the charge times when Milwaukee's charge time for their battery is still much faster than other brands that charge their batteries in 3-6 hours for example brands like Black and Decker, or Worx. The answer is, that's the kind of nitpicking you can expect in my reviews down to the smallest detail. That plus wouldn't you want to know what the competition is offering with their specs and features? My next point goes back to the price point. Milwaukee is charging a premium for their blower at $279 as a kit when you compare it directly to better spec'd and equipped 56-58V models that are priced between $179-$199 in complete kit form and charge their batteries much faster. So Milwaukee's higher price is something to consider when you look at the larger picture.
As far as other core features are concerned, Milwaukee's M18 Fuel Blower compares similarly to Dewalt's 20V brushless blower as the Milwaukee also packs a brushless motor that helps make for strong performance and less battery consumption when compared to brushed motors. It uses a pass through turbine motor design where it sucks air through the back and blows it inline straight out through the front. The blower is a two piece design and the blower tube needs to be attached to be used correctly. I like that it's easy to uninstall via lever latch at the bottom that allows it to lock on and remove easily, rather than having to pry the blower tube with a screwdriver. It also uses a nice variable speed trigger and easy to reach with your thumb lever that can lock the speed in place in any speed for cruise control. This is similar to Dewalt's 20V blower although it's easier to reach rather than Dewalt's cruise control lever knob which is on the side. I also want to mention that the battery holder is on back behind the grip. Most manufacturers are adopting this practice of battery placement and is better than previous designs on other models that place the battery pack on top or below the unit which considerably adds to the height of the blower. Such examples are Dewalt's 20V blower which places a cage below the blower that holds the battery but adds lots of height to the design, or Echo's original 58V blower which puts the battery holder above the unit just below the handle which also adds considerably to it's height. Milwaukee's all inline design is much better but by now, it seems most manufacturers have adopted this design scheme including Echo and other brands on latest models.
Build quality is great and is the same quality as you would expect from a Milwaukee power tool. It also compares similarly to other brands like Echo, Ego, Dewalt, and Makita cordless outdoor power tools. Just like the other Milwuakee M18 Fuel outdoor power tools, the blower also has a key hole on the bottom so you can hang it on the wall in your garage or shed for storage and easy access.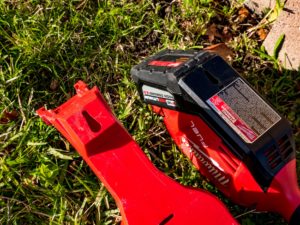 Performance
I've also tried several cordless battery powered blowers in the past so I have several to compare the performance of Milwaukee's original M18 Fuel Blower to. I'll start off by saying that the paper performance stats of this blower are correct and is by far the strongest 18V blower to date. The Dewalt 20V blower I tried out before was very strong for a 18V/20V unit and the Milwaukee's leaf blowing performance is a nice upgrade to that model. I also used the Ego 2nd gen 56V blower exclusively before trying the Milwaukee and that's been my go to blower before testing the Milwaukee out. Ego's 2nd gen blower is different in the sense that you have a variable speed lever that controls power output and when set to the highest setting, isn't the highest setting. You have to press the "TURBO" button to get full blast power (530 CFM at 110 MPH). If you want to compare the Milwaukee to that Ego 56V model, I'd say that the Milwaukee matches the performance output of the Ego ONLY when using the variable speed dial to the highest setting and they both feel about the same. It's not until you use the Turbo boost button on the Ego that the performance is much stronger than Milwaukee's 18V model. This isn't a surprise as the Ego model is a 56V blower and as such you would expect the performance to be stronger. However as powerful as the Milwaukee blower is and I can easily say it's the strongest of the 18V/20V blowers, I can't help but feel a bit let down by the outstanding performance the Milwaukee M18 Fuel String trimmer put out that made it similar to higher 56 voltage performance. I guess what I'm trying to say is that with the amazing performance of the string trimmer that pushed above it's voltage class, I expected the Milwaukee blower to do the same and have performance similar to 56/58V machines but you still only get 18V performance, albeit very strong 18V performance – the best 18V performance at the moment only bested by their own second gen Milwaukee M18 Fuel blower.
Don't let the fact that it doesn't compare to 56V models let you down as you still get the best performing 18V blower on the market at the moment. Remember I found the Worx 20V blower to be very useful and strong with it's 340 CFM at 90 MPH and Dewalt's 20V blower much more so at 400 CFM at 90MPH, both of which Milwaukee's model bests in terms of performance output. For everyday use blowing leaves and grass clippings, the Milwaukee M18 Fuel blower has strong performance and managed well at this task. It still struggles at caked on junk on your driveway and wet leaves or blowing leaves on tall grass and that's where I wish it had more power like 56V blowers do but remember this is coming from a user that uses a 56V blower regularly.
Other than hoping it had 56V performance like their M18 Fuel string trimmer, there weren't many other negatives. The variable speed trigger is very responsive and lets you use just the amount of power you need and is easy to use low power at will and full power at will and anywhere in between. The trigger is so easy to use and the weight of the blower along with how the grip is setup makes it easy to press the trigger by the weight of the blower alone and negates the need to use cruise control but it's nice to now it has cruise control if and when you need it. My only beef with the blower would be that I wish it was lighter as it does tire my arm out after long sessions but then again Milwaukee addressed this issue with almost a full pound less weight on the new second gen model so this issue wont be an issue or as much of an issue on the newer model. My guess is that since Milwaukee priced the new model the same as the original blower, I'm guessing this original model will eventually get discontinued once stock is depleted and simply get replaced by the new model.
Runtime
Milwaukee's blower is brushless and paired with their huge capacity 9.0ah battery you would expect fantastic runtime and that's exactly what I got. I tested it out and got 30 minutes and 42 seconds of use, variable speed use meaning I didn't use full speed all the time although most of it was at full speed as that's where this blower works best. But on hard surfaces the slower speeds are more than enough so use of the slower speeds was included in the variable speed runtime figures. The Dewalt 20V blower managed 23 minutes of full speed use and that was with a 5.0ah battery. I'd say the Milwaukee runs similar to that since I mostly used the blower while in full speed, although had I run the blower only in full speed we'd have a few minutes less of runtime and probably closer to Dewalt's runtime figure at full speed. Milwaukee's blower being more powerful than Dewalt's 20V model would naturally sip more battery juice so the runtime of 30 minutes of variable speed use is very good. Just like all my other runtime tests, I only calculate actual time running of the tool and not rest or breaks in between use. So when I start the tool I start my stopwatch and stop the stopwatch when I stop the tool and repeat with each use until the battery is fully depleted and add up all the times to calculate battery runtime.
Long Term Update
As I said in the outset that I've tested out all three of Milwaukee's new M18 Fuel Outdoor Power Equipment for close to a year now so I am able to give you a long term review. Most of my reviews are short term reviews where I test them out for a short period of time and move on to something else so they don't speak of their long term durability. So after using the Milwuakee M18 Fuel blower for almost a full year, there have been no surprises, it still runs just as strong as it did from day one and except for the minor scrapes and dust from use, it's still in very good condition. There are no loose or broken parts and everything functions as it should almost a year later. I mention that I tested this almost for a full year because some tools don't last forever and the Ego 56V second gen blower that I've been using since I reviewed it hasn't lasted. It still works but not completely as the turbo boost button hardly works. For the most part it doesn't work any more and once in a rare moment when it's having a good day I suppose, it decides to work but even then even a solid long press makes it cut in and out of the turbo boost mode. As opposed to the Milwaukee blower which almost a full year later still works fine.
Conclusion
If you want the strongest performing blower in the 18V/20V category, look no further. Actually you can and consider Milwaukee's second gen M18 Fuel blower which will no doubt replace this model soon but that doesn't negate the fact that this original model was still the strongest performing 18V blower when it came out. However it's high price tag ($279 as a kit) makes it hard for me to recommend. When you can buy a complete blower kit from a higher voltage and stronger better performing blower from brands like Echo and Ego for a lot less, I'm talking about $179-199 for a complete set, it's hard to consider the Milwaukee M18 Fuel Blower at it's higher price point. I feel that Milwaukee diehards and those that already have Milwaukee M18 tools and batteries and don't want to juggle another battery platform will be the target audience for this blower. Otherwise there are better performing higher voltage blowers for a lot less. The Milwaukee M18 Fuel original blower still makes a nice addition to their M18 Fuel string trimmer and hedge trimmer if you plan on completing the set. I also want to mention that if you do plan on getting the Milwaukee M18 Fuel Blower, go ahead and get the second gen model instead as it's the same price as this one and is an upgrade as you get 10 more MPH of performance, it's almost a full pound lighter and you get a two speed switch along with the variable speed trigger.
If you haven't done so already, make sure to check out the first in this three part set of reviews that covers the review of the Milwaukee M18 Fuel String Trimmer by clicking here. Also check out part three that covers the review of the Milwaukee M18 Fuel Hedge Trimmer (read the review by clicking here).
DISCLOSURE:
Tool Craze does not sell this product or any product on the Tool Craze website. Tool Craze does not handle the sale of any item in any way. If you purchase something through a link on the Tool Craze site, Tool Craze may get a small share of the sale. Please refer to the About section for more info. Tool Craze cannot guarantee the accuracy of the information/specifications/features of any tool listed in this article. Please do your full research before buying any products.