Milwaukee has just announced a new M18 Fuel 2 Gallon Compact Quiet Compressor 2840-20 !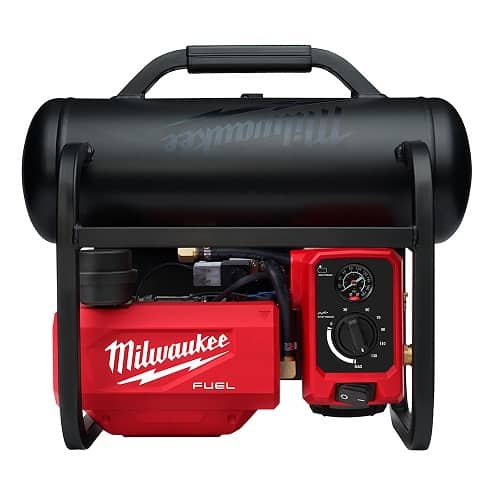 While other cordless compressors on the market offer a pancake style tank, Milwaukee uses a hot dog style tank similar to their cordless TTI siblings by Ryobi and Ridgid although Milwaukee doubles the tank size to 2 gallons. The closest competitor to the Milwaukee M18 Fuel 2 gallon compressor would have to be the Dewalt 60V Flexvolt unit which has slightly more tank capacity of 2.5 total gallons. Although Milwaukee's cordless unit has an advantage as they claim theirs is the quietest cordless compressor at a rated 68db, making it as quiet as the Campbell Hausfeld quiet compressor I've reviewed here and that unit is pretty quiet!
Although the Milwaukee looks nothing like the Dewalt Flexvolt compressor, they have many things in common when it comes to design and features. The main one I noticed was a single PSI gauge for the tank and a regulator dial with PSI markings which is just like what you'll find on the Flexvolt. Milwaukee's unit also has a roll cage design surrounding it's unit however it uses a metal tubing cage instead of the plastic cage on the Dewalt. Milwaukee's design is more squarish making it easy to stack for storage and has a briefcase style handle for easy transport. I didn't see any PSI ratings but looking at the regulator dial, it goes a little bit past 130 so I'm guessing it's a similar 135 PSI like Dewalt's unit.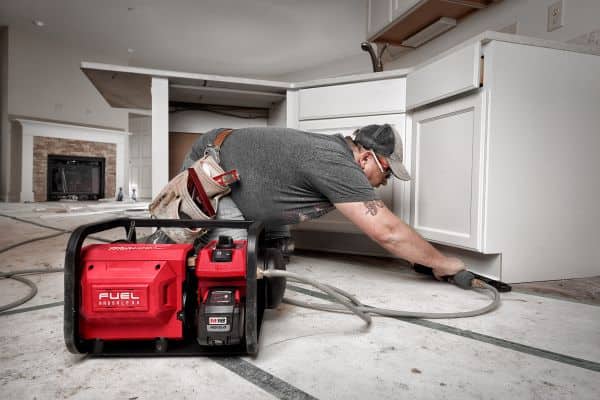 As far as runtime is concerned, Milwaukee says you can shoot up to 1,600 18ga nails with a 12.0 ah battery which is good but not as good as Dewalt's rated runtime of up to 1220 brad nails with a 6.0 ah battery or about 2440 with a 12.0 ah battery.
Milwaukee lists their new M18 Fuel cordless quiet compressor at $349 and that's as a baretool not a kit which makes it considerably more expensive than Dewalt's, Ridgid's and Ryobi's compressor units as kits with battery & charger. It appears you're paying a higher price tag for the fact that it's a very quiet compressor and people are willing to pay extra for a quieter compressor unit.
A big thanks to Cody Robertson for spotting!
Capacity: 2 Gallons
Airflow: 1.2 CFM at 90 PSI
Weight (w/Battery): 31.2lbs
Noise Level: 68dBA
Pump Type: Oil Free



DISCLOSURE:
Tool Craze does not sell this product or any product on the Tool Craze website. Tool Craze does not handle the sale of any item in any way. If you purchase something through a link on the Tool Craze site, Tool Craze may get a small share of the sale. Please refer to the About section for more info.