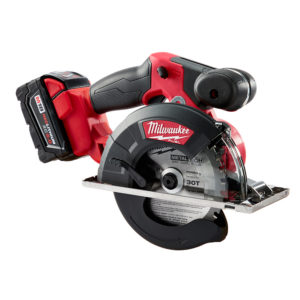 Metal cutting circular saws have been around for a while including cordless ones. Milwaukee along with other top brands have their own cordless 18V metal cutting circular saws, but not too many have brushless models. This saw provides an alternative to flatbed laser cutting.
Makita introduced a cordless metal cutting circular saw featuring a brushless over a year ago and now Milwaukee is following suit with their own cordless 18V model model with the Fuel badge which means it's packing a beefy brushless motor.
According to Milwaukee, their M18 Fuel Metal Cutting Circular Saw 2782-22 is claimed to be the industry's fastest cutting cordless metal circular saw. Those are some pretty bold claims but it's believable because manufacturers are constantly leapfrogging each other with better performing models in a never ending tool performance war. Milwaukee also claims that this new Fuel metal circular saw gets very good runtime at up to 370 cuts into EMT.
As part of the M18 FUEL™* lineup, the Metal-Cutting Circular Saw features three Milwaukee®-exclusive innovations – the POWERSTATE™ brushless motor, REDLITHIUM™ battery pack, and REDLINK PLUS™ Intelligence – to deliver breakthrough performance, run-time and durability.

 

The POWERSTATE™ Brushless Motor works harder, lives longer, and converts energy into power more efficiently. This gives the M18 FUEL™ Metal-Cutting Circular Saw the ability to deliver the power and speed needed to minimize bogging down during applications, while completing cuts other 18V saws cannot. With the capacity to cut through a wide range of small diameter metal, the M18 FUEL™ Metal-Cutting Circular Saw delivers faster cuts than its cordless predecessor, and other leading cordless metal-cutting circular saws. The new Metal-Cutting Circular Saw also features a lightweight housing and gearing system that delivers the legendary performance and durability found in Milwaukee's high performance corded circular saws. This combination of no wearable components and superior durability means users will service their tool less, translating to a much lower cost of ownership.

 

As the most advanced electronic system on the market, REDLINK PLUS™ Intelligence integrates full-circle communication between tool, battery and charger to protect them from overloading, overheating, and over-discharging. These protections help maintain ideal conditions for maximum application performance.

 

When equipped with an M18™ REDLITHIUM™ XC5.0 Battery Pack the tool provides industry-leading run-time with the ability to make up to 40% more cuts on one charge than other cordless metal-cutting circular saws available today, including up to 370 cuts in EMT.
Stats are pretty similar to the brushless Makita model as the Milwaukee model uses a 5-7/8″ blade with a cutting capacity up to 2-1/4″ at 90 degrees, and with a similar 3,900 RPM no load speed.
3,900 RPM
2-1/4" Cut Capacity (with 5-7/8" blade)
20mm Arbor Size
5-3/8" to 5-7/8" Blade Size
Weight: 6.5 lbs.
Available April 2017
So why would you choose a metal cutting circular saw? We'll if you place a metal cutting blade on a regular circular saw, you'd be stressing the motor to the max since it's not designed for metal cutting which can eventually damage the saw. Or you could use an angle grinder or metal cutting chop saw, but angle grinders are slow at cutting metal, and a chop saw isn't portable and neither can it make long cuts. So a metal cutting circular saw is very portable – even more so with a cordless model, and cuts faster than an angle grinder, and cuts longer than chop saws.