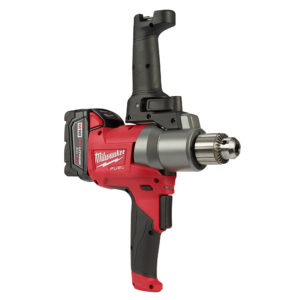 If you're in any trade that mixes drywall mud, concrete, thinset, etc. you use a corded drill mixer to mix your goods but wouldn't it be nice if there was a cordless one? This way you could just take it out of your truck and get to work without having to mess with extensions, looking for outlets, and work were there's no power. You're in luck because Milwaukee just came out with one with the Milwaukee M18 Fuel Mud Mixer.
The Milwaukee M18 Fuel Mud Mixer runs on their 18 volt M18 batteries and has a brushless motor that gives it the power of a corded mixer and the runtime to mix up to 20 buckets of stucco, 15 buckets of drywall mud, 12 buckets of mortar, 10 buckets of epoxy with the included 5.0 ah battery if you buy it as a complete kit. I'm sure you can get almost double that if you use the M18 9.0 HD battery although no runtime stats are provided for that battery from Milwaukee.
A couple of interesting features are the side handle that can be moved up to 180 degrees to suit the users grip preference and the mixer is said to maintain the speed without bogging down when under heavy load. It goes up to 550 RPM and has 8 selectable speeds.
Milwaukee claims that this is the first cordless mixer that is dedicated for the trades. Only thing I want to say to that statement is that Metabo recently announced their cordless 18V Mud Mixer RW 18 LTX 120 of their own. I'm not sure when they announced that model but I wrote about it back in May which was before the Milwaukee version was announced in the June new tool symposium. It seems the first ever goes to Metabo but since I haven't seen the Metabo up for sale it seems the Milwaukee might be first to market and availability at this point. That is unless Metabo releases their's in August in the USA.
The Milwaukee M18 Fuel Mud Mixer  will be available in September 2017 with a retail price of $199 for the baretool and $349 as a kit with two 5.0ah batteries and charger.
Specifications
M18 FUEL™ Mud Mixer with 180°Handle (2810-22)
550 RPM
Variable Speed Trigger
Variable Speed Dial
Lock-on Button
180° Auxillary Handle Rotation
Length: 16.6" (handle to handle)
Weight: 7.7 lbs (6.1 lbs bare tool)
5 year warranty
DISCLOSURE:
Tool Craze does not sell this product or any product on the Tool Craze website. Tool Craze does not handle the sale of any item in any way. If you purchase something through a post on the Tool Craze site, Tool Craze may get a small share of the sale. Please refer to the About section for more info.