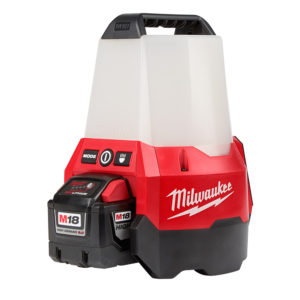 Milwaukee comes out with a smaller version of their M18 Radius Compact Site Light. It shares the same name although gets a new model number 2144-20. The smaller brother to the original model keeps a similar design with the ability to light an entire room with 360 degree lighting.
The new model doesn't replace the original but is a new model being sold alongside it's larger brother and for a smaller price point of $149 as a baretool. As mentioned above, besides a similar design, many features carry over to the smaller model such as 360 degree lighting, and the option to light only one side. They call this single side mode the flood mode but unlike the original that lights up half of the lights for 180 degree coverage, the smaller model concentrates about half of it's light output to only 90 degree's of coverage but is still wide enough to light a large area according to Milwaukee. The flood mode is great for conserving battery when illuminating the entire room is not necessary.
Being smaller it has less lumens of light output but still very bright at a total of 2,200 lumens when in full 360 degree mode. Flood mode gets 1,000 lumens since it's not using all the LED's. Light output can also be dimmed to further conserve battery consumption when full brightness is not necessary. You get a high, medium and low setting in both full 360 degree mode or flood mode.
Other features carry over from it's bigger brother such as the ac input option although they nixed the ac out to tether more lights together, comes with a large carry handle on top and also includes a hanging hook.
Area Lighting:
2,200 Lumens on high (7 hours*/ 4 hours**)
1,100 Lumens on Medium (15 hours/ 8 hours)
550 Lumens on Low (30 hours/ 16 hours)
Flood Lighting:
1,000 Lumens on high (10 hours*/ 6 hours**)
500 Lumens on Medium (22 hours/ 12 hours)
250 Lumens on Low (43 hours/ 24 hours)
AC inlet
4-1/4" hanging hook
4.3 lbs.
*Run-time with the M18™ REDLITHIUM™ XC 5.0 Battery
** Run-time with the M18™ REDLITHIUM™ HIGH DEMAND™ 9.0 Battery



DISCLOSURE:
Tool Craze does not sell this product or any product on the Tool Craze website. Tool Craze does not handle the sale of any item in any way. If you purchase something through a post on the Tool Craze site, Tool Craze may get a small share of the sale. Please refer to the About section for more info.