There were several new Milwaukee Packout items that were announced at last weeks Pipeline Event Episode 2 with a new Customizable Work Top and a 2 wheeled cart. They are said to launch October 2020. Check out the full press release below for all the deets!
Full disclosure:  Tool Craze cannot guarantee the accuracy of the information/specifications/features of any tool listed in this article. Please do your full research before buying any products.
MILWAUKEE, WI- Milwaukee continues to rapidly expand their immensely popular PACKOUT™ Modular Storage System with two new additions – a PACKOUT™ 2-Wheel Cart, and a PACKOUT™ Customizable Work Top. These new additions bring more versatility to the PACKOUT™ System, keeping users organized on the jobsite, in transit, and within their shops.
PACKOUT™ 2-Wheel Cart 48-22-8415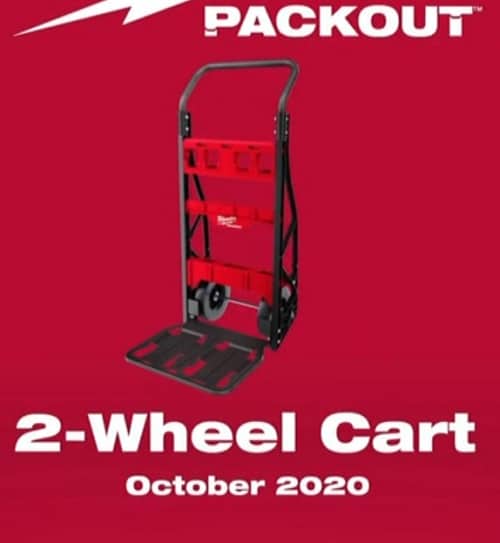 To easily transfer tools and equipment on and off the jobsite, the PACKOUT™ Cart has integrated PACKOUT™ mounts on the base and frame to securely stack or hang PACKOUT™ solutions. Capable of carrying anything from water heaters to a plethora of jobsite materials, the cart has a 400lbs weight capacity and two 10" industrial, flat-free wheels.  Additionally, with its compact width this cart easily fits through doorways during transportation of these materials.


PACKOUT™ Customizable Work Top 48-22-8488

Constructed with a 50lb weight capacity, impact resistant polymers, and ½" marine grade wood top, the work top provides users with a durable work surface to complete assembly, writing, and other tasks. The fastener-ready design makes it easy to attach vises, chargers, and a variety of other items to the top of a PACKOUT™ stack.
With the addition of the new PACKOUT™ solutions, the Milwaukee® PACKOUT™ Modular Storage System now has over 24 different solutions for users to choose from to build out their custom storage solution – making PACKOUT™ the most versatile and durable modular storage system in the industry.
*The PACKOUT™ Modular Storage System is the most versatile and durable modular storage system in the industry. An intuitive and quick attachment mechanism gives users the freedom to stack and lock PACKOUT™ tool boxes, organizers, totes, and bags of different sizes in numerous configurations that best suit their needs. For more information visit https://www.milwaukeetool.com/Products/Storage-Solutions/PACKOUT.


DISCLOSURE:
Tool Craze does not sell this product or any product on the Tool Craze website. Tool Craze does not handle the sale of any item in any way. If you purchase something through a link on the Tool Craze site, Tool Craze may get a small share of the sale. Please refer to the About section for more info.