We already knew about AEG having a 9.0 ah battery however that model was under the "Pro" label that most likely uses the tried and true 18650 cells however we've now learned that AEG has a new 9.0 ah battery under the "Force" label.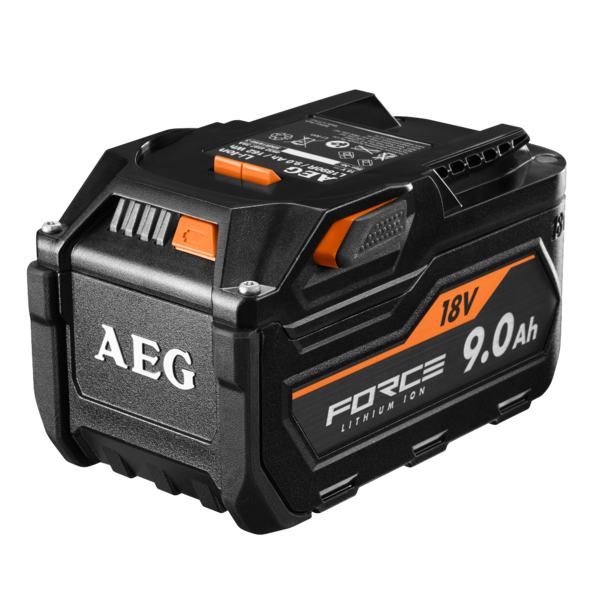 The newer Force labeled 9.0  ah battery from AEG not only looks radically different than the previous "Pro" model, AEG states that the new "Force" 9ah battery houses "new more power cell(s)" using "next-gen" cell technology. Now they didn't go out and clearly say they are using the newer larger cells such as 20700 or 21700 however with the kind of wording they used, it makes you wonder that they probably are using the larger 20700 0r 21700 cells. If true, this is great news as the larger cells are said to offer performance bumps across the board in terms of runtime, heat reduction, and power output.
AEG is Ridgid outside the USA and what's interesting but doesn't surprise us is that the new AEG "Force" battery has the same physically cosmetics as the Ridgid 9.0 Octane labelled batteries.
A big thanks to Joshua B. and Glenn for spotting and sharing.
From the Manufacturer:
The AEG 9.0Ah FORCE Battery is the ultimate in both run-time and performance, perfect for demanding applications. This battery features a new, more powerful cell, robust cell frame & protective housing, as well as AEG's latest smart systems, designed to deliver unprecedented power & run-time. Upgrade your existing AEG tools with this new pack, or unlock its full performance potential when you pair it with any FUSION tool.
FORCE batteries are AEG's most advanced batteries with next-gen cell technology and smart systems to deliver more power for longer.
FORCE batteries are backwards compatible with all AEG 18V products and will boost the performance of your existing 18V AEG Powertools by up to 25%.
Intelligent software and hardware with enhanced communication protocol.
Built with a superior impact-resistant polymer body, engineered to endure hard knocks and drops.
Overheat and over-current protection.
Charge Time 120 mins
Weight 1.2kg
DISCLOSURE:
Tool Craze does not sell this product or any product on the Tool Craze website. Tool Craze does not handle the sale of any item in any way. If you purchase something through a post on the Tool Craze site, Tool Craze may get a small share of the sale. Please refer to the About section for more info.