November 29, 2017
Comments Off

on New AEG 6.0 ah, 9.0 ah & 3.0 ah Batteries
Following yesterdays news of a new high torque brushless hammer drill from AEG, we have yet more AEG news and this time it's about new batteries. Several AEG batteries have been spotted with 6.0 ah and 9.0 ah capacities.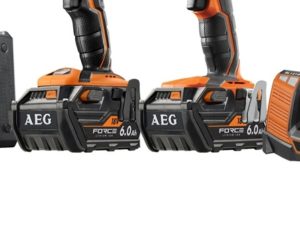 Joshua B. and Glenn both spotted new AEG 18V 6ah batteries and what's interesting is that they have a new "FORCE" name to them. It's hard to tell but it seems the new 6.0's might be slightly larger than regular 6ah batteries which makes me believe they might be housing the newer 20700 cells or possibly the newest 21700 cells but I can't confirm either. What I can tell you is that the new Force 6.0's have a different looking cosmetic body versus their other 10 celled fatpack batteries. We saw the same thing with a new battery body design that uses the newer larger batteries when Ridgid introduced their 5.0 ah batteries. (Ridgid and AEG are the same company)
Joshua B. also spotted a new AEG 12V 6.0 ah battery out in the wild and also spotted an AEG 18V 9.0 ah battery. As expected the new 12V 6.0 and 18V 9.0 appear similar in size and shape to their sister brand Milwaukee's offerings with the 12v 6ah battery using traditional 6 cell fatpack design for 12v and the 9ah battery using the new larger 15 cell design. Both batteries use AEG's Pro name on them which makes me think they are using the older tried and trusted 18650 cells but that is just my guesstimate. This is on the assumption that AEG "Pro" batteries use regular 18650 cells while the "Force" batteries are probably using newer cells like 20700 or 21700. But we'll have to wait for more info to be sure of what types of cells are being used. And last but not least, Joshua B. also spotted a new AEG 12V compact 3.0 ah battery. This may not seem like news at all since 3ah batteries are a thing of the past but they previously required double the cells to achieve that capacity but with larger battery cell capacities, it's now possible to fit a 3ah of battery capacity into a small compact battery pack.
DISCLOSURE:
Tool Craze does not sell this product or any product on the Tool Craze website. Tool Craze does not handle the sale of any item in any way. If you purchase something through a post on the Tool Craze site, Tool Craze may get a small share of the sale. Please refer to the About section for more info.