2 new AEG brushless 18v 125mm 5" angle grinders have showed up on the Bunnings AU website. These new units looks to be the new flagship models with the options of paddle and lock switch available. Both switch styles fit different users and applications for both safety and comfort, so having 2 models will make them more appealing. While only one is branded as Fusion, the other unit is basically the same aside from the switch, which makes me think they will both be Fusion eventually. Being Fusion these grinders should perform the best with the AEG Force batteries.
Full disclosure: This is not a review, this is tool news. Tool Craze cannot guarantee the accuracy of the information/specifications/features of any tool listed in this article. Manufacturer marketing claims may not always meet expectations. Tool Craze is not responsible if products do not live up to claimed expectations. Please do your full research before buying any products. Tool Craze is an Amazon Associate and places paid links including those from other retailers that Tool Craze is an affiliate partner with. If you purchase something through a link on the Tool Craze site, Tool Craze may get a small share of the sale.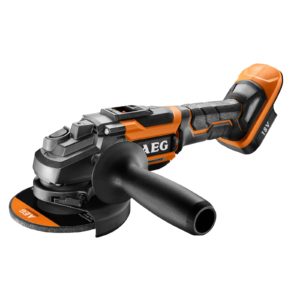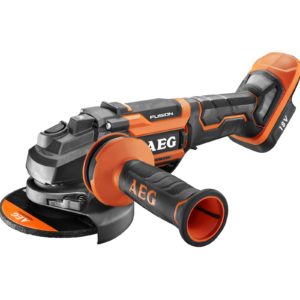 My thoughts: With a much slimmer handle and 11,000 rpm, these look to be more ergonomic and powerful grinders for the AEG 18v line. 11,000 rpm is very good for cordless grinders as most stay below 10,000. I really like that they added dust screens on the motor vents to keep the motor fan from sucking in grinding particulates, which will ultimately extend the life of the grinder. Another nice feature is these both have an electric brake, which slows down the disc much faster than a normal grinder would, making it safer to use. Both units also feature kickback protection which will protect the operator in the event of the disc binding in the material. I believe here in the USA, there's a very good chance we will get at least one model as part of Ridgid's Octane line, although I cannot confirm this so well have to wait and see. No word on if or when we'll see a USA Ridgid version release.
Features and specifications:
Paddle switch and lock-on switch options
Brushless motor
125mm 5" wheel capacity
3 position side handle
Motor vent screen
Sealed electronics
Tool-less blade guard
RPM: 11,000
Voltage: 18v DC
Anti kickback feature to reduce the risk of injury in the event of a bind up
Electric brake slows the disc down quickly
Price at the time of writing: Paddle switch model: $299 Australian at Bunnings Warehouse Australia. Lock switch model: $249 Australian at Bunnings Warehouse Australia.
Warranty: 6 years