Harbor Freight's Bauer 20V cordless line now has a new 1/2″ brushless drill! Let's check it out below.



Disclosure: This is not a review, this is tool news. Tool Craze cannot guarantee the accuracy of the information/specifications/features of any tool listed in this article. Manufacturer marketing claims may not always meet expectations. Tool Craze is not responsible if products do not live up to claimed expectations. Please do your full research before buying any products. Tool Craze is an Amazon Associate. Also an affiliate with the Home Depot, Acme Tools, Ohio Power Tool, Tool Nut. As well as an affiliate with Lowe's, Ebay, and Walmart and places affiliate links to these retailers. If you purchase through a link on the Tool Craze site, Tool Craze may get a share of the sale.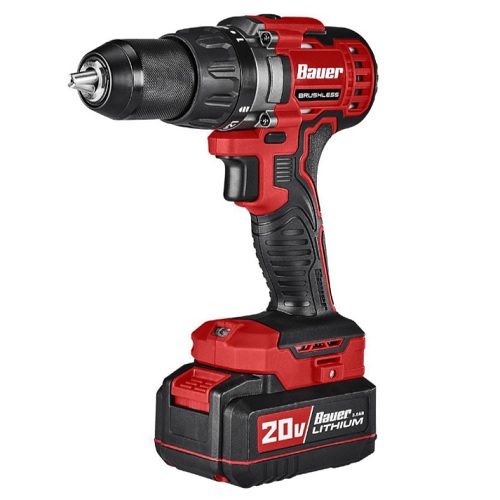 Bauer Brushless Drill Price:
As with most stuff at Harbor Freight, this new Bauer brushless drill is wallet friendly. The Bauer 20V brushless drill is priced at $59.99 as a baretool. That makes it pretty inexpensive. Especially when you consider it has a brushless motor.
It may seem pricey to some who compare it to the regular Bauer cordless drill kit for $10 more. Especially since this brushless model only comes with the tool for the price. But keep in mind it has a brushless motor. And tools with brushless motors are usually more expensive.
So when you compare it to similar brushless tools, the $59.99 baretool price is actually pretty low in the grand scheme of things. The next closest competition I can think of is the Ryobi 18V Compact-HP brushless drill with similar performance for $99 as a baretool. Thus making the Bauer easily $40 cheaper than the Ryobi. A win for Harbor Freight.
Why Brushless Matters:
A brushless motor is a more premium feature and costs more than non brushless motors. A brushless motor has several advantages over a brushed motor. They are more efficient and usually sip battery juice less than a brushed motor. They can be made smaller to achieve the same size as a brushed motor tool. Thus often times a power tool with a brushless motor can sometimes be more compact than non-brushless tools. In certain cases – a brushless tool can be more powerful than non-brushless. But not every case as well see below.
Bauer Brushless Drill Performance Specs:
So what kind of performance do you get out of this Bauer 20V brushless drill? You get a respectable 405 in-lbs of torque. It has a two speed gearbox with a max 1,900 no load RPM on speed 2. 405 in-lbs of torque isn't exactly the best compared with many of today's drills. It's a respectable low to low-mid-range figure and is on par with Ryobi's 18V compact HP brushless drill. That drill puts out a similar 400 in-lbs of torque.
Interesting enough, Bauer's new brushless drill is actually putting out less torque than their brushed motor drill. Their brushed motor drill is rated for 450 in-lbs of torque. That makes the new Bauer brushless drill more expensive yet less powerful than their brushed drill.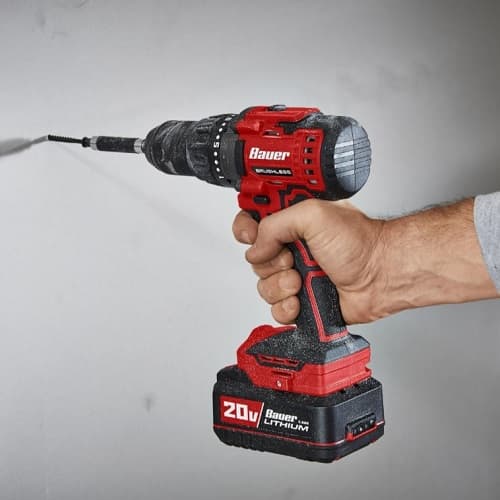 In my opinion, the 1,900 RPM on speed two is too high for the amount of torque it has. Gear ratio's are basically leverage. Sure a high RPM is nice to have on paper. But in the real world, high RPM on a drill means you need more torque. This is especially true when drilling with larger bits. And put simply, the RPM is too high for its low'ish torque to properly handle mid size bits when drilling in speed two. Expect to do most of your drilling in speed one with this drill. You may be able to use drill bits in speed two but may be limited to spade bits. As spade bits don't need much oomph to drive, mostly just need high speed.
Auger style bits may struggle on speed two especially the larger they get. But speed one should do well on any type of drill bits.
Bauer Brushless Drill Features:
It has a nice 1/2″ metal ratcheting chuck. It looks similar to the one's you'd find on Milwaukee's drills, at least in shape. A metal ratcheting chuck is a big deal. Metal is more durable than plastic. And a ratcheting chuck gives you audible clicks the tighter it gets. Most other brands give you plastic chucks on their drills in the compact segment. So it's nice to see Bauer use a metal ratcheting chuck.
You'll find the usual features such as a 22 position torque collar. This helps dial down the torque when driving screws. Or set to the drill icon when full torque is desired. You'll find the usual variable speed trigger and two speed gearbox switch on top. There's some rubberized elements around the grip for comfort. On the back as well and a couple of bumpers on the sides. The LED light is on the base of the tool pointing upwards which is a better position than above the trigger. You'll find two spots to place a belt clip but no belt clip is shown in the pictures.
The original brushed motor Bauer drill is said to have all-metal gear construction. However I don't see that mentioned on this new brushless model in the Harbor Freight listing. Is the new brushless model a downgrade in this respect?
Harbor Freight lists the length at 8-1/4″ which is pretty long for a compact drill today. The weird thing also is that HF lists the new brushless model as the same length as the brushed-motor model. Usually brushless tools are more compact than similar non brushless tools. So I don't understand why it is not smaller and why it's less powerful than the brushed motor drill? This makes it hard for me to recommend it over the previous model which is cheaper and slightly stronger.
Final thoughts
It seems like HF is trying to compete with the Ryobi compact brushless drill. Due to the fact that it's brushless and has similar torque yet it beats the Ryobi price. By a considerable margin at $40 cheaper. Where the Ryobi comes out on top though is it's much more compact size. It's a subcompact drill meaning it's very compact. Think 12V drill compact. The Ryobi measures in at 6.4 inches in length. That is puny! The Bauer is a hefty 8-1/4 inches in length. But unless you need a super small drill, I think most of Harbor Freight's customers won't mind it's size considering it's price difference over the Ryobi. However HF customers may think twice over the higher price of the brushless drill compared to the regular Bauer cordless drill. Of which is cheaper and offers slightly more torque.
Manufacturer Specs & Features:
Brushless motor for faster drilling and longer runtime
405 in-lbs torque
2-speed gearbox for ultimate user control
0-500 RPM/0-1900 RPM
22-position clutch allows users to adjust to desired torque setting
1/2 in. ratcheting metal chuck for increased durability
Compact lightweight design minimizes user fatigue
Textured overmold for secure grip and comfort
On-board LED worklight for clear drilling visibility


Free 2 day shipping – Try Amazon Prime 30-Day Free Trial

DISCLOSURE:
Tool Craze does not sell this product or any product on the Tool Craze website. Also Tool Craze does not handle the sale of any item in any way. Tool Craze is an Amazon Associate. And places affiliate links including those from other retailers Tool Craze is an affiliate partner with. If you purchase through a link on the Tool Craze site; Tool Craze may get a share of the sale. Please refer to the About section for more info. Tool Craze cannot guarantee the accuracy of the information/specifications/features of any tool listed in this article. Please do your full research before buying any products.