November 12, 2015
Comments Off

on New Black + Decker 20V Bluetooth Wireless Speaker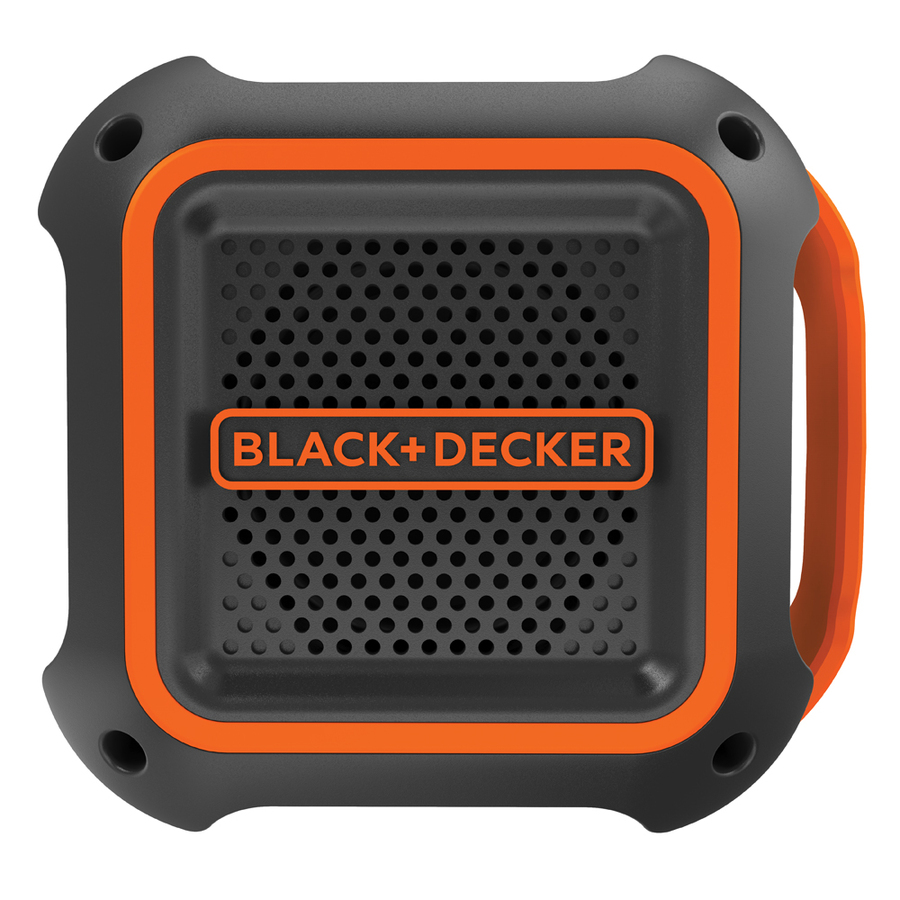 One thing we can all agree on is that we all enjoy music. Tool brands know this fact and along with their tools and power tools some tool manufacturers also sell radios and speakers. Joining this trend is Black & Decker with a new 20V wireless speaker. To keep up with the trends, this wireless speaker features a wireless bluetooth connection to connect wirelessly to your smartphone, tablet or whatever gadget that streams music through a bluetooth connection.
It's bluetooth connection is said to have a reach of about 30 feet under optimal conditions. Even if you don't have any bluetooth enabled devices, you can still operate this speaker with a wired 3.5mm connection plugged into the units auxiliary port.
Radio lovers might be disappointed that this doesn't include a built in radio but let's face it, more and more people are downloading and streaming music or listening to online radio rather than listening to the good old local radio. This is an ongoing trend with bluetooth only wireless speakers not just on this model but other speakers as well.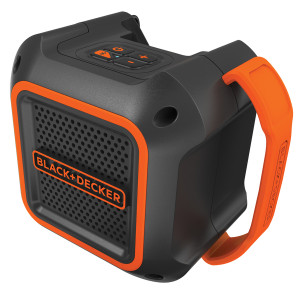 It's small design makes it very portable and to go along with that portability, it can be completely portable and cordless with any Black & Decker 20V battery. The battery isn't included so you will need to provide your own 20V black & Decker battery. Although not shown in the picture, the battery slides into the back of the unit. You can also run it on ac power if you don't have any Black & Decker 20V batteries or if you'd rather run on unlimited power. Also because of its small portable size, a hand strap is included for easy transport. Personally I don't find the hand strap necessary as I assume most people will set this down and enjoy its tunes but this would come in handy if you plan on taking this for a power walk or go hiking. But then again if you were going to do those things and you wanted to listen to music, you'd probably be using headphones instead.
Before I wrap up this article, I wanted to mention that it's very similar to the Porter Cable wireless bluetooth speaker that I wrote about a while back. In fact it seems to be the same model although with a few cosmetic updates to make it stand out as a Black and Decker product. As for pricing, this speaker be available as 2 options – the speaker by itself without an ac adapter cable for $49.99 and the speaker with the ac adapter included for $59.99 .

Try Amazon Prime 30-Day Free Trial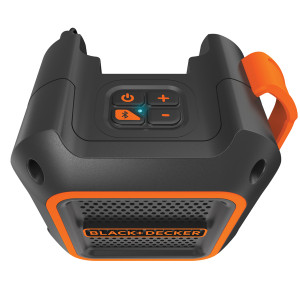 Black & Decker Wireless Speaker BDBTS20BP
cordless / corded bluetooth speaker
Voltage 20V
30 feet bluetooth streaming
3.5mm auxiliary port
dimensions: 5.7" x 5.7" x 4.9"
1.68 lbs weight