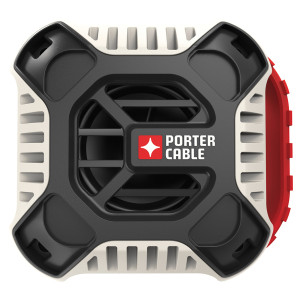 In addition to their recently released bluetooth jobsite radio, Porter Cable comes out with a new 20V Max Bluetooth Speaker PCC772B. For the longest time many jobsite radios have lacked bluetooth as a feature and has been in great need in the past few years as people are using wireless streaming more and more. It seems 2014 was the big year for bluetooth and many brands joined the bluetooth bandwagon with all sorts of bluetooth radios and even bluetooth speakers made for jobsite use.
This was spotted on the Lowe's website and not too much info can be found at the moment. The dimensions aren't listed but this appears to a small handheld unit as what appears to be a hand strap is attached on the right side of the unit. It appears to be just a bit bigger in profile than a 20V Max Porter Cable battery and the pack slides on the back. Controls are located on top with 4 buttons – power, volume up and down, and bluetooth pairing. Sound looks to blast through a single speaker located in the center of the unit. As with most radios and speakers, an auxiliary 3.5mm wired input is available to plug in your MP3 device via audio cable in case bluetooth wireless streaming isn't an option. It is unknown if a 3.5mm audio cable is included.
This is a great addition to the 20V Max PC line even with the existing bluetooth radio as people nowadays are listening less and less to actual radio and streaming internet radio and songs uploaded to their personal MP3 players more and more. This is why it is essential to have the best bluetooth speakers 2019 ready for the year! Pricing for the new Porter Cable 20V Max bluetooth speaker PCC772B is $59.97 USD (speaker only) on the Lowe's website.