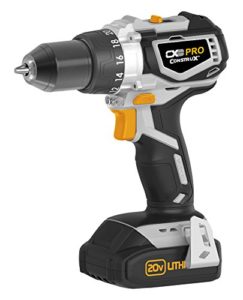 I was browsing Amazon the other day when I came across this Construx brand I've never heard of. Yes I know there are a lot of no name brands out there that make one or two or a few products and you never hear from them again, ever. This might be on of those brands but what's interesting about them is that they made a competitively featured cordless 20V drill with a brushless motor at $79 as a kit.
The Construx brand offers a few corded tools under their Construx brand however the brushless drill in question has the Pro label after the brand name. As far as features go you get what looks to be a metal 1/2″ chuck. They don't mention it being a metal chuck so it might be plastic but from the pic it appears to be metal. It has a short length making it a compact drill, it offers 2 speeds with a max 2,000 RPM's and it's brushless motor produces 370 in-lbs of torque. 370 in-lbs isn't class leading and for the $79 price tag you can find lower priced drills with more power like Bauer's 20V drills however considering the Construx model features a brushless motor makes it one of the lowest priced 20V brushless drill around. I also want to mention that 370 in-lbs torque is more than plenty for about 80% of most drilling and driving needs.
It also comes with a 2ah lithium battery and 1 hour charger. 1 hour for a 2ah battery isn't the fastest but definitely isn't the slowest either. This Construx Pro drill compares well with something like the Bauer 20V drills and competing Porter Cable drills with all things considered, specs, stats, features, and battery charge times.
Would I buy it? No and this is because I've never heard of the Construx or Construx Pro name before so I don't know how well built these are and if they will withstand regular and heavy use and also because if I buy into a cordless tool line I want to have lots of options to expand if I ever need a tool. Considering they only offer 3 tools for their 20V platform with this drill, an impact driver and a reciprocating saw, that would never satisfy my needs as I have way more than 3 different types of cordless tools. If they were going to have only one cordless saw, I think they should have went with a circular saw instead as that might be more useful for many more applications as you wouldn't reach for a recip saw for cutting plywood. In a world full of no name brands I don't see anything that makes the Construx brand stand out except for the use of the brushless motor in their impact and drill but that in itself isn't enough.
Also at $79 it might be considered to some as a good deal for what you get and it probably is, however as it is, it's pricing puts it between Bauer's 20V drills which might be a better value for less minus the brushless motor and between the $99 Dewalt brushless drill we've seen recently that offers a more pro brand tool from an established and trusted company with a full line of cordless power tools to choose and expand upon and you get two lithium batteries instead of one.


Free 2 day shipping – Try Amazon Prime 30-Day Free Trial

DISCLOSURE:
Tool Craze does not sell this product or any product on the Tool Craze website. Tool Craze does not handle the sale of any item in any way. If you purchase something through a post on the Tool Craze site, Tool Craze may get a small share of the sale. Please refer to the About section for more info.