Kobalt is no stranger to cordless power tools and currently have an 18/20V power tool line along with 40V and 80V outdoor power tool lines, now offer a 24 volt power tool line. What makes the new Kobalt 24V line interesting is that all the new power tools with exception of the flashlight, feature brushless motors. The new Kobalt 24V power tool line will include a compact 1/2″ drill/driver, an impact driver, 1/2″ impact wrench, 6-1/2″ circular saw, and a reciprocating saw, along with an LED flashlight.
I've said this before in my videos that new cordless power tools don't gather much attention unless they feature brushless motors and luckily this new Kobalt 24V power tool line delivers the brushless goods. Brushless motors are more efficient than brushed motors and besides offering less maintenance and longer motor life, they have the added benefit of additional runtime and in some cases more power vs similar spec'd brushed power tools.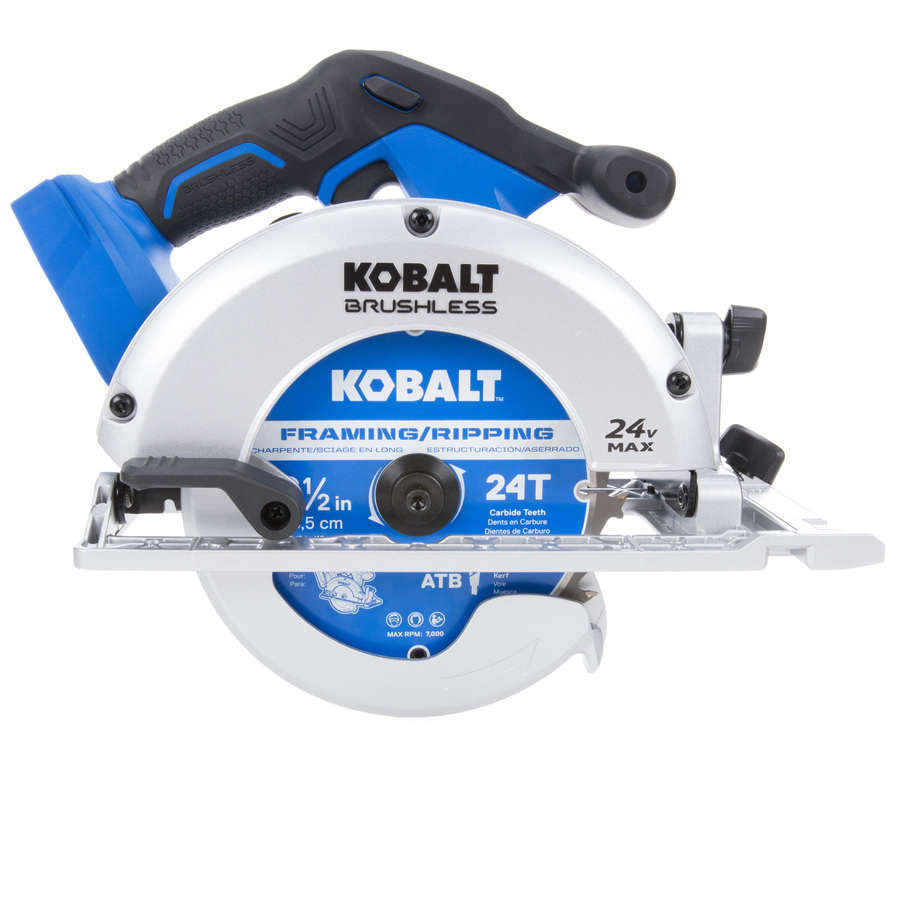 So what can impel anyone jump board to a 24V cordless power tool line when 18/20V power tool lines are perfectly fine? Wouldn't 24V tools be larger, bulkier, heftier, heavier and also their batteries? Kobalt claims this:
Delivers up to 50% more power and up to 3.6 times more run time, compared to Kobalt 18-volt tools – additional battery cells have been added and reconfigured to fit in a compact, newly designed 24-volt max Li-ion battery pack
Combine this revolutionary new 24-volt max power pack with a highly efficient, long-lasting brushless motor, and you've got a family of cord-free power tools that pack a powerful punch
Based on my own personal observation based on the pictures alone, these Kobalt 24V power tools look about the size of standard 18V power tools and although the batteries look bigger, they appear to be only slightly larger than extra capacity 18v batteries. In fact based on their specs, the Kobalt 24V drill and impact driver would be considered very compact even by 18V standards with the Kobalt 24V drill coming in at a very compact 7.5″ tool length along with the Kobalt 24V impact driver coming in at a respectable 5.63″ tool length. Even their Kobalt 24V circular saw seems about the size of an 18V model and even uses a compact 6-1/2″ blade.
Power output for these models seems to be similar to high performance 18V power tools. The Kobalt 24V compact drill puts out 650 ft-lbs torque when most compact 18V drills put out around 350-600 in-lbs torque, while the Kobalt 24V impact driver puts out 1,800 in-lbs torque. 1,800 is also considered high in the 18V power tool realm. And even though the Kobalt 24V circular saw uses a smaller than full size 7-1/4″ blade, it still manages the power and cut capacity of a 7-1/4″ blade with a max cut capacity of 2.44″. The Kobalt 24V 1/2″ impact wrench puts out high power at 650 ft-lbs torque which is over double most 18V 1/2″ impact wrench's that only put out around 300 ft-lbs torque.
While these are great performance stats for even 18V power tools, they aren't to the full potential of 24V has to offer as there are still even more powerful 18V power tools for either power tool type but where I see that the Kobalt 24V line does an excellent job at is bringing upper range 18V power with the possibility of longer runtime due to 24V battteries that carry more battery cells, all in a compact 18V like size with great pricing to boot.
Check out full specs and pricing in the individual tool specs list below. These are currently available for sale over at Lowes.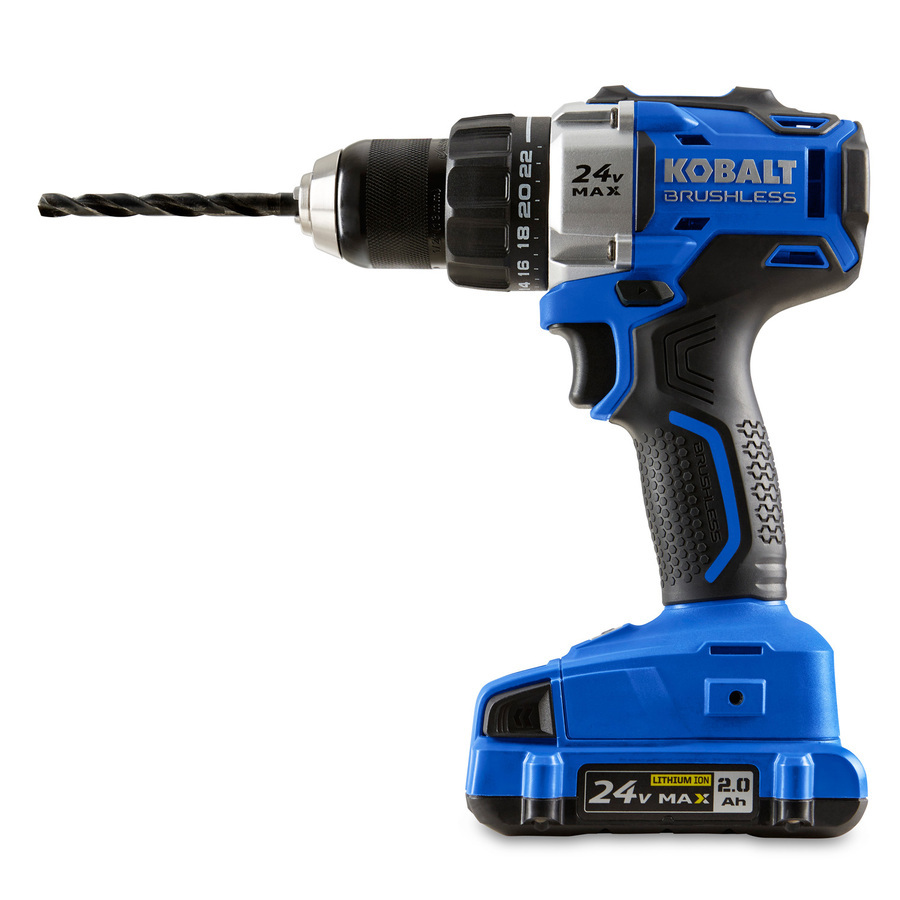 Kobalt 24V Brushless 1/2″ Drill/Driver KDD 1424A-03
650 in-lbs torque
2-speed gearbox (0 to 550 and 0 to 2,000-RPM)
24 clutch settings
Tool length: 7.5 inches
Tool height: 9.5 inches
Tool weight: 4 lbs
Retail price $179.00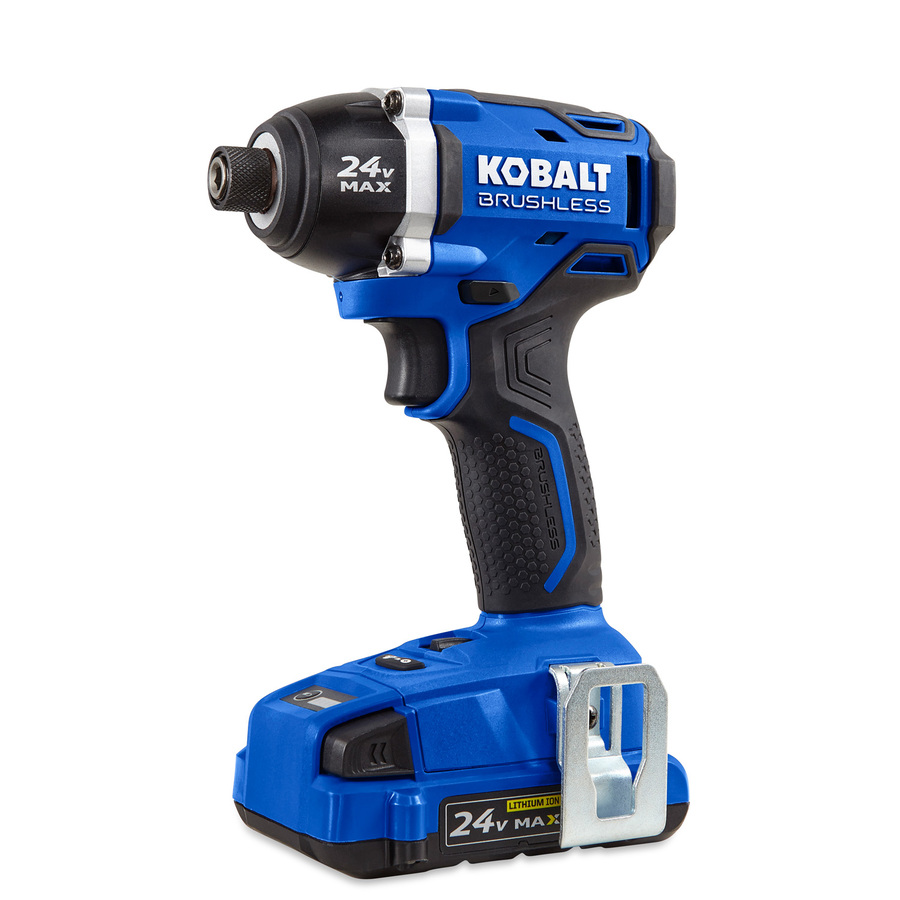 Kobat 24V Brushless 3 speed 1/4″ Impact Driver KID 1324A-03
1,800 in-lbs torque
electronic speed control (0 to 850, 0 to 2,000, and 0 to 2,700 RPM)
0-2,400 IPM
Tool length 5.63 inches
Tool height 8 inches
Tool weight 2.43 lbs
Retail price $189.00 kit or $99.00 baretool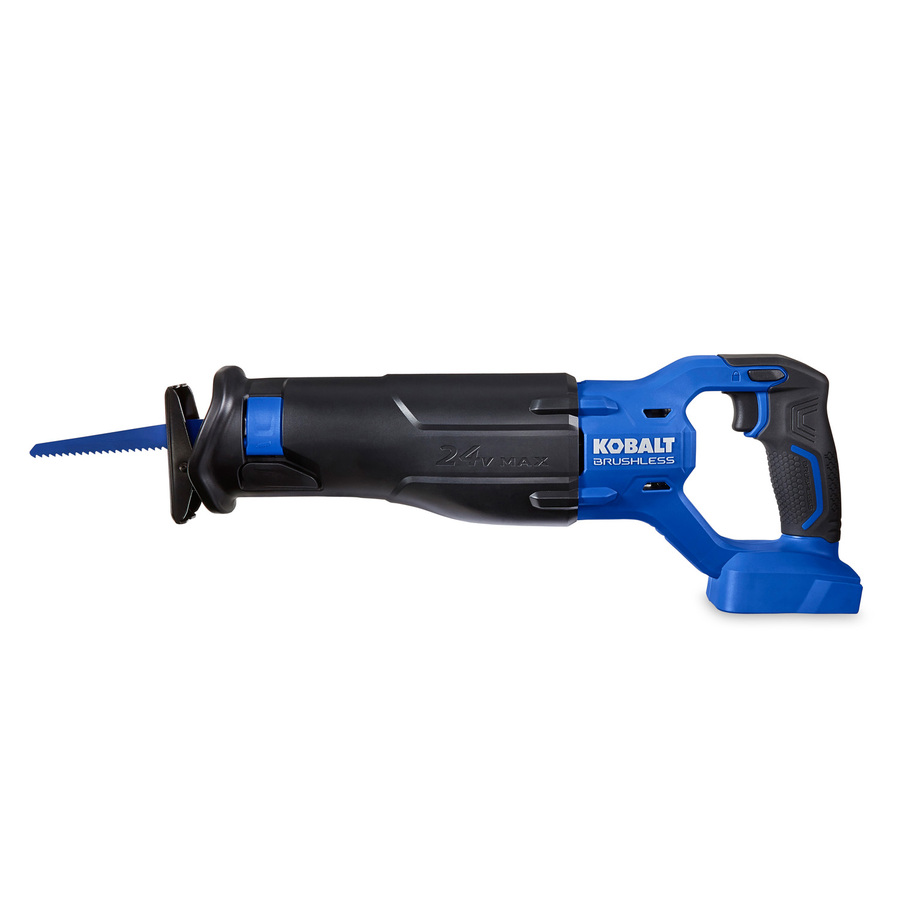 Kobalt 24V Brushless Reciprocating Saw KRS 1824B-03
Variable-speed trigger (0-3,100 SPM)
keyless blade change
1-1/8-in blade stroke
Tool weight 6.25 lbs
Retail price $129.00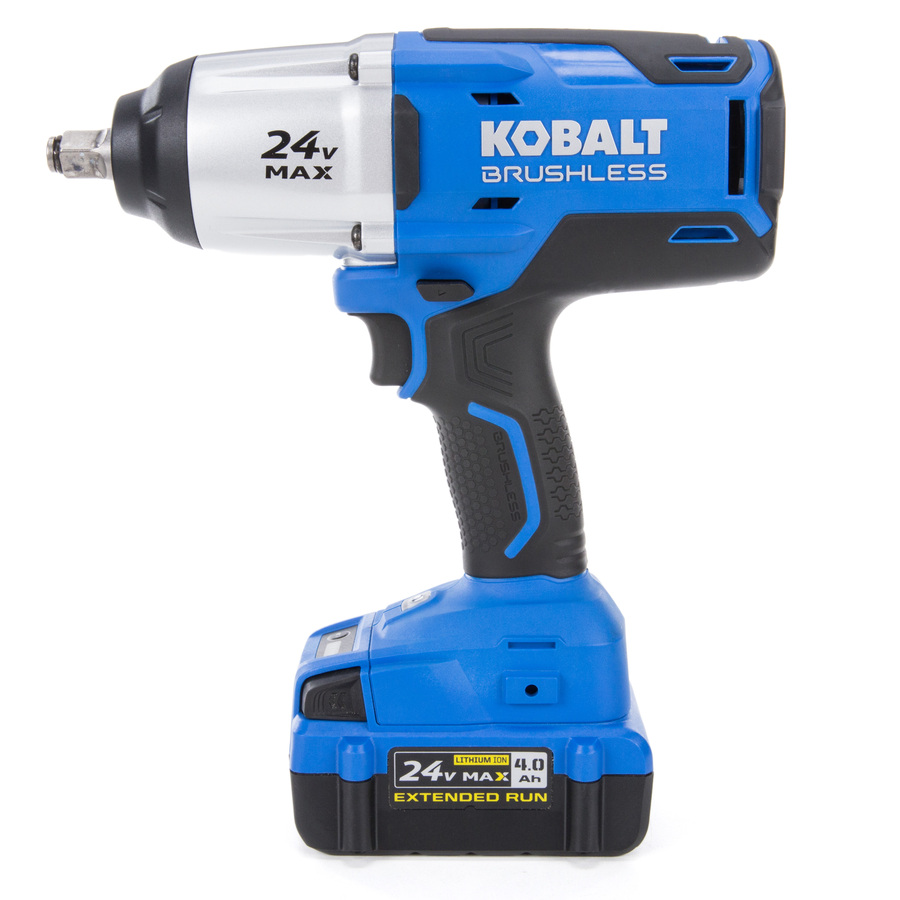 Kobalt 24V Brushless 1/2″ Drive Impact Wrench KIW 1524A-03
1/2″ drive with friction ring
650 ft-lbs of break-away torque
variable-speed trigger (0-1,900 RPM – no load speed)
0-2,400 IPM
Tool length 9.8 inches
Tool weight 7.6 lbs
Retail price $249.00 kit or $169.00 baretool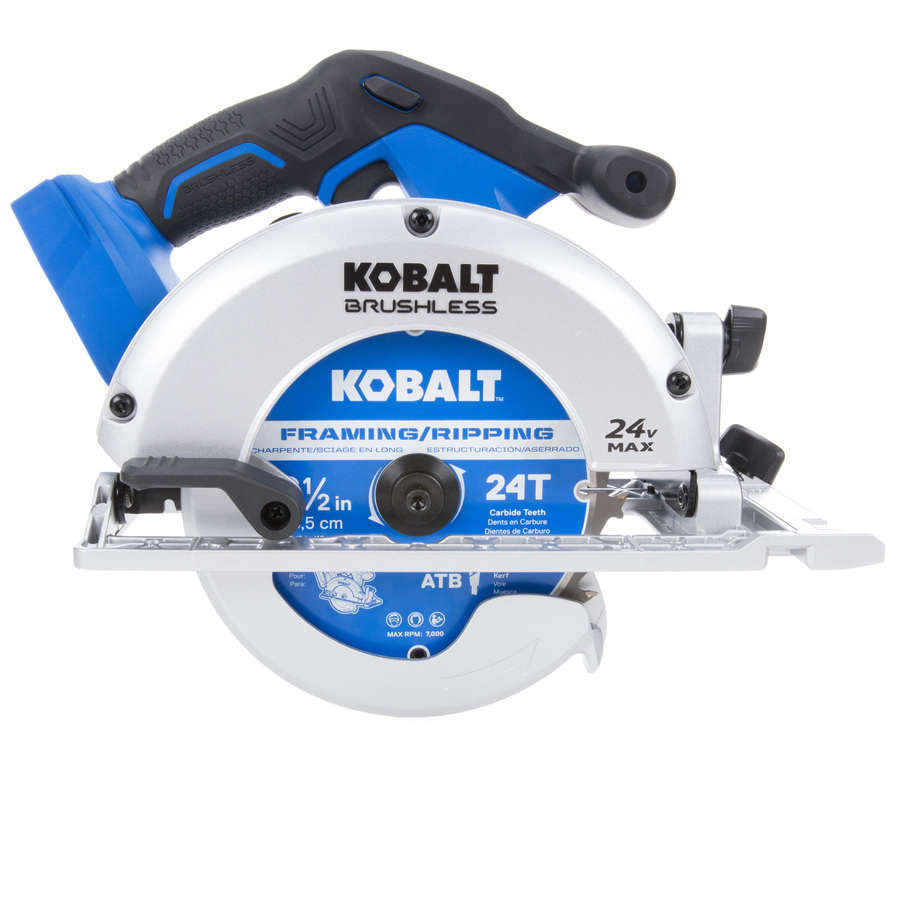 Kobalt 24V Brushless 6-1/2″ Circular saw KCS 6524B-03
blade diameter 6-1/2 inch
no load speed 5,400-RPM
cutting depth at 90 degrees: 2.44 inch
bevel capacity 50 degrees
Tool weight 6.73 lbs without battery
Retail price $129.00 baretool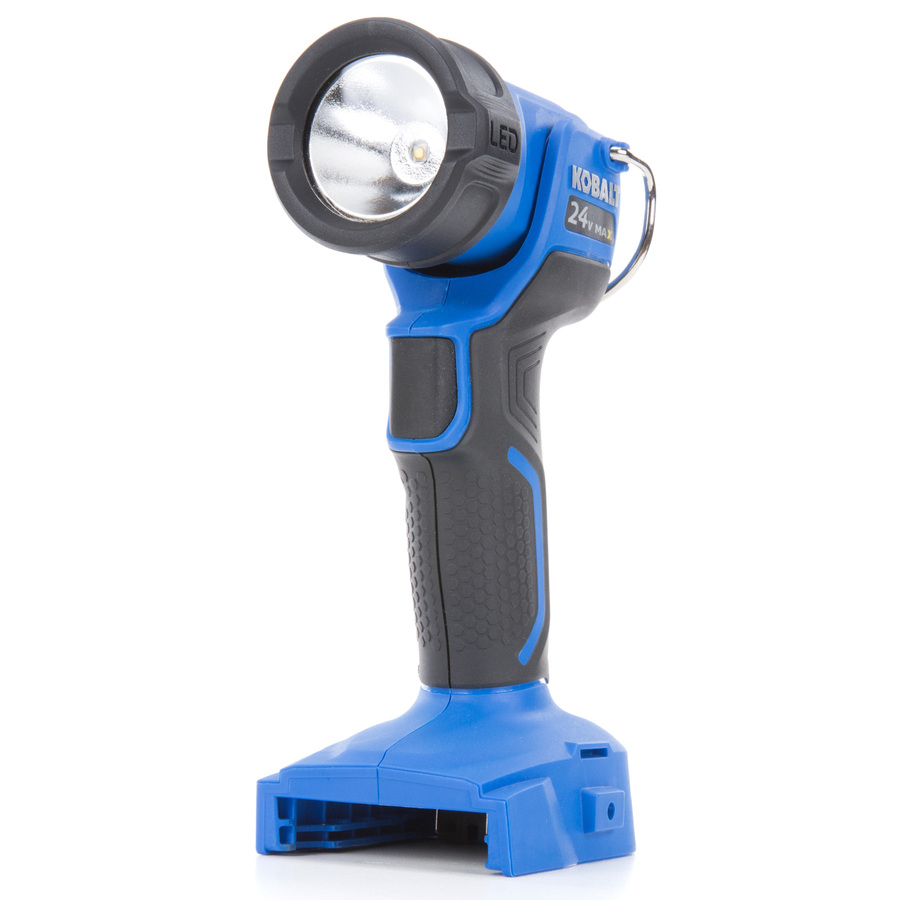 Kobalt 24V LED Flashlight KWL 224-03
Bright LED output – 200 lumens
8 hours battery life
Integrated hook for hands-free use and carrying
Rotating head offers 235° of rotation for light right where you need it
Weight 0.75 lbs
length 4 inches
width 2.5 inches
Retail price $29.98