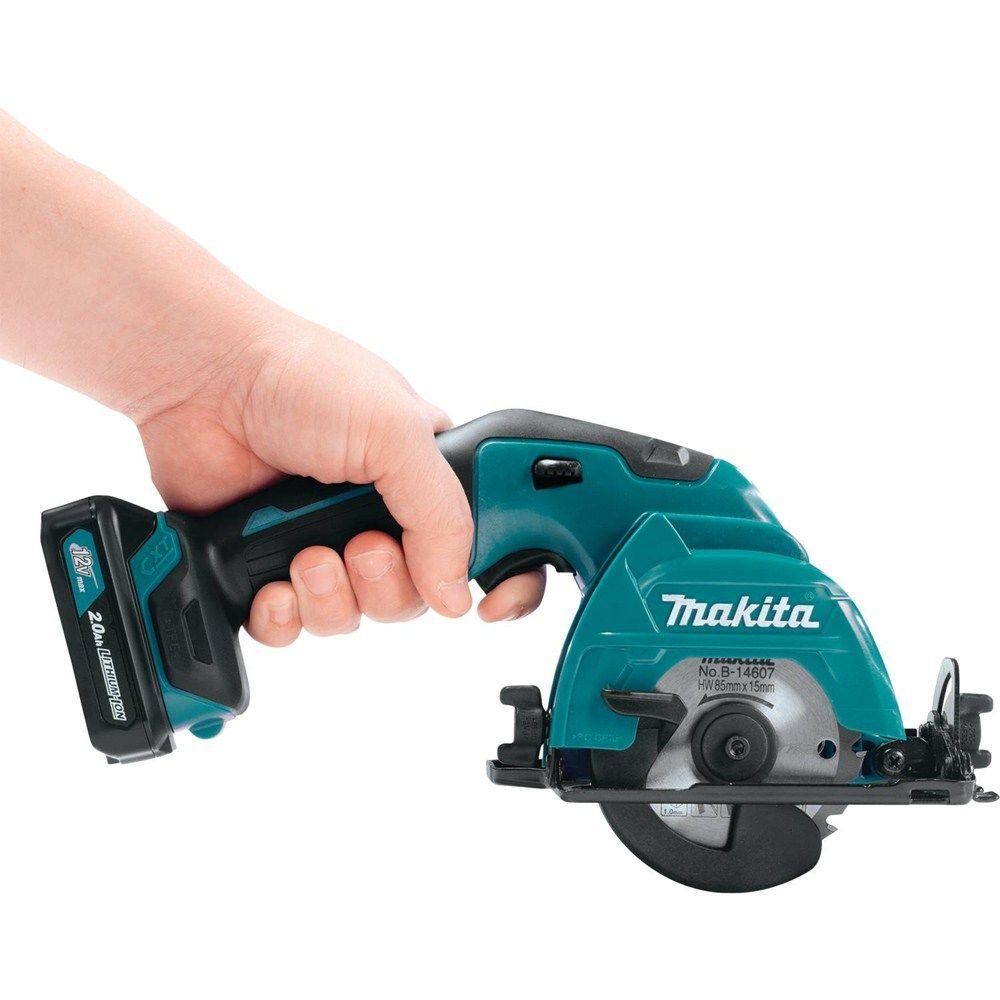 Cordless 12 volt circular saws may seem new but they've been around for quite some time. Makita has had several generation of 12 volt cordless power tool lines that have included a 12 volt cordless circular saw. Their previous yet still running 12V lithium ion power tool line included a handy little 12V circular saw that ran a 3-3/8 inch blade for use on thin stock and sheet goods. This was the same size blade as previous generation Makita 12V circular saws that ran on their Ni-MH and Ni-Cad batteries. And now that Makita has a completely new 12V line which is called "CXT" that also uses lithium ion batteries but differentiates itself by using new slide pack batteries instead of the pod style batteries used on the previous 12V line, they've also included a compact 12V circular saw to this new 12V CXT power tool line. The new Makita CXT 12V Circular Saw SH02R1 also uses a 3-3/8″ blade just like the generations before it.
A 3-3/8 inch blade is much smaller than 5-3/8″ – 7-1/4″ blades used on more powerful 18V circular saws but the upside of using such a small blade is that the tool that powers it is small itself, lending to a more compact and lighter tool that is easier to handle. This makes it easily more portable than larger saws. The new Makita CXT 12V Circular Saw SH02R1 has a respectable 1 inch cut capacity at 90 degrees meaning it is perfectly suited for quick cuts at thin stock and sheet goods. Think plywood, OSB, paneling, peg board, particle board, sheathing, etc.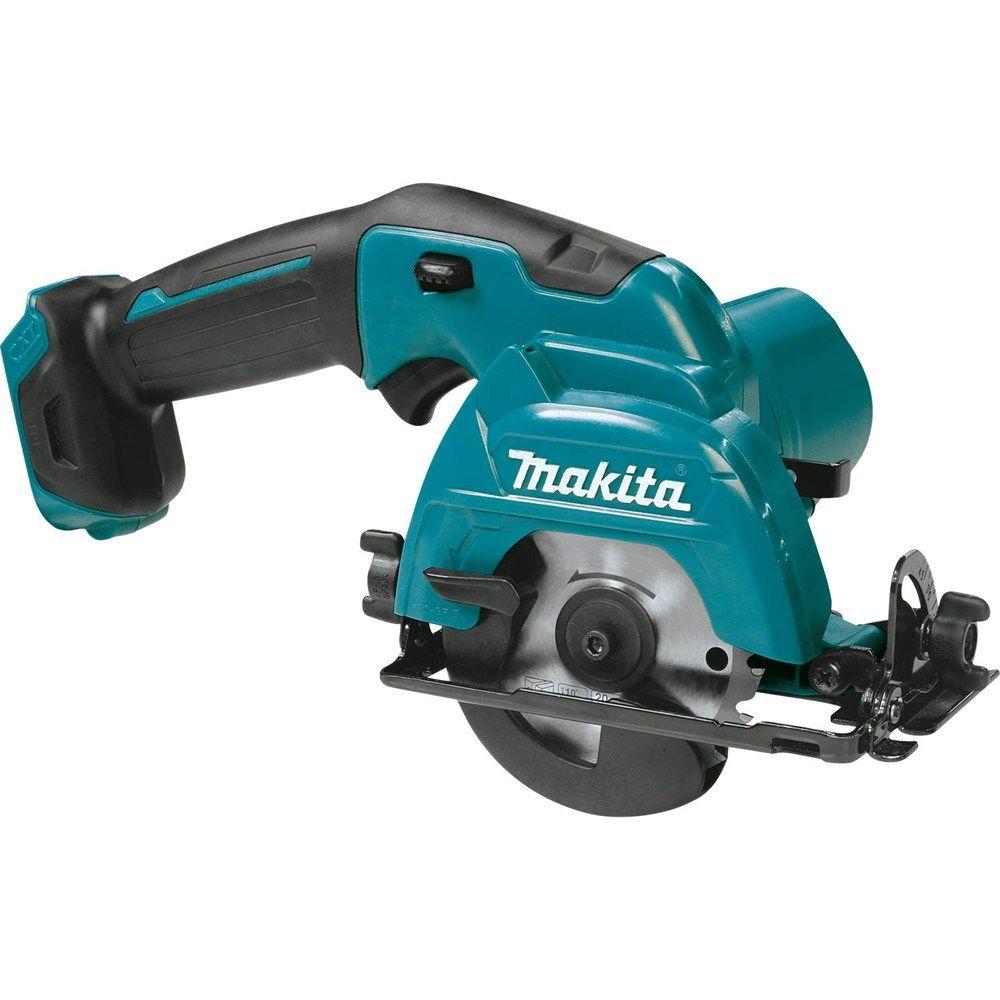 The downside of such as small capacity though is that the saw is limited to only sheet goods and will not be able to cut 2x dimensional lumber in a single pass.
I welcome the addition of this new saw – as portable cordless circular saws are very convenient. Although technically it is a new model, it looks to be a re-iteration of the previous generation model SH01ZW but with 100 more RPM. It doesn't look to be a completely identical model as it does sport a new handle and a new battery platform but overall it looks quite similar to the previous model. I was hoping they would wow us with a new upgraded model that could compete head to head with Milwaukee's M12 Fuel circular saw which sports a brushless motor with a larger 5-3/8″ blade and has the cut capacity and torque to power through 2x dimensional lumber.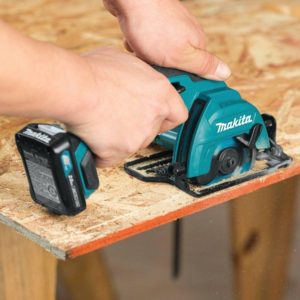 Either way the new Makita CXT 12V Circular Saw SH02R1 is great news for Makita fans looking to buy into the new CXT 12V line and I appreciate that Makita is putting lots of effort and support for their new line. Makita is off to a strong start with their new CXT line and is quickly growing in terms of tool count and they just recently introduced new 12V brushless drills so I see lots of potential in this new CXT line. I look forward to what's to come next from this new Makita 12V power tool line.
The Makita 12V CXT 3-3/8″ circular saw is available now and it is offered as a kit SH02R1 for $129.99 and as a baretool SH02Z $89

Product Description
The Makita 12V max CXT Lithium-Ion Cordless 3-3/8″ Circular Saw delivers power and speed in an ultra-compact size for a range of cutting applications. The kit includes two 12V max CXT Lithium-Ion slide-style batteries for improved balance and ergonomics over pod-style batteries. For added convenience the batteries include an on-board L.E.D. charge level indicator. The SH02R1 weighs only 3.5 lbs. (with 12V max CXT 2.0Ah battery) with 1,500 RPM. With a 1 in. capacity, it cuts plywood, MDF, pegboard, particleboard, melamine, and drywall. It's an ideal solution for users seeking a more compact cutting solution with less weight or for applications in tight spaces. For longer run time, all 12V max CXT cordless tools are also compatible with the 12V max CXT Lithium-Ion 4.0Ah battery (BL1041B). 12V max CXT lithium-Ion batteries are engineered with a Battery Protection Circuit that protects against overloading, over-discharging and over-heating. It's part of the expanding 12V max CXT series, combining performance with superior ergonomics in a compact size.
Makita-built motor delivers 1,500 RPM for faster cutting

3-3/8″ blade delivers a maximum cutting depth of 1″ for a wide range of cutting applications

Adjustable cutting depth from 1″ at 90Degree and 5/8″ at 45Degree

Tilting base for bevel cuts from 0Degree – 45Degree

Cuts plywood, MDF, pegboard, particleboard, melamine, drywall and more