January 6, 2017
Comments Off

on New Milwaukee Compact Tape Measures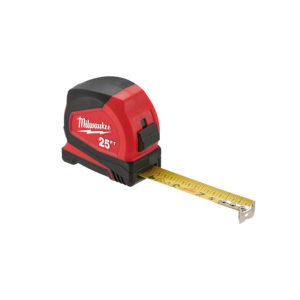 Milwaukee is coming out soon with new compact tape measures that are said to be up to 30% more compact than their own tape measures and other brands on the market. They say that their 25 foot tape measure is around the same size as their 16 foot tape measures – pretty neat. Less tool bulk is always welcome.
Because of our focus on advanced next generation manufacturing technology, we're now able to deliver a 25' long tape in a 16' housing! This allows for much better ergonomics while minimizing weight on tool belts. In addition, we're able to accomplish this reduction in size without sacrificing any durability and continuing our "Nothing But Heavy Duty" promise.

These new tapes are the next generation and rolling change to our General Contractor Tape Measure lineup. The new Compact Tape Measures build off the success of this tape measure line and set the bar even higher by enhancing key features and reducing the overall size for a better fit in the user's hand.

Just like all Milwaukee tapes, these new tape measures continue to deliver the longest life in the industry because of proprietary Nylon Bond Blade Protection, and a 5-point reinforced frame for drop protection. Together these features make Milwaukee tape measures the most durable tape measures in the industry.
These new tapes will be available at the end of the this month. Acme Tools is currently taking pre-orders.


Tape Measure Models
16' Compact Tape Measure (48-22-6616) – $10.99
25' Compact Tape Measure (48-22-6625) – $14.99
30' Compact Tape Measure (48-22-6630) – $19.99
5m/16' Compact Tape Measure (48-22-6617) – $10.99
8m/26' Compact Tape Measure (48-22-6626) – $14.99