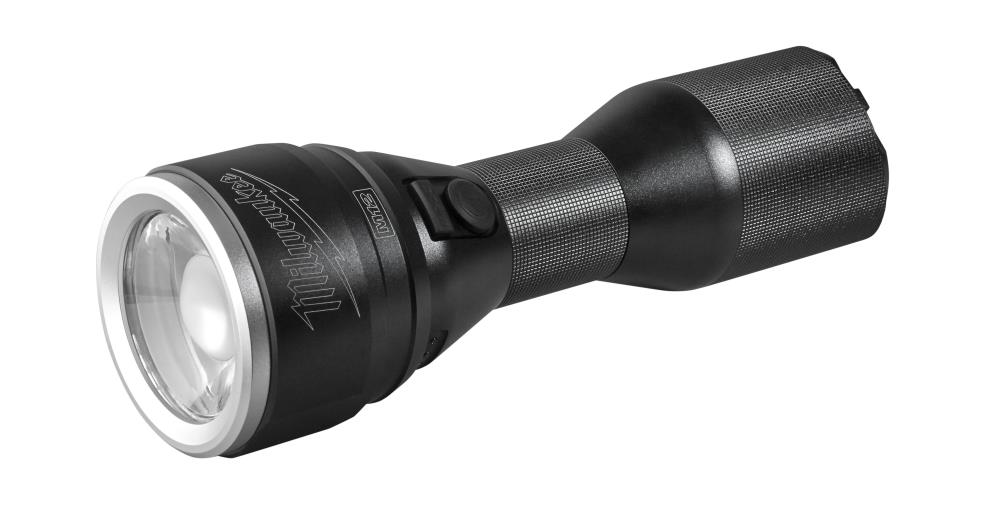 A new Milwaukee M12 flashlight has been spotted on Acmetools. This new M12 Flashlight will be a high performance LED light with high output 800 lumens and unlike most M12 power tools, it will be built out of machined aluminum which makes a breakaway from their typically plastic shell housings.
Features
The new M12™ LED high performance flashlight establishes a new benchmark for 12 V flashlights, bringing new levels of versatility, performance and durability to the industry. Its powerful LED produces 800 lm of high definition light output, and it can cast a beam beyond 375 Yds. The 2355-20's sliding head allows users to adjust their beam pattern from a flood to a spot effortlessly, and it features three output modes for high, low or strobe use. The body is built from machined 6000 series aluminum with a type II anodized finish and can handle anything it may encounter through years of professional use.
Additional Features
Spot-flood sliding beam adjustment
6000 Series aluminum, type II anodized
High mode: 800 lm, 5 hour run-time (48-11-2440 battery)
Low mode: 325 lm, 7 hour run-time (48-11-2440 battery)
Strobe mode: 800 lm, 7 hour run-time (48-11-2440 battery)
Beam distance: 375 Yd. (spot beam)
I'm impressed with the visual build quality of this new light and high performance light output of 800 lumens on max. It will also get a rated 5 hours of runtime which is very good considering the high output, although this runtime can only be achieved via a high capacity M12 4.0ah battery. It also features a 7 hour runtime on low mode with a very strong 325 lumens. It also has a stobe light mode with high output of 800 lumens with an up to 7 hour runtime. Users can also adjust the light beam as a spot beam with a 374 yard distance or widen the beam for flood light use.
It is currently available to pre-order on Acme Tools for $99.