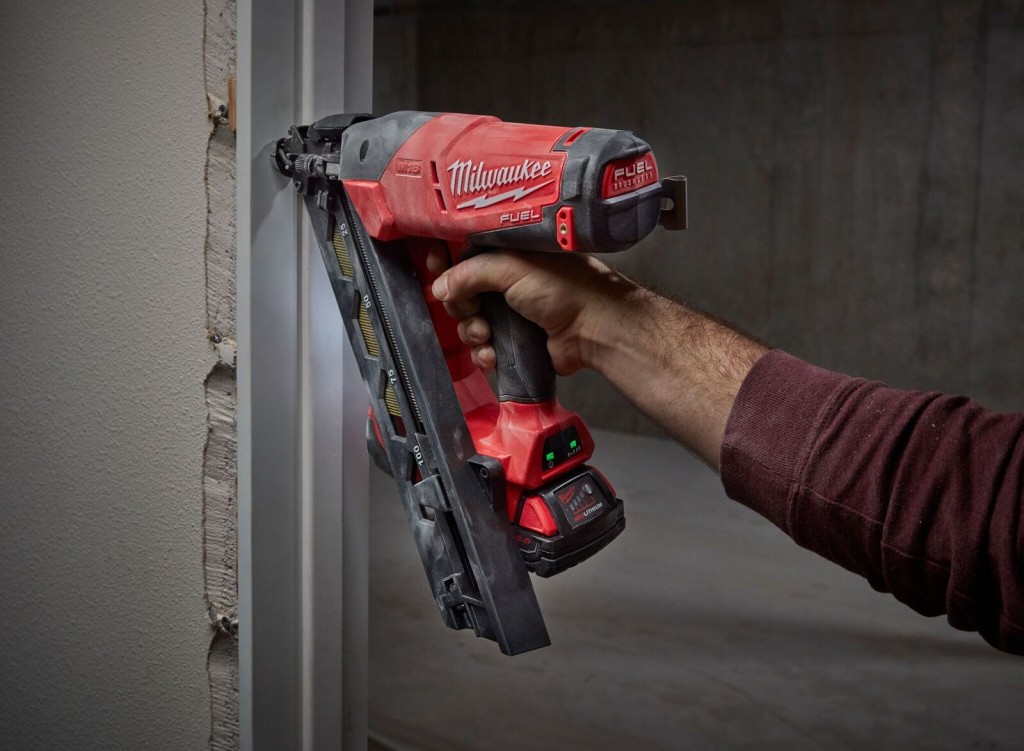 A while back we learned that Milwaukee would release a few cordless nailers powered by their M18 18 volt batteries. Not much was known at the time other than that they were in the works and we would learn more about them soon. Today Milwaukee has officially given us a real preview of these new units along with a tidbit of info. They will be releasing 4 new M18 nailers and they are all brushless and sporting the Fuel logo. Their Fuel cordless power tools exhibit their latest and best technology, features, ergonomics, size, and weight compared to their existing brushed models. This new line of cordless nail guns include 4 finish nailers with an 18ga brad finish nailer, two 16ga finish nailers (a straight magazine model and angled magazine model), and a 15ga angled finish nailer.
These new nailers are battery powered and do not need a compressor or fuel cells to run them, similar to many other cordless battery powered nailers on the market such as Ryobi's Airstrike, Ridgid HyperDrive, Makita, Bosch, Porter Cable, and Dewalt cordless 18/20V nailers. Similar in the sense that they operate on battery only, although it is not currently known how they operate. Milwaukee claims that these require low maintenance, "best in class power" with the ability to "consistently seat nails sub-flush to material surface in hardwoods", and "Ready to Fire Technology" which they claim "eliminates ramp up time". They are also said to feature a design with a smaller size and lower weight compared to other nailers on the market. And because they feature brushless motor's we can expect up to 1,200 nails placed per charge using M18 2.0 ah batteries. Of course only the smallest nailer of the group the 18ga can drive up to 1,200 nails while the 16ga nailers follow closely behind at 800 nails per charge, and 700 nails per charge for the 15ga nailer based on in house claims for use with M18 2.0 batteries. We can also expect higher runtime numbers than these when paired with larger capacity batteries.
We can also expect these to feature single fire and bump fire modes, along with dry-fire lockout so they don't fire when no nails are remaining in the magazine, an adjustable belt hook, and led light to help out in low light. On the back of the nailer right above the battery compartment are 2 green led's with one letting you know the unit is on, while the other lets you know if single fire or bump fire mode is selected. A button right above these 2 led lights lets you power on the nailer and also to choose between single, and bump fire modes.
I do like that they appear to be compact especially when you factor in how bulky some of the cordless battery powered 16ga and 15ga nailers can get. The M18 Fuel 18Ga nailer looks to be roughly around the size of the Ryobi 18ga Airstrike model which is very compact although the Milwaukee looks to be less bulkier and more slimmed down overall. With the 16ga and 15ga M18 nailers appearing not to add much extra size to these larger models, which in turn is a good thing as some of the existing nailers can get rather large. The Milwaukee designs appear to borrow from Ryobi's and Ridgid's 18V nailer designs in the sense that they have the same drop down design behind the magazine although the piston chamber on the Milwaukee's are greatly slimmed down. These assumptions that they are more compact are based on what can be seen in the pictures and also based on my impression of Milwaukee's claims of reduced size and tool length. Currently they have not disclosed actual tool lengths for either nailer but I have reached out to Milwaukee asking them for tool length and weight info for each individual nailer. I will update this post when they reply.
We can expect these new nailers to be sold very soon in May 2016. Although pricing has not yet been announced, they will be sold as either bare tools or in kit form paired with a single M18 2.0ah battery, charger, and carrying case.
Specifications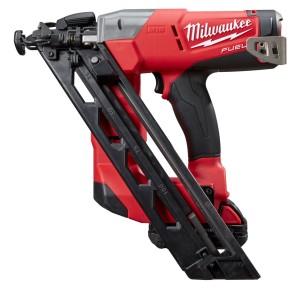 M18 FUEL 15 GA  Angled Nail Finish Nailer (2743-21CT)
Weight: 6.3 lbs
Nail Sizes: 1-1/4" – 2-1/2"
Magazine Capacity: 110 nails
700 nails per charge on a REDLITHIUM 2.0 Compact Battery
Sequential and Contact Actuation Modes
Dry-Fire Lockout, Adjustable Belt Hook & LED Work Light
Price: $399 Kit / $349 Bare
Includes M18 FUEL 15GA Finish Nailer, (1) M18 REDLITHIUM 2.0 Compact Battery Packs, Charger and Carrying Case
*Also available as bare tool (2743-20)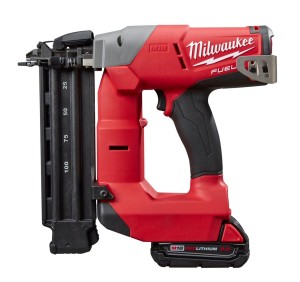 M18 FUEL 18 GA Brad Nail Finish Nailer (2740-21CT)
Weight 6.1 lbs
Nail Sizes: 5/8" – 2-1/8"
Magazine Capacity: 110 nails
1200 nails per charge on a REDLITHIUM 2.0 Compact Battery
Sequential and Contact Actuation Modes
Dry-Fire Lockout, Adjustable Belt Hook & LED Work Light
Price: $379 Kit / $329 Bare
Includes M18 FUEL 18GA Finish Nailer, (1) M18 REDLITHIUM 2.0 Compact Battery Packs, Charger and Carrying Case
*Also available as bare tool (2740-20)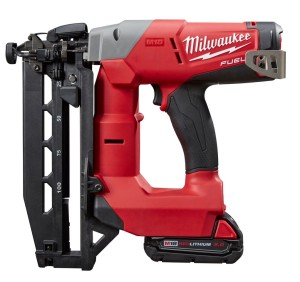 M18 FUEL 16 GA Straight Nail Finish Nailer (2741-21CT)
Weight: 6.3 lbs
Nail Sizes: 3/4" – 2-1/2"
Magazine Capacity: 110 nails
800 nails per charge on a REDLITHIUM 2.0 Compact Battery
Sequential and Contact Actuation Modes
Dry-Fire Lockout, Adjustable Belt Hook & LED Work Light
Price: $399 Kit / $349 Bare
Includes M18 FUEL 16GA Finish Nailer, (1) M18 REDLITHIUM 2.0 Compact Battery Packs, Charger and Carrying Case
*Also available as bare tool (2741-20)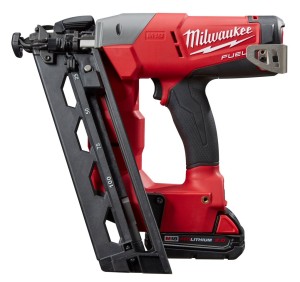 M18 FUEL 16 GA Angled Nail Finish Nailer (2742-21CT)
Weight: 6.3 lbs
Nail Sizes: 1-1/4" – 2-1/2"
Magazine Capacity: 110 nails
800 nails per charge on a REDLITHIUM 2.0 Compact Battery
Sequential and Contact Actuation Modes
Dry-Fire Lockout, Adjustable Belt Hook & LED Work Light
Price: $399 Kit / $349 Bare
Includes M18 FUEL 16GA Finish Nailer, (1) M18 REDLITHIUM 2.0 Compact Battery Packs, Charger and Carrying Case
*Also available as bare tool (2742-20)