With the release of the new updated Ridgid generation 5 cordless 18 volt power tools known as X5 earlier this year, Ridgid has made a big statement in the tool industry with power tools that push the limits of what brushed motor cordless technology has to offer. Now a few more tools have been added to the new X5 line such as a new 18V GenX5 cordless sander, cordless fan, and new flexible cordless LED dual mode LED worklight.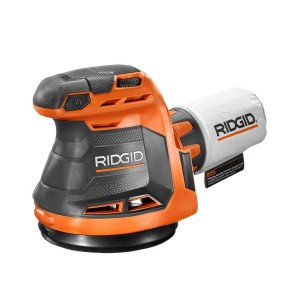 Lets start off with the 18V sander, this new sander model R8606B is a 5″ random orbit sander. This is very interesting considering there are very few cordless sanders today, off the top of my head I can think of Makita, Bosch, and Ryobi that have cordless sanders of their own without thinking too hard. I don't know too much about Ryobi's cordless sander but I do know that Makita's sander is also a random orbit sander and offers 2 speeds. What makes this Ridgid stand out is it offers complete control over the speed with the inclusion of a variable speed dial for 7,000-11,000 RPM and features a soft start so as to not damage the material upon starting up. According to Ridgid this new sander can run up to 40 minutes with a 4.0 ah battery. It uses 5″ hook and loop sandpaper discs and has a built in dust collection with a small cloth bag acting as a filter / dust collector sticking out the back side. The dust bag can be removed to allow the use of a vacuum hose for even greater dust collection. The sander can accept both 1-1/4″ and 2-1/2″ hoses.
GEN5X motor technology permanent magnet motor maintains speed and power under load for corded-like performance
AirGuard technology collects up to 90% of dust for a cleaner work area
Extended run-time over 40 minutes with 4.0Ah hyper lithium-ion battery (sold separately)
Variable speed dial adjusts speed for different applications
Dust-sealed switch increases longevity of the tool
Soft start and brake pad helps prevent gouges on work surfaces
Hex grip enhanced micro-texture for secure grip and maximum user comfort
On-board vacuum adaptor fits 1-1/4 in. or 2-1/2 in. standard vacuum hose
Quick-release dust bag for quick and easy bag emptying
100% compatible with every generation of RIDGID 18-volt batteries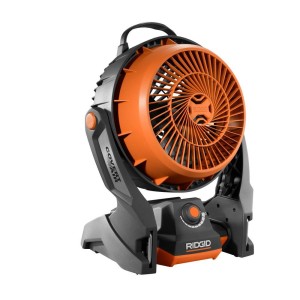 The next on the list is a new cordless 18V fan model R860720B . This is a hybrid fan as it can be powered by any Ridgid 18V battery and can also be powered by the grid by plugging it into any extension cord. It also claims to be the quitest fan on the market with a technology they label as "Covert Air Technology". This new fan puts out 475 cfm's although the actual air speed in mph is not listed and can be control through a variable speed dial on the front. Like other cordless saws on the market, the head pivots down and up to 240° and it can also be mounted on mounted on a wall with screw slots or on exposed studs with built in slide out hooks. This new fan is said to have a run time of just over 22 hours on a 4.0 ah battery.
Covert air technology quietest and most powerful professional fan in the industry
Extended run-time over 30 hours with 4.0Ah hyper lithium-ion batteries (sold separately)
Maximum air flow produces best-in-class 475 CFM
240° head rotation directs airflow where desired
Over 10 hanging options for ultimate versatility on the jobsite
Variable speed dial to easily adjust fan speed
Integrated rubber handle provides maximum portability and comfort with grip micro texture
Durable cage and base construction withstands tough jobsite conditions and protects the fan blades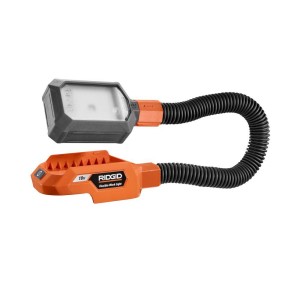 Last on the list but not least is an all new 18V cordless work light known as the Flexible Dual mode LED worklight model R8692B . What makes this a "Dual mode" light is the unique head that it uses, on one side you have a clear lense that focuses the light as a "spotlight" and you can also rotate the head to expose the other side while still using the same LED light making for an "area" light that covers a wider area. This may look like a simple light at a quick glance but it features a long flexible multi position neck so you can position the head of the light as you wish. It uses a single LED that puts out a bright 170 lumens of light and can give you just over 20 hours of light with a 4.0 ah battery.
Flexible neck secures work light in a variety of work environments for hands-free operation
Dual-mode function for area light emits bright light to illuminate the entire work area
Dual-mode function for spotlight provides tightly targeted light to illuminate specific tasks
Extended run-time over 20 hours with 4.0Ah hyper lithium-ion battery (sold separately)
Lifetime LED no need to change bulb for the life of work light
170 lumens
All being Ridgid power tools, they all come with Ridgid's famous limited lifetime warranty and for the moment being are all sold as bare tools. These are already out in stores and can be purchased at the Home Depot. Pricing is as follows:
18V 5″ Random Orbit Sander $69
18V Hybrid fan $59
18V Flexible Dual Mode LED Worklight $29