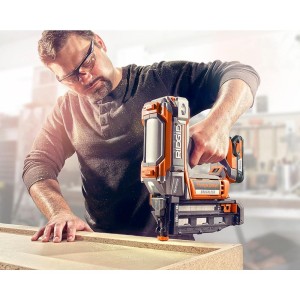 Ridgid isn't the first to market with brushless nailers but they just launched a couple of new brushless nailers with an 18 gauge brad nailer and larger 16 gauge finish nailer. Both resemble the Ryobi Airstrike nailer design and are said to offer air compressor pneumatic like performance. Older cordless nailers from various brands got the job done but didn't feel similar to that of pneumatic nailers but this is believable as the Ryobi Airstrike nailer I tried out actually felt very similar to that of pneumatic nailers.
Not that current nailers needed more runtime as todays cordless nailers can shoot hundreds of nails on a single charge but brushless technology  makes cordless power tools with longer runtime. These new nailers are said to be able to shoot up to 1,450 nails with the 16 gauge nailer and up to a whopping 2,000 nails with the 18 gauge nailer. Very impressive indeed considering the cordless nailers I've looked at don't even shoot 1,000 nails per charge.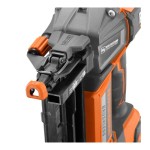 I've always liked cordless nailers as they give you complete freedom from lugging around a heavy compressor and drag around hoses. The downside is a much larger and heavier nailer than what you would find with pneumatic guns and this is true with these new Ridgid Hyper Drive brushless nailers as they appear larger than traditional nailers and are said to weigh over 7 lbs each.
Both use straight magazines, have lightweight yet strong magnesium construction, easy to use depth and power adjustment, dual modes (single fire, and bump fire), dry lockout feature, non marring pads, built in LED lights, belt clips, and Ridgid's famous lifetime service agreement. Pricing is $229 for the 18 gauge model and $269 for the 16 gauge model.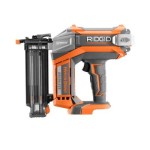 Ridgid Hyper Drive 18 gauge Nailer
Shoots 5/8″ – 2-1/8″ 18ga nails
Brushless motor for superior power and runtime
Magnesium construction for lighter weight
Selectable mode switch allows contact actuation or single sequential actuation mode
Tool-free depth of drive accurate depth control to protect work surface from overdriving
Tool-free power adjustment regulates power for optimum results
Dry-fire lockout extends motor life and prevents missing nails
Tool-free jam release for easy access to clear jams
2 non-marring pads keep work surface free of tool marks
Grip light engages light independently of trigger to illuminate work space
Hex grip micro texture enhanced micro-texture for secure grip and maximum user comfort
Belt clip mounts to right-side or left-side for added convenience when tool is not in use
Install up to 2,600 lin. ft. with 2,000 nails per charge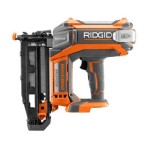 Ridgid Hyper Drive 16 Gauge Nailer
Drives 16-Gauge nails from 3/4 in. to 2-1/2 in
Brushless motor for superior power and runtime
Magnesium construction for lighter weight
Selectable mode switch allows contact actuation or single sequential actuation mode
Tool-free depth of drive accurate depth control to protect work surface from overdriving
Tool-free power adjustment regulates power for optimum results
Dry-fire lockout extends motor life and prevents missing nails
Tool-free jam release for easy access to clear jams
2 non-marring pads keep work surface free of tool marks
Grip light engages light independently of trigger to illuminate work space
Belt clip mounts to right-side or left-side for added convenience when tool is not in use
Install up to 1,900 lin. ft. with 1,450 nails per charge