Skil has been pushing a new line of tools into the market with their new PWRCORE lines of both 12v and now 20v tools and batteries. The new 20v max line offers a good selection of tools from drills, impact drivers, circular saws, oscillating multi tools, and more. With batteries of 2.0ah, 4.0ah, and 5.0ah capacities all with built in USB ports, this battery platform is similar to their smaller 12v PWRCORE line but at a higher voltage for more powerful tools and longer runtime than what's possible with cordless 12 volt tools.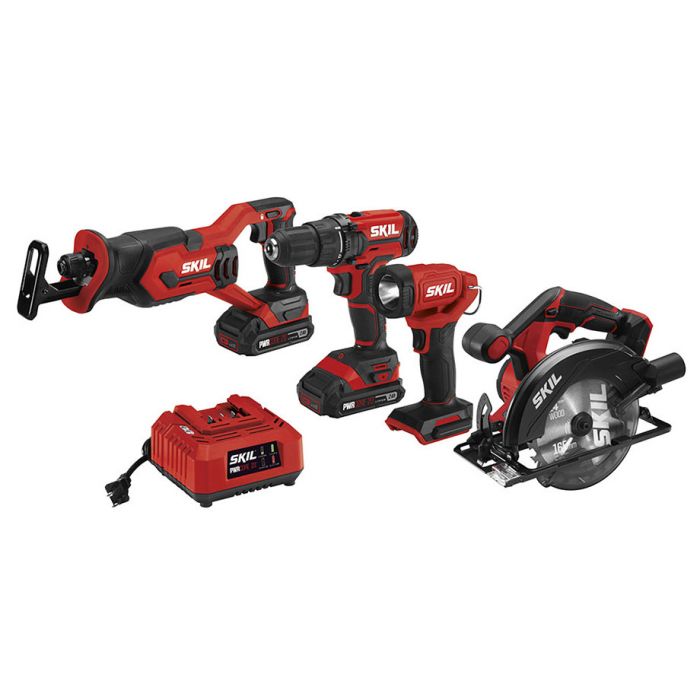 My thoughts: This looks to be a pretty nice bunch of tools aimed at DIYers and anyone who wants to do larger projects without dropping a ton of cash on professional tools. The lineup covers the main tools and currently they have the tools that follow: drill driver, hammer drill driver, impact driver, circular saw, reciprocating saw, jigsaw, 4 ½" angle grinder, handheld vacuum, oscillating multi tool, SDS plus rotary hammer, USB power source, and last but not least a handheld spot light. As I said above the batteries offered are 2.0ah, 4.0ah, and 5.0ah capacities. Unfortunately the 20v charger isn't as fast as the 12v charger and takes 1 hour to charge the 2.0ah battery, so that would imply the 5.0a will take over 2 hours to full charge.
A big thanks to Cody Robertson for sending word of these new tools from Skil!
Javier's Thoughts:
It looks like an interesting new system with several cordless power tools to choose from as mentioned by Josh. While they have some very interesting tools like the SDS plus rotary hammer and multitool, their staples the cordless drill and impact driver do not offer better torque than their 12 volt PWRCORE counterparts as they offer the same 350 and 1,100 in-lbs respectively. This is on the higher end and very good for 12 volt tools, however they won't impress anyone when coming from 18 volts. Also interesting to note is that while many of the tools are brushless on the Skil 12 volt line, none are brushless on the 20V line lessening their market appeal. I'd say the main appeal of the Skil 20V system is the fact that they have a broader range of tools you wont find on their 12V line like the saws and rotary hammer plus the fact that they can easily offer more powerful drills and impacts in the future if they wanted to. Also 20V batteries (actually 18V) have more watt hours of runtime than equally amp hour rated 12 volt batteries. This means the potential for longer runtimes on 20v.

DISCLOSURE:
Tool Craze does not sell this product or any product on the Tool Craze website. Tool Craze does not handle the sale of any item in any way. If you purchase something through a post on the Tool Craze site, Tool Craze may get a small share of the sale. Please refer to the About section for more info.