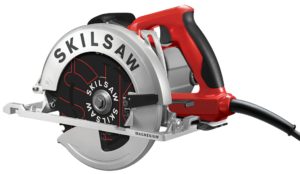 Skilsaw just announced the new Skilsaw Southpaw – a Left Blade 7-1/4″ sidewinder Circular Saw.
Most circular saws especially sidewinders have the blade on the right. Most of us have become accustomed to this right blade configuration but anyone that is right handed and has used a left bladed saw can definitely see the benefit of using a left blade circular saw.
Having the blade on the left benefits right handed users because the users stance is better suited for blade placement on the left side of the saw for a better line of sight. If you're left handed, then you probably prefer having the blade right where it is on the right side.
I do find the name Southpaw a bit confusing, sure I get that Southpaw is associated with lefties, and the blade is on the LEFT side, but in all reality the users that benefit the most from the blade placement on the left are right handed users. If anything we should call right blade circular saws southpaw, but that's just my opinion. Yes left and right handed people use right blade saws everyday but as I mentioned above, all of us right handed users are accustomed to this and some haven't even seen the difference a left blade placement has as an advantage to right handers because most circular saws have the blade on the right.
Even though I find the Southpaw name ironic, I still think this is a great saw because as a right handed person myself I prefer the blade on the left.
We know Skilsaw circular saws are top notch and this one is no different. They offer their Dual-Field™ Motor that's said to offer best in class torque and increases cooling and extends tool life. They also offer Magnesium – lots of it with all magnesium construction. This strong yet light material is perfect for a pro tool.
The new Skilsaw Southpaw will be available at the end of May 2017 and will retail for $129.



Maximum RPM- No Load: 5300
Weight: 8.95 lb
Cord length: 10ft
Maximum cut depth at 90: 2-7/16"
Price: $129
Launch: End of May
| Feature | Benefit |
| --- | --- |
| Left blade SIDEWINDER™ | Improves blade and cut line accuracy and visibility |
| All Magnesium construction | Reduces user fatigue and adds durability |
| Powerful Dual-Field™ Motor | Increases cooling and extends tool life |
| Best-in-class torque | Improves productivity and increases speed of cut |
| Extended 56 degree bevel | Adds capacity for a wider variety of cuts |
| Ergonomic handle with soft grip | Provides comfortable grip for both left and right handed users |
| Worm drive styled guards | Directs dust away from user |
| Lightweight design | Reduces user fatigue |
| STAY True Guarantee | 180 days to return saw with no questions and 1 year limited warranty |