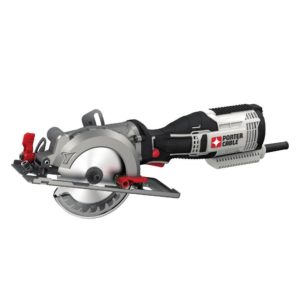 Here's another new Porter Cable tool I stumbled across by accident while browsing on Amazon – the Porter Cable PCE381K 4-1/2 inch Compact Circular Saw.
Here's a tool I feel like I know already hmm I wonder. It has a one handed design and it uses tiny 4-1/2 inch circular saw blades with a depth of cut just big enough to cut 2×4 in one pass. Now why does this saw seem so familiar? Ah, I know why, it's because it's I tried out the Rockwell RK3441K 4-1/2 inch compact circular saw a couple of years ago and the Porter Cable model is almost a clone of the Rockwell model.
Basically if you look at both models side by side, you can tell they have some of the same components and or are probably made in the same factory as the Rockwell model, except for the exterior casing of the Porter Cable model of which still has the same basic overall shape of the Rockwell model except for a few cosmetic details. But honestly they look very similar. It reminds me of how Camaro's and Firebirds had the same carcass and components except for a few minor cosmetic work to distinguish them apart.
All is not the same as Porter Cable's model has a tiny bit more power of 5.5 amps instead of the 5 amps on the Rockwell compact circular saw. I doubt it's enough for a user to tell the difference between the two models but better paper stats almost always work great for marketing a tool.
As far as performance is concerned for the Porter Cable, I would expect it to behave like the Rockwell model which has decent performance. I know Rockwell marketed their model as performing at about the same of a full size circular saw even though their model has less amps because the smaller and thinner blade didn't require as much power to run that performance should be about the same. This was true when it came to cutting cross cutting 2×4's but when rip cutting 2×4's is when you wish the tool had more amps. I would expect the same from the Porter Cable model.
What's great about these models is that they're lighter and smaller than a full size circular saw. The selling point is that if you're only cutting 2x material or thinner, you really don't need to lug around a larger saw.

Try Amazon Prime 30-Day Free Trial
5.5 Amp compact circular saw, running at 3,500 PRM for power and fast cutting speeds

Lightweight and compact unit for easy maneuvering

1-11/16″ depth of cut, cuts 2x material in single pass

0-45 degree bevel capacity for variety of cuts

Dust port with vacuum adapter keeps your work area clean