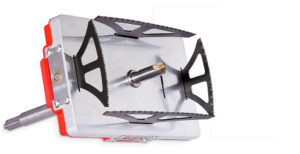 Quadsaw is preparing a launch of a new drill powered tool to make square holes. Quadsaw calls it the Quadsaw square hole cutter.
It basically makes square holes for electrical boxes and attaches to the chuck on your drill. The rotating rod causes a set of 4 cutters to oscillate which cut the top bottom and sides of the electrical box opening on the drywall.
The Quadsaw will include a set of 6 blades to be able to cut single gang and double gang boxes in drywall. The blades themselves are replaceable.
The Quadsaw has a handle to steady the hole saw with your other hand otherwise the hole saw would spin out of control. The handle can hold the hole saw in the horizontal and vertical position and includes a level to help make sure the hole is plumb in either orientation and the handle telescopes so that you can set it to a certain length to replicate holes at the same height.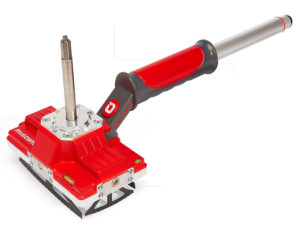 It's design reminds me a lot of the QBit Oscillating Gang Box we took a look at previously, although the QBit saw is powered by an oscillating multitool, the Quadsaw is powered by a regular drill. The Quadsaw is a more complicated device as it has the hard job of using the turning force of a drill into an oscillating movement, so there's a lot going on inside the Quadsaw.
The advantage I see from the Quadsaw is that it uses a tool a drill that most people have in their toolboxes. Lots of people use multitools but drills are more common. But the complexity of the Quadsaw will probably make it more expensive, the QBit is priced at around $45 and is single piece of steel. My guesstimate is that the Quadsaw will be much more in price.
As I was saying at the start of this article, Quadsaw is preparing the launch of their new product and is taking pre orders in the UK while according to their own website, they are gathering interest for the USA market with a box that says "Register Interest for US Model.