QuickDraw has recently introduced a new 25 foot tape measure with the ability to mark without the assistance of a pencil, pen, or marker. I appreciate this feature because it can become a hassle at times measuring and marking.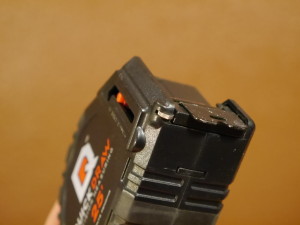 The QuickDraw precision measuring tape measure uses a steel wheel on the foot of the tape measure to lay down a mark onto a surface and is feed by lead similar to what is used by mechanical lead pencils. It comes with 1 stick of 0.9mm 4D graphite loaded in the tape measure and is ready to go and make marks right out of the package. Also included are 10 extra refills so you don't have to stop what your doing in the middle of a project to run to the store for more refills.
Laying down marks wouldn't be of any use if there wasn't an easy way to lay down a mark at a specified measurement. Incorrect measurements wouldn't be useful either so QuickDraw gives us an easy way to lay down marks accurately with the use of 2 lines near the base. These are viewable while you are directly over the tape measure and you have to make sure to line them up so the top red line is directly over the black line and you only see the red line. When done correctly you can rest assured your marks are accurate. While testing it out, all marks where spot on and accurate.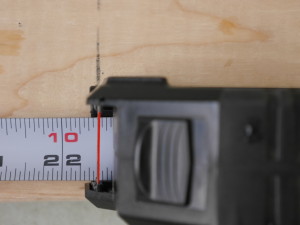 One thing I did notice was that the longer a line was drawn, the more susceptible it was to curving. This is no fault of the tape measure but is a normal occurrence when the tape hook is in a fixed position. To counteract curved lines, you must move the tape hook and blade along with the tape measure itself to keep a straight line. I found out that each stick of lead lasts a good while. According to the manufacturer you can get up to 1000 marks per stick of lead. I would assume this is with short quick marks and not with long lines.
The overall quality of the tape is ok. I thought the belt clip was thinner than other tapes so we'll see how it lasts in the long run. Although under initial testing it had no problem being loaded and unloaded from my tool belt, pants pockets and pants belt several times. The body is made up of ABS which is well known for its impact resistance and surrounded by rubber overmold for added grip. The tape hook is a basic hook with 3 rivets and the blade is nylon coated for added durability. The blade standout is 9 feet which is average.
Markings are only in feet and inches so no metric readings and are up to 32 fractions of an inch on the first foot of the tape and up to 16 fractions of an inch after that. The usual markings at every 16 and 19.2 inches are included for locating studs.
I am impressed at the innovation and engineering that went into designing this tape. I've seen another tape measure that was able to make marks but it literally had a pencil holder and pencil attached which was very primitive. The built in marking wheel makes it easier to mark than with regular tape and pencils and also speeds up the process saving plenty of time.