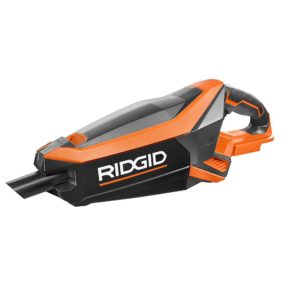 Here's another cordless power tool from Ridgid for their 18V platform that's brushless – the Gen5X Vacuum. It reminds me a lot of the design and shape of the Milwuakee M12 vacuum as it's also a handheld dust buster design.
It's a small cordless portable hand vac for small quick pick up of messes. Unlike the M12 vac, this can also be used for picking dry and wet messes making it a wet dry vac – pretty cool!
A hand vac is great and all but it also features an extension tube along with a floor attachment to be used to pick up messes on the floor without having to kneel down. It also comes with a crevice attachment too.
It appears that the Ridgid 18V Gen5X Brushless Vacuum will be sold as a baretool and with a retail price of $79.97. It's listed on the Home Depot site, although not ready for purchase yet, meaning it will be up for sale soon.