While several new AEG tools haven't made it here to North America, many people have been hoping to see the 9" dual battery grinder come to North America, as well as the recently released AEG Fusion 5" 18v brushless grinders. Well today I bring good news as Ridgid is bringing both of them to market very shortly with the R88040B 7" And R86042B 4.5" Octane Brushless 18v Grinders. One thing to note is there have been some changes in specs from the AEG models, so keep that in mind. The most noticeable difference would be that the dual battery grinder has had the disc size reduced by roughly 2" going from a 230mm (roughly 9") to a 7" (178mm) It's currently unknown if Ridgid will offer a guard large enough for a 9" wheel so we'll have to wait and see. These 2 new grinders look like excellent additions to the quickly growing line of Ridgid's Octane tools.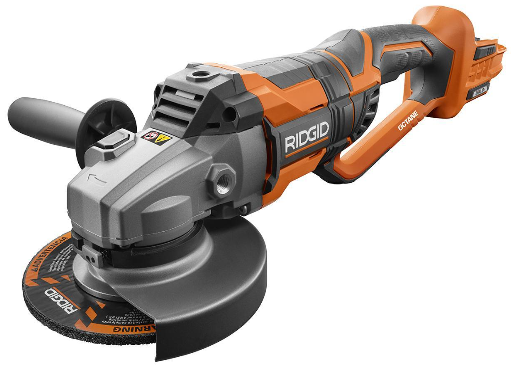 My thoughts: Although I haven't used a large angle grinder, I do 90% of my metal cutting in my shop with Ridgid's current brushless 18v grinder. Their current version is no slouch so we can expect very impressive performance from the new 4.5" model as well as the 7" model. Both the 4.5" and 7" have some great upgrades in several areas but let's start with the 4.5" model. First I notice that they've slimmed down the rear grip area which should make for better comfort during extended use. this unit drops 1,000 RPM from the AEG Fusion unit at 10,000 on the Ridgid vs 11,000 on the AEG. hopefully this means the Ridgid has picked up some torque for the decrease in speed. They've also added a removable dust screen which helps keep metal grit and other particulates out of the motor and bearings, which should ultimately extend the life of the unit. Another nice feature is an LED overload indicator light that tells the user when they're applying too much pressure.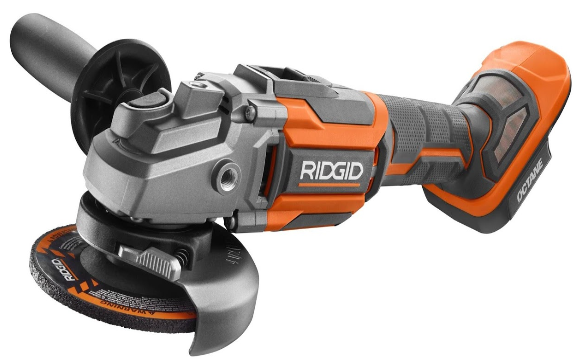 On the 7" model the trigger handle can rotate to 3 positions, which makes it much more ideal for both cutting and grinding applications. In addition to the rotating handle, the attachable auxiliary handle can also be placed in 3 positions for more versatility in different applications. Compared to its AEG cousin, this unit gains 800RPM coming in at 6,300RPM vs the AEG at 5,500 One of the most noticeable features of this grinder is that it can run on one or 2 batteries, but there's a catch. This unit will operate with older Ridgid batteries but only if you have 2 of them. If you have one of the new Hyper Octane Batteries it can run on just 1 but also 2 for even more power and runtime. I think they did this to ensure that users didn't experience lack of power caused by older battery tech. While it may be slightly inconvenient, it still allows users to get great performance from older batteries in the Ridgid 18v platform. Make no mistake this not a 36v tool.
Features and Specifications:
R88040B 7" Octane 18v brushless grinder:
Optimized to run on Hyper Octane batteries – Increased power and runtime with either one or two Hyper Octane batteries.
Non Hyper Octane Capable – Able to run on 2 non Hyper Octane batteries
Twist Lock – 3 convenient head-position changes for increased versatility and comfort
Electronic Brake System – Slows down the blade faster after the trigger is released
Multi- Position Handle – Move the handle in the 3 most common positions
2-Finger Lock-On Trigger – Faster startups and easier, more comfortable control
LED Overload Protection Indicator – Helps extend motor life
Hex Grip Micro-texture – Offers maximum comfort and control
RPM: 6,300 RPM
Disc size: 7"
Voltage: 18v DC
Launch date: quarter 4 2018 online only
Suggested pricing at the time of writing: $229 bare tool
Warranty: 3 year limited and lifetime service agreement with registration
R86042B 4.5" Octane 18v brushless grinder
LED Overload Protection Indicator – Helps extend motor life
Tool Free Guard Design – Easily change the position of the guard for increased productivity
3-position auxiliary handle provides optimal control and versatility on the jobsite
Ergonomic slim grip for maximum comfort during extended use
Lock-off protection: to prevent accidental start, if battery is installed while tool lock is on, the tool will not operate
Spindle lock lets you easily change grinding wheels
Hex Grip allows for easier control during use.
RPM: 10,000
Disc size: 4.5"
Voltage: 18v DC
Launch date: quarter 1 2019 in stores
Suggested pricing at the time of writing: $119 bare tool
Warranty: 3 year limited and lifetime service agreement with registration


Free 2 day shipping – Try Amazon Prime 30-Day Free Trial

DISCLOSURE:
Tool Craze does not sell this product or any product on the Tool Craze website. Tool Craze does not handle the sale of any item in any way. If you purchase something through a post on the Tool Craze site, Tool Craze may get a small share of the sale. Please refer to the About section for more info.