I recently received another unofficial "tip" and this time it's about a new Milwaukee cordless table saw. Jeff commented saying that his local store Milwaukee rep told him a new cordless table saw would be announced in June.
I wish I could tell you more about about it but that's it for now. Keep in mind this is only a rumor and may or may not come true as I have no way of verifying this and haven't heard anything from official sources either. But that would be awesome if true.
If true I wonder if it will be an 18V model that takes advantage of their 9.0 ah HD batteries or even the rumored 12.0 ah batteries? Could it be the first ever Milwaukee made 36V tool using two 18V batteries together in series? Would it be using an 8-1/4″ blade like Dewalt's Flexvolt table saw or would it be running a traditional 10 inch blade? I really hope this rumor is true because I can't wait to find out!
Milwaukee will soon be holding their annual New Product Symposium event in May and we will soon find out if these rumors are true or not.
EDIT 5/3/2018
It's real folks! This cordless saw has been announced at this years NPS18 event and is called the Milwaukee M18 Fuel 8-1/4″ Table Saw. Learn more about it by clicking here.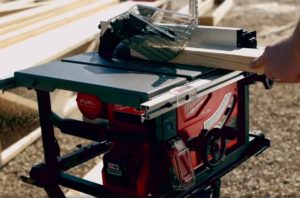 DISCLOSURE:
Tool Craze does not sell this product or any product on the Tool Craze website. Tool Craze does not handle the sale of any item in any way. If you purchase something through a post on the Tool Craze site, Tool Craze may get a small share of the sale. Please refer to the About section for more info.